As 2018 has proven, McGill and members of its community are players upon the global stage – and beyond. The year began with Principal Suzanne Fortier attending the World Economic Forum Annual Meeting in Davos, Switzerland, and ended with adjunct professor David Saint-Jacques aboard the International Space Station. With 2018 winding down, the Reporter looks back on the year that was, highlighting some of the key happenings over the past 12 months in words and pictures.
January
Six McGill researchers awarded more than $59M by CFI and Quebec
New labs and equipment through the CFI's Innovation Fund will help six transformative McGill research projects to collaborate, innovate and train the next generation of scientists for the jobs of tomorrow. Read more.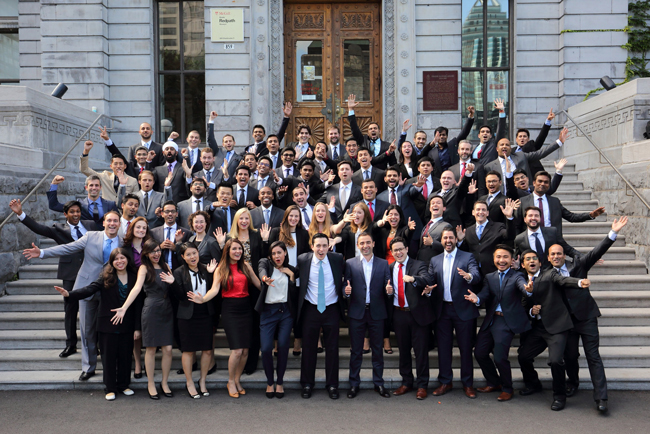 Desautels MBA program ranked first in Canada
The Desautels MBA program was named the top MBA program in Canada by the 2018 Financial Times Global MBA Rankings. Read more.
Ceremony marks beginning of McGill-Kyoto joint PhD program
Even Montreal's record-breaking cold spell couldn't chill the atmosphere as delegates from McGill and Kyoto University celebrated the establishment of a ground-breaking joint Ph.D. program between the institutions. Read more.
Principal Fortier in Davos
Principal Suzanne Fortier attended the World Economic Forum Annual Meeting in Davos, Switzerland. The Meeting brought together a record number of leaders from G7 economies, government and international organizations alongside leaders from business, civil society, academia, the arts and media. Read more.
They came. They sawed. They conquered.
McGill's men and women's teams won top honours at the 58th annual Macdonald College Woodsmen competition. Read more.
February
McGill named one of Montreal's top employers for tenth year in a row
Some reasons for this year's designation include the amenities available to staff, such as cafés, campus cafeterias, pubs and shops, the University's athletic facilities and the work being done by the Social Equity and Diversity Education Office. Read more.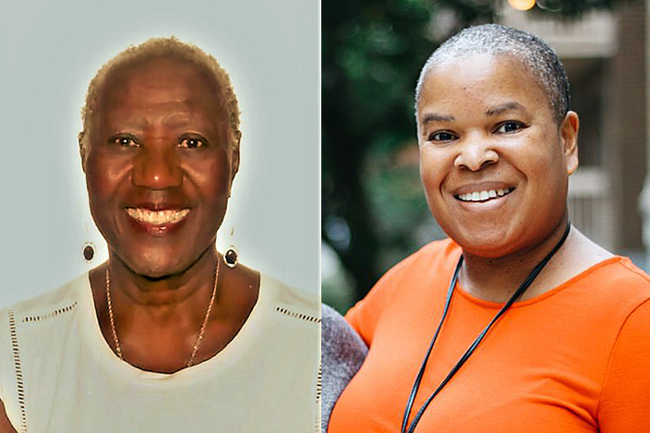 City Hall honours Lashley and Piggott for leadership in the black community
McGill's Adrienne Piggott and Myrna Lashley, two exemplary leaders of Montreal's black community, were among 12 honoured at Montreal City Hall where they signed the City's Golden Book in honour of Black History Month. Read more.
We're not addicted to smartphones, we're addicted to social interaction
Neurobiology of mobile-device habits stems from a healthy human need to socialize, rooted in evolution, McGill researchers find. Read more.
Introducing Desautels' new Donald E. Armstrong Building
On Jan. 8, the Donald E. Armstrong Building – formerly the McGill bookstore building on McTavish – opened its doors as the new home of the Desautels Faculty of Management's Master's programs. Named after the creator and first director of McGill's MBA program, the Armstrong Building provides 48,666 additional square feet to Desautels. Read more.
Cannabis 101
Anja Geitmann, Dean of the Faculty of Agricultural and Environmental Sciences, announces that McGill will offer two one-day professional workshops on the industrial production and quality control of medical cannabis. Read more.
Rolling up their sleeves for a good cause
More than 60 volunteers donned hairnets, rolled up their sleeves and pitched in to make some 200 litres of hearty soup during the second MacShares event. The soup was donated to a variety of local charities, including Share the Warmth, the NDG Food Depot, AMCAL Family Services and Bread and Basket. Read more.
New Deans for Faculties of Dentistry and Continuing Studies
McGill's Board of Governors approved the appointment of Elham Emami as the next Dean of the Faculty of Dentistry and Carola Weil as the new Dean of the School of Continuing Studies. Read more.
March
Indigenous Health Professions Program launched
The fragrance of sage hung in the air and the sound of drumming and singing was heard at the Faculty Club for the official launch of the Indigenous Health Professions Program. Read more.
Stunning rally gives basketball Martlets 7th-straight Quebec crown
McGill women's basketball team rallied from a 13-point deficit in the final quarter to stun Laval 56-52 and capture the RSEQ league championship. Read more.
Her Majesty The Queen joins the celebration of Quebec-Belgian academic relations
McGill was graced by a royal visit, when Her Majesty the Queen of the Belgians was the honoured guest at a special lunch at the Faculty Club. The visit came on the second-to-last day of a week-long Belgian state visit to Canada. Read more.
Neuro XXceptional celebrates exceptional women
The Neuro launches Neuro XXceptional – an exciting new year-long video series featuring women who tell us what drove them to become scientists and clinicians, and what they love about their work. Read more.
Annual Bravo gala celebrates McGill researchers and scholars
On March 15, 105 laureates were celebrated at the Bravo, an event honouring McGill researchers and scholars across disciplines who won special awards, memberships, and prizes during the preceding year. Read more.
Cancer probe chosen for top science discovery
The 2017 Québec Science Discovery of the Year Award goes to the cancer-detection probe developed by Kevin Petrecca and Frédéric Leblond. Read more.
McGill to ban sale of bottled water on campus
To mark World Water Day 2018, McGill announced it will ban the sale of single-use bottled water on its campuses. The bottles will be phased out of food service locations and vending machines by May 1, 2019. Read more.
McGill students help their community during Alternative Spring Break
This year's Alternative Spring Break provided McGill students with the opportunity to volunteer at local community organizations for four days during reading week. Read more.
April
Pierre Gfeller takes the helm of MUHC
Dr. Pierre Gfeller has been appointed President and Executive Director of the McGill University Health Centre. Read more.
McGill named one of Canada's Greenest Employers

An editorial competition run by Mediacorp Canada has selected McGill as one of Canada's top 100 greenest employers. Read more.
$15M gift will help fight infections and immune threats to human health
Partnership between McGill and the MUHC will bring together over 250 researchers under the newly created McGill Interdisciplinary Initiative in Infection and Immunity. Read more.
Charles Taylor awarded Literary Grand Prix at Blue Met Lit Fest
Professor Taylor, who is now 87, has received many prizes over his illustrious career, but this is the first he has received one for his literary achievements. Read more.
MUNACA joins Family Days pilot project
MUNACA members may now use up to three of their nine paid sick days to care for their sick children, spouses, parents, grandparents or siblings – even when the employees themselves are not ill. Read more.
May
Joëlle Pineau awarded NSERC's Steacie Memorial Fellowship
Two-year, $250,000 fellowship will support research in reinforcement learning. Read more.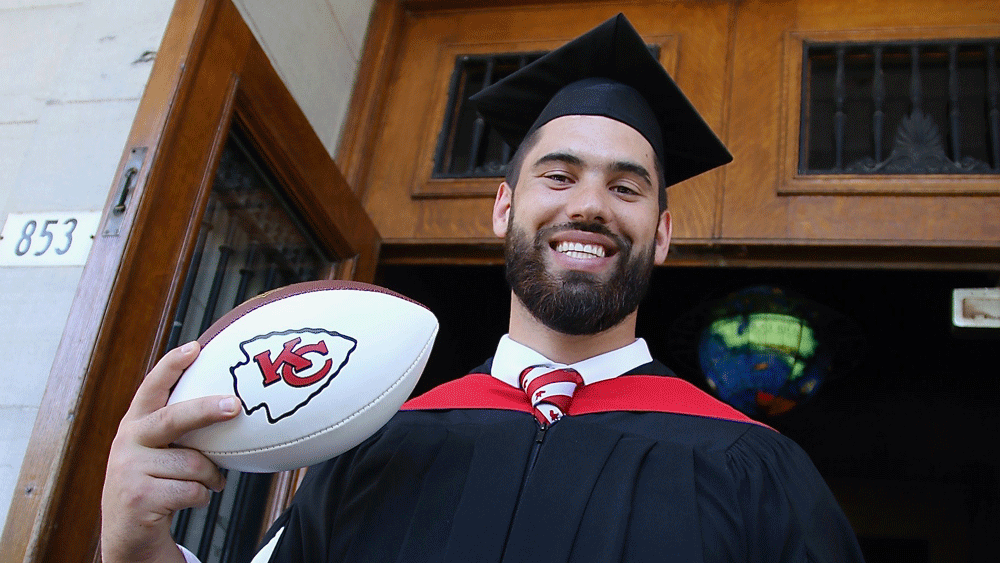 Big man on campus
Laurent Duvernay-Tardif, starting offensive guard for the NFL's Kansas City Chiefs, became the first active NFL player to earn a medical degree. Read more.
New smoking policy effective May 1
McGill campuses became largely smoke-free as of May 1, 2018. Read more.
Hanadi Sleiman, C.J. Li awarded Killam Research Fellowships
Chemistry professors Hanadi Sleiman and Chao-Jun Li were among the six recipients of this year's Killam Research Fellowships. Read more.
Dr. Alice Benjamin: Grateful patients give birth to new fund
Former patients launch fund in honour of Dr. Alice Benjamin who, over a 40-year career, has delivered tens of thousands of babies. Read more.
Mechanical man merits McGill Medal
Engineering professor and robotics pioneer Jorge Angeles became the 10th recipient of the Medal for Exceptional Academic Achievement, commonly called the McGill Medal. Read more.
June
$10M gift strengthens McGill's commitment to brain research, young researchers and faster results for patients
Endowment to bolster big-data research and help establish Global Brain Consortium at Ludmer Centre. Read more.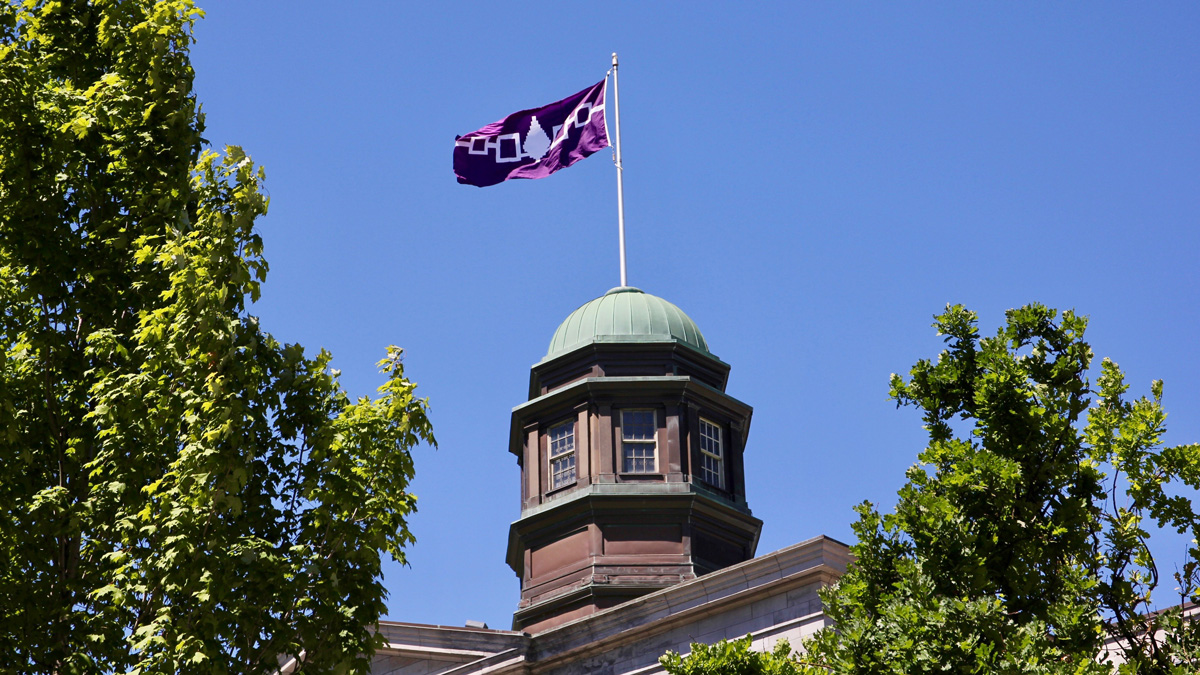 McGill flies the Hiawatha Wampum Belt Flag from Arts Building
The flag is a centuries-old symbol marking unity and peace between the Seneca, Cayuga, Onondaga, Oneida, and Mohawk nations. Read more.
Planting a tree of life
McGill honours the victims of the massacre at the Centre culturel islamique de Québec. Read more.
Boldness rewarded
McGill Sustainability Systems Initiative funds 19 projects led by faculty and students that dare to take risks. Read more.
McGill Rocket Team soars to first place at Spaceport America Cup
McGill team bests an international field of over 100 teams with two flawless flights. Read more.
Principal Suzanne Fortier among 17 McGillians appointed to the Order of Canada
Prof. Fortier recognized for "her rich contributions to scientific advancements and innovation in Canada, and for her governance in academia." Read more.
Jayne Malenfant awarded Pierre Elliott Trudeau Foundation doctoral scholarship
Becomes first recipient of prestigious scholarship from Faculty of Education. Read more.
July
McGill researchers receive almost $50M in CIHR funding
Project topics range from childhood diabetes and age-related disorders to examining the rise of minimally invasive surgery. Read more.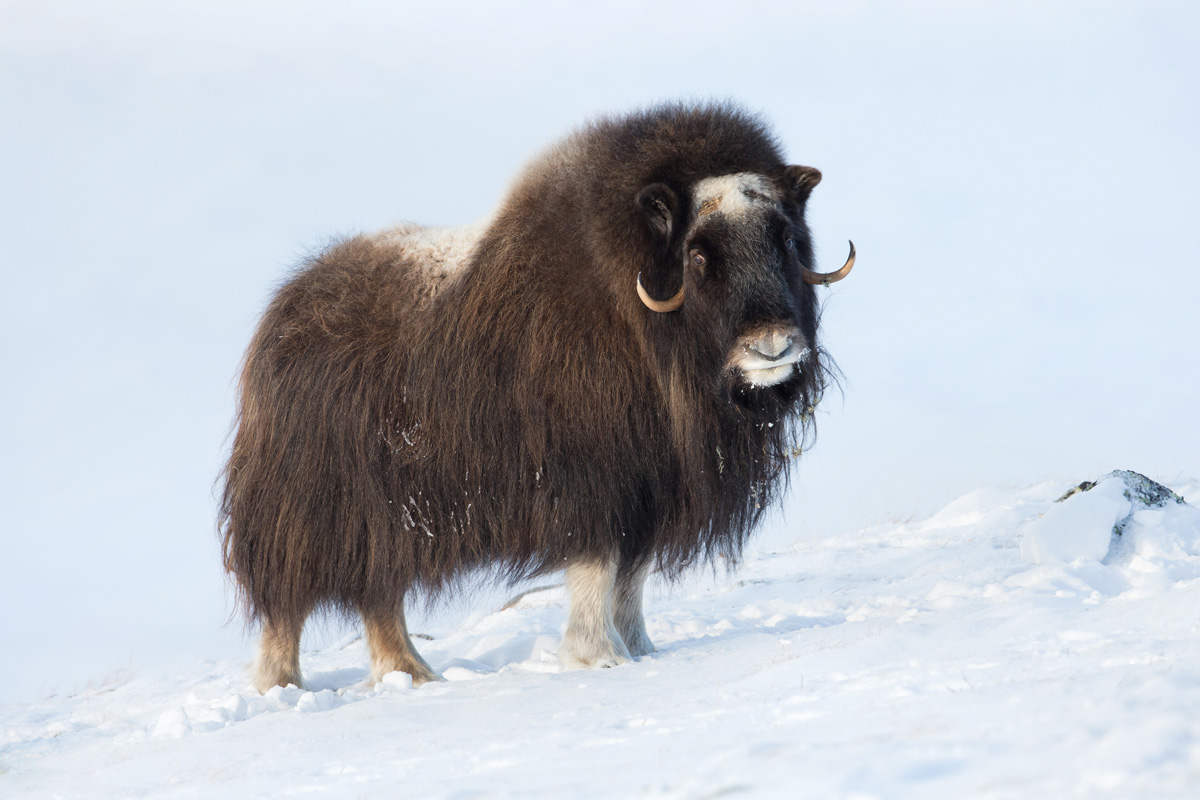 Five McGill students rewarded for stellar Arctic research
Projects range from assessing the impact of shipping and resource development upon Arctic marine predators to investigating Paleo-Inuit settlement strategies in the Foxe Basin Region, Nunavut. Read more.
The link between obesity, the brain and genetics
When it comes to weight gain, the problem may be mostly in our heads, and our genes. Read more.
Walk of Fame stars for three McGill grads
Singer-songwriter Leonard Cohen, screenwriter Evan Goldberg and health advocate Dr. Joanne Liu were among the 10 new inductees to the Walk of Fame, which honours Canadians who have excelled on the national and international levels. Read more.
Music Dean is challenging the canon
Brenda Ravenscroft, first full-term woman Dean of the Schulich School of Music, is applying a diversity mandate for women and other overlooked groups. Read more.
August
Indigenizing education
The first McGill Mohawk Bachelor of Education (B. Ed.) launched at Kahnawake. Read more.
Schulich Leader Scholars celebrate their 'Schulich Moment'
Ottawa high school student Miasya Bulger and Raphael Hotter of Montreal have been named McGill's recipients of the prestigious Schulich Leader Scholarships. Read more.
The link between obesity, the brain and genetics
When it comes to weight gain, the problem may be mostly in our heads, and our genes. Read more.
McGill-Concordia collaboration wins big in solar-powered house competition
TeamMTL's Deep Performance Dwelling dominates juried contests in the 2018 Solar Decathlon China competition. Read more.
McGill researchers receive almost $50M in CIHR funding
Project topics range from childhood diabetes and age-related disorders to examining the rise of minimally invasive surgery. Read more.
September
$3.5-million gift to McGill aims to level playing field for female athletes
Kerr Family Women in Sport program provides support, mentorship and additional coaching to McGill's women coaches and athletes. Read more.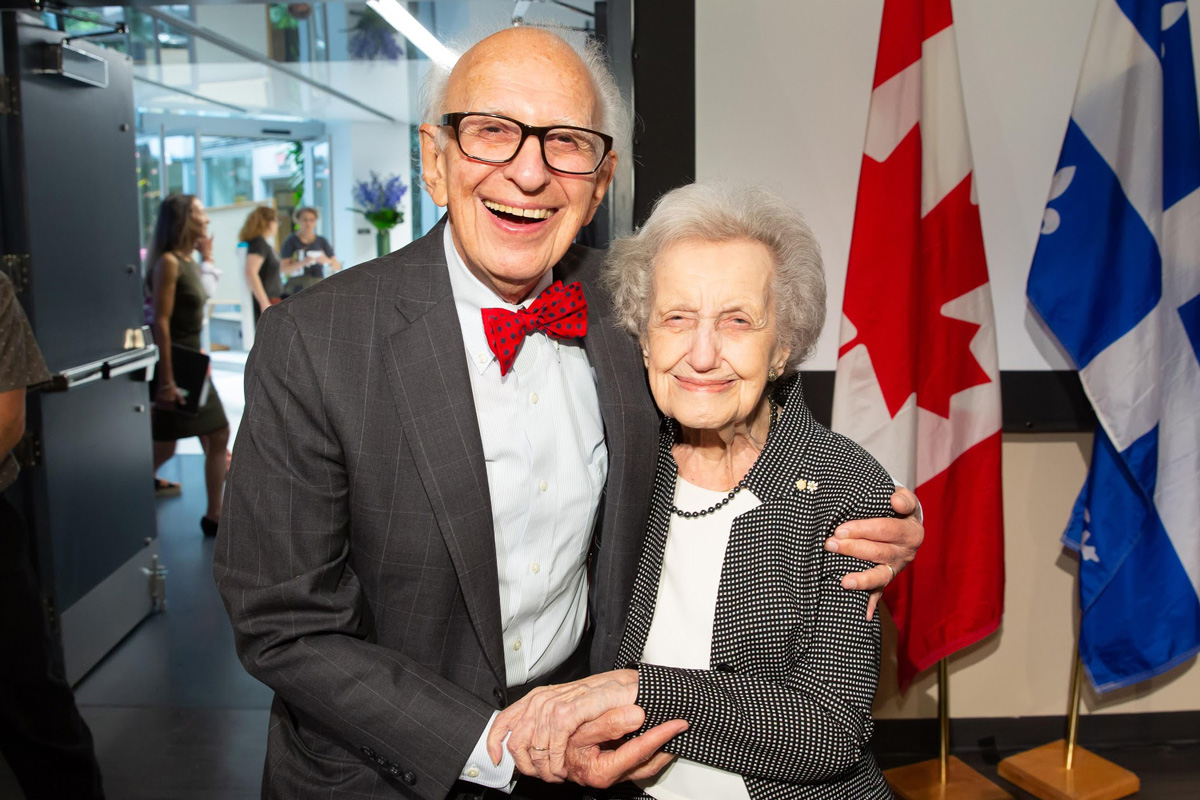 Milner Symposium celebrates extraordinary life, career
Pioneering neuroscientist Brenda Milner, who turned 100 earlier this summer, was fêted in grand style at the Brenda Milner Centennial Symposium. Read more.
Meet the 2018 Safety Ambassador Award recipients
As part of Safety Week, McGill celebrated those people who are instrumental in ensuring the safety of their unit or of the occupants of the building where they work. Read more.
First Peoples' House offers community, cultural connection and academic support
McGill's First Peoples' House provides First Nations, Inuit and Métis students with support and encouragement to succeed in their studies and remain connected to their culture. Read more.
Bedrock support from a mining maven
$5-million gift provides critical funding to Earth and Planetary Sciences. Read more.
October
Daniel Béland appointed Director of MISC
Béland will lead the Institute's teaching, research and public outreach activities as of January 2019. Read more.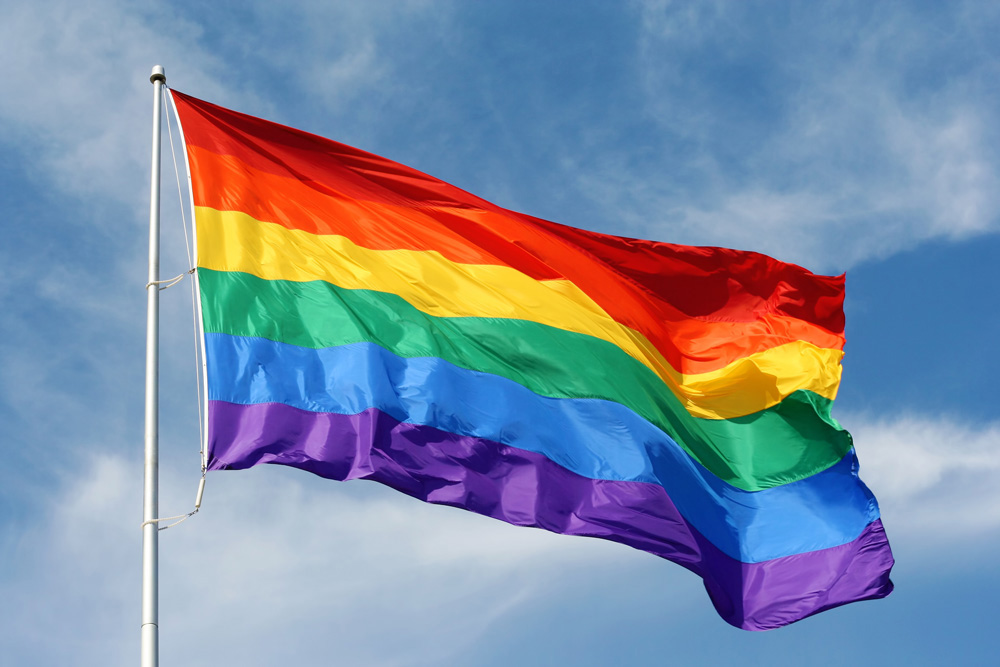 October is LGBTQ2i+ Month at McGill
McGill celebrated its first LGBTQ2i+ History Month in October. Read more.
McGill researchers share in largest investment in discovery science in Canadian history
130 McGill researchers receive funding from NSERC Discovery Grants Competition. Read more.
McGill captures fifth consecutive Canadian University World Series
McGill sweeps all five contests at the Canadian Collegiate Baseball Association tournament, outscoring opponents 51-16. Read more.
McGill No.1 in Maclean's rankings for 14th straight year
University touted for its "diverse and accomplished student body." Read more.
McGill Book Fair shelved
The McGill Book Fair, having raised close to $2 million to support students over more than 45 years, turned the page on its final chapter. Read more.
Dentistry's community outreach program wins Gies Award for Outstanding Vision
Each year, the Faculty of Dentistry's Service to the Community Program provides free dental care for hundreds of Montreal's most vulnerable people. Read more.
November
Maya Jasanoff wins 2018 Cundill History Prize
Harvard prof wins world's leading history prize for her genre-bending account of the life and world of the Polish-born British writer Joseph Conrad. Read more.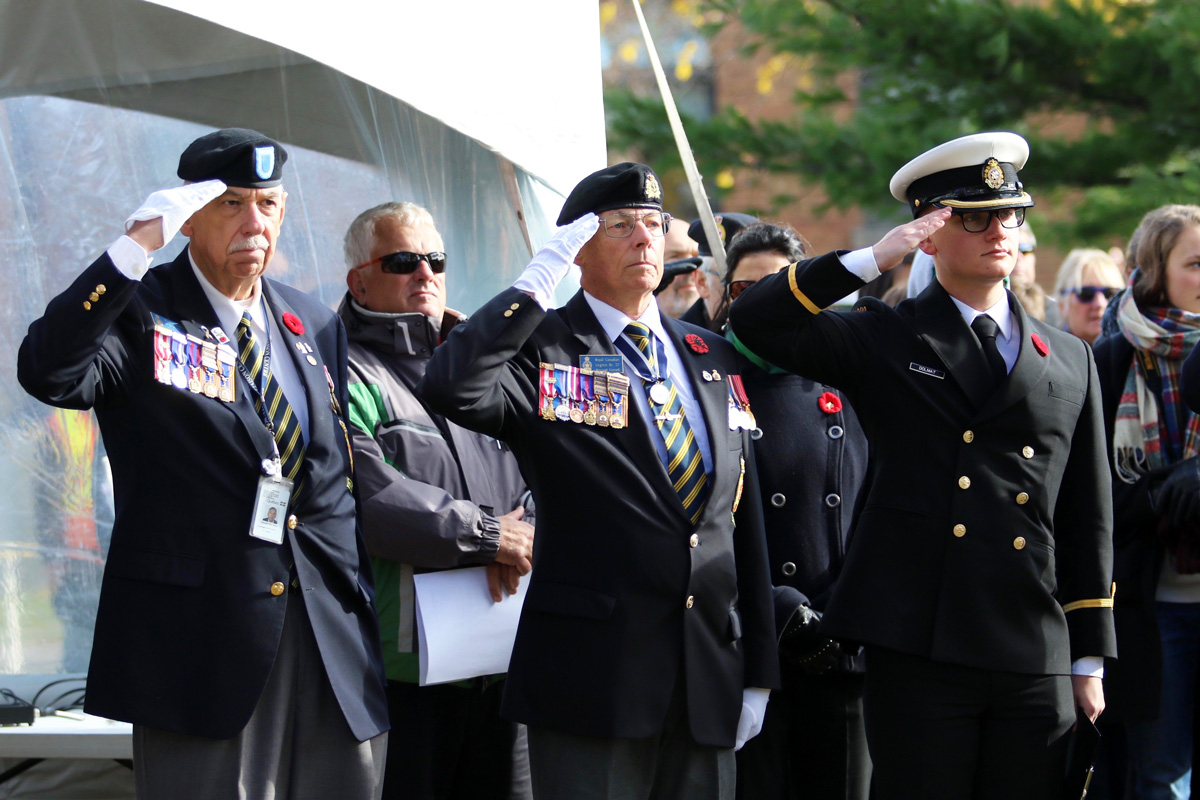 Hundreds celebrate Remembrance Day at Macdonald Campus
A photo gallery from the Remembrance Day ceremony at Mac Campus. Read more.
Open for business: Bensadoun School of Retail Management dedicated to the future of retail
Interdisciplinary teaching and research hub equips next generation of leaders to promote sustainable retail practices. Read more.
Law student wins inaugural Centre culturel islamique de Québec Memorial Award
Lina Bensaidane honoured for her work to advance the inclusion of Muslims in Quebec and Canadian society. Read more.
Dobson Cup receives $4-million contribution from National Bank
Contribution supports McGill's flagship startup competition and provide additional seed funding for student entrepreneurs. Read more.
Nahum Sonenberg honoured with a Prix du Québec
Preeminent McGill professor Nahum Sonenberg was among five members of the McGill community who won a 2018 Prix du Québec on Nov. 21. Read more.
December
David Saint-Jacques reaches new heights
Adjunct professor becomes fourth McGillian aboard the International Space Station. Read more.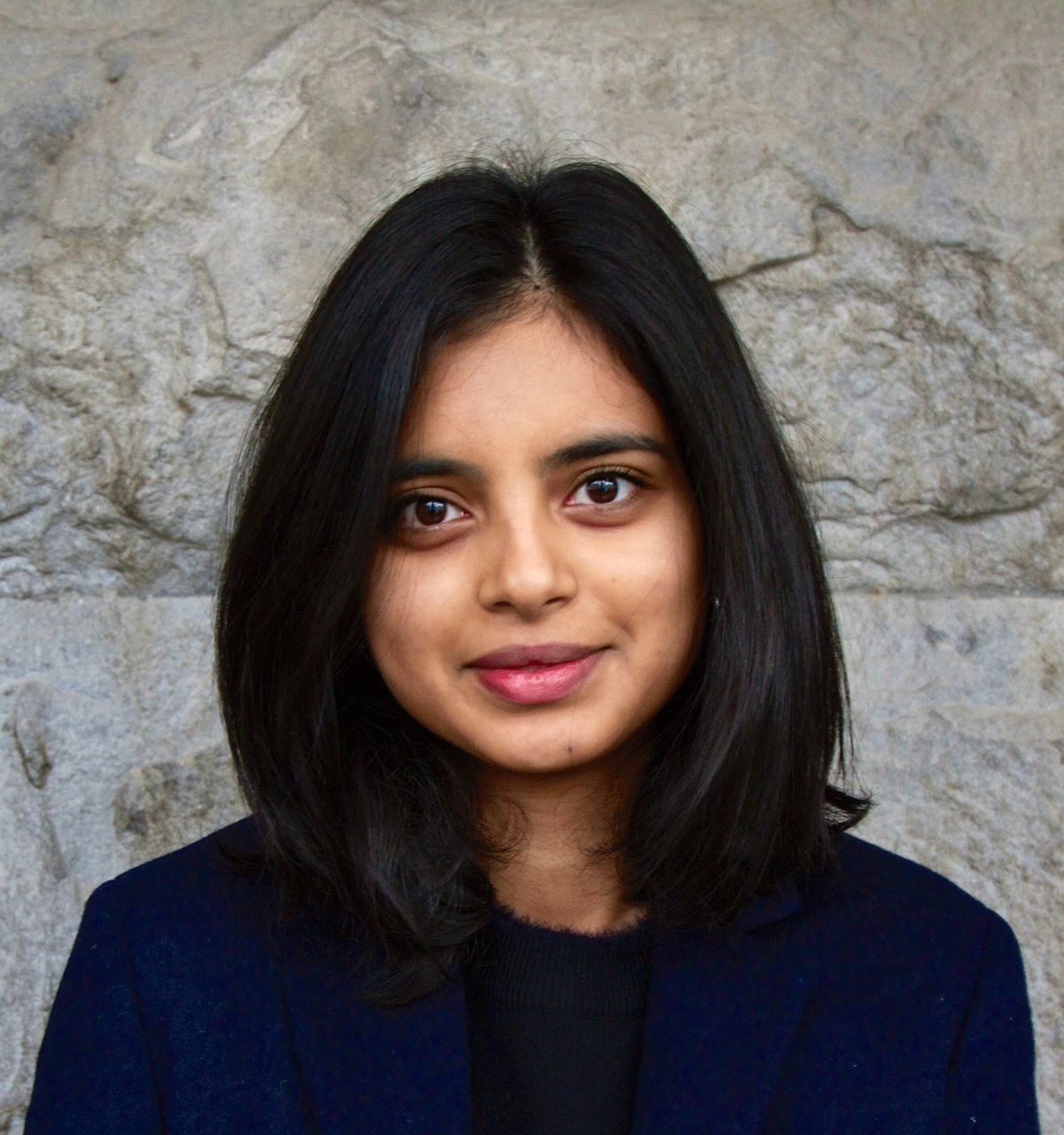 Taking the Rhodes less travelled
Arisha Khan defies the odds to become McGill's 145th Rhodes Scholar. Read more.
Six McGill researchers named Canada CIFAR AI (CCAI) Chairs
Top academic researchers will help maintain Canada's leadership in artificial intelligence research. Read more.
Catherine Lu wins Humboldt Foundation award
Catherine Lu, professor of Political Science, has been selected as the recipient of a Friedrich Wilhelm Bessel Research Award of the Alexander von Humboldt Foundation. Read more.
McGill participates in newly-launched coalition for responsible AI
Ten participants from McGill will contribute to and help build the success of the new Observatory on the Social Impacts of Artificial Intelligence and Digital Technologies. Read more.
Heart & Stroke celebrates two McGill researchers
Awards presented annually to highlight the exceptional work of researchers working in the field of cardiovascular and cerebrovascular health. Read more.