A $15-million gift from the visionary Montreal-based Doggone Foundation will launch the McGill Interdisciplinary Initiative in Infection and Immunity, a unique and highly collaborative endeavour that will harness the scientific expertise, resources and creativity of researchers at McGill, the McGill University Health Centre (MUHC) and affiliated research partners in the battle against infectious and immune-related diseases.
McGill's Faculty of Medicine and the Research Institute of the McGill University Health Centre (RI-MUHC) will each receive $7.5 million for the project.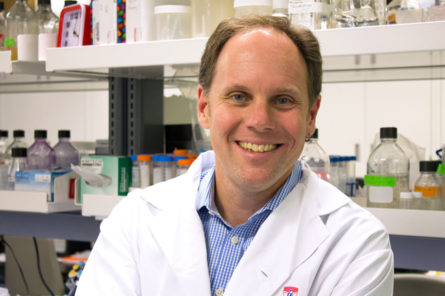 This initiative will bring together more than 250 investigators from McGill and its affiliated hospitals and research centres to develop innovative solutions to infectious and immune threats to human health – and translate those discoveries from the lab to patients and hospitals across Canada, and globally.
"We are deeply grateful to the Doggone Foundation for this extraordinary gift," says Principal and Vice-Chancellor Suzanne Fortier. "It allows us to draw on the broader McGill community's intrinsic research strengths and mobilize our efforts around these complex health challenges."
"Together, the MUHC, RI-MUHC and McGill have the experience, curiosity, network, and drive to accomplish enormous good," adds Martine Alfonso, Interim President and Executive Director of the MUHC. "This exciting initiative will help assure that the right platforms and tools are in place so that our experts may continue to collaborate on solutions to some of the world's most pressing health issues."
Four major themes
Infectious diseases are a leading cause of mortality worldwide and pose an ongoing threat due to uncontrolled epidemics and rising drug and antibiotic resistance. However, advances in our understanding of the immune system have opened the door for scientists to develop new ways to reprogram our natural defences against infections.
The McGill Interdisciplinary Initiative in Infection and Immunity's efforts will revolve around four major themes: antimicrobial resistance, emerging and re-emerging diseases, infections in vulnerable populations, and diseases of altered immunity. Each theme will be broken down into three areas: fundamental discoveries, diagnostics and solutions such as new vaccines and immunotherapies.
"We think that the ambition and creativity of this network of scientists is the secret to success – and there's a need for it now," says Dr. Don Sheppard, Director in the Division of Infectious Diseases at the MUHC and at McGill, and professor in the Department of Microbiology and Immunology at the Faculty of Medicine. Dr. Sheppard, who is also a scientist in the Infectious Diseases and Immunity in Global Health Program at the RI-MUHC, will head up this new initiative.
"We're gaining these unbelievable insights into how our immune system works and how it interacts with microbiology," says Sheppard. "We want to come up with innovative solutions to infectious diseases through the power of manipulating the immune system."
"This unprecedented collaboration between our scientific communities will reinforce Quebec's research and innovation expertise internationally. Our world-class biomedical and research facilities and our commitment to translational patient-oriented research is redefining how our scientists, clinicians, medical staff and students conduct cutting-edge research at the RI-MUHC,'' says Dr. Bruce Mazer, Executive Director and Chief Scientific Officer of the Research Institute of the MUHC (Interim).
In addition to infectious diseases, this new project's largest theme will focus on diseases of altered immunity, everything from cancer to inflammatory bowel disease. The McGill teaching hospital network has a powerhouse of cutting-edge immunologists at the forefront of this type of research.
"The time to act is now"
The late Elspeth McConnell, a former Montreal journalist, established the Doggone Foundation in 2011. Her philanthropic efforts included generous support over the years to the MUHC.
"The Doggone Foundation is proud to fund health care and research in Canadian hospitals as well as university educational programs," says Paul Marchand, Executive Director of the Doggone Foundation. "The McGill Interdisciplinary Initiative in Infection and Immunity is a groundbreaking project that not only perfectly fits with our Foundation's mission, it also has the potential to revolutionize and radically impact global health. The time to act is now, and the place to do it is here in Montreal, thanks to the world-leading researchers in the fields of infection and immunity at the MUHC and McGill. It is these types of transformational and collaborative initiatives that the Doggone Foundation is inspired to support."
The interdisciplinary, multi-institutional initiative also benefits from the presence of 100 clinician scientists, making it possible to begin patient-centred projects as early as 2019.
"The collaborative nature of this initiative motivated the MUHC Foundation and McGill University to work together to inspire a leadership donation that would lay the groundwork for the project's success," explains Julie Quenneville, President of the MUHC Foundation. "We are incredibly grateful for the Doggone Foundation's outstanding generosity and for sharing in our vision of transforming the future of global health. Today's historic partnership between the MUHC Foundation, McGill and the Doggone Foundation is only the beginning, and together, we now turn to other philanthropic leaders in Montreal for their support in tackling some of the largest health challenges facing our world today."