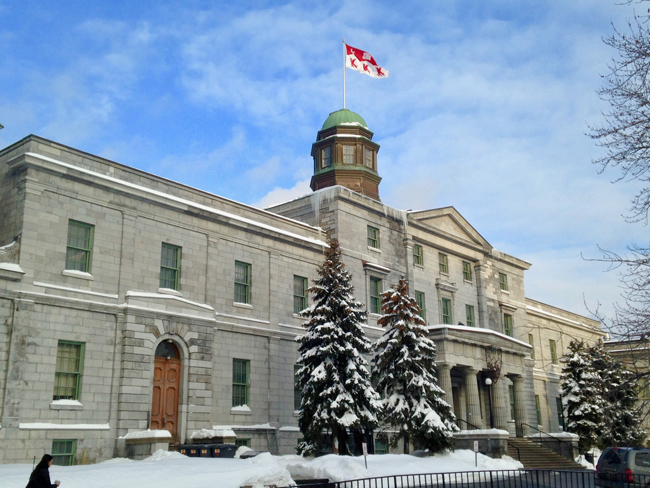 Earlier today, Montreal's Top Employers for 2018 were announced by the editors of Canada's Top 100 Employers at Mediacorp Canada Inc. and, for the tenth-consecutive year, McGill made the list. This year's 35 winners were announced in a special magazine published in The Montreal Gazette.
"With one of the country's most beautiful urban campuses, McGill University employees enjoy access to an incredible variety of onsite and nearby amenities, including restaurants, cafes, campus cafeterias, pubs and shops," wrote competition organizers. "Employees can also take advantage of the university's fully-equipped athletics centre, which features instructor-led classes, a swimming pool, indoor golf facilities, a martial arts room and a sports medicine clinic."
"Earning this honour ten years in a row is a remarkable achievement," says Diana Dutton, Interim Associate Vice-Principal (Human Resources), "and it demonstrates just how special McGill is, both as a workplace and as an institution.
"Our working conditions and benefits are highly attractive," she says, "but what really sets McGill apart is that each and every employee contributes – directly or indirectly – to educating the next generation of leaders and pushing the boundaries of our knowledge. We can all take a great deal of pride in the work we do here."
The University also earned high marks for the Social Equity and Diversity Education Office (SEDE) for its work cultivating a respectful and supportive campus culture. SEDE's Annual Award for Equity and Community Building also garnered praise.
On top of being commended for its flexible work hours, generous vacation periods, telecommuting and Summer Fridays, McGill was also singled out for investing "in the education of future and current generations with academic scholarships for children of employees."
Now in its thirteenth year, Montreal's Top Employers is a special designation that recognizes employers in Greater Montreal that lead their industries in offering exceptional places to work. Employers are evaluated by the editors at Canada's Top 100 Employers using the same criteria as the national competition: (1) Physical Workplace; (2) Work Atmosphere & Social; (3) Health, Financial & Family Benefits; (4) Vacation & Time Off; (5) Employee Communications; (6) Performance Management; (7) Training & Skills Development; and (8) Community Involvement.