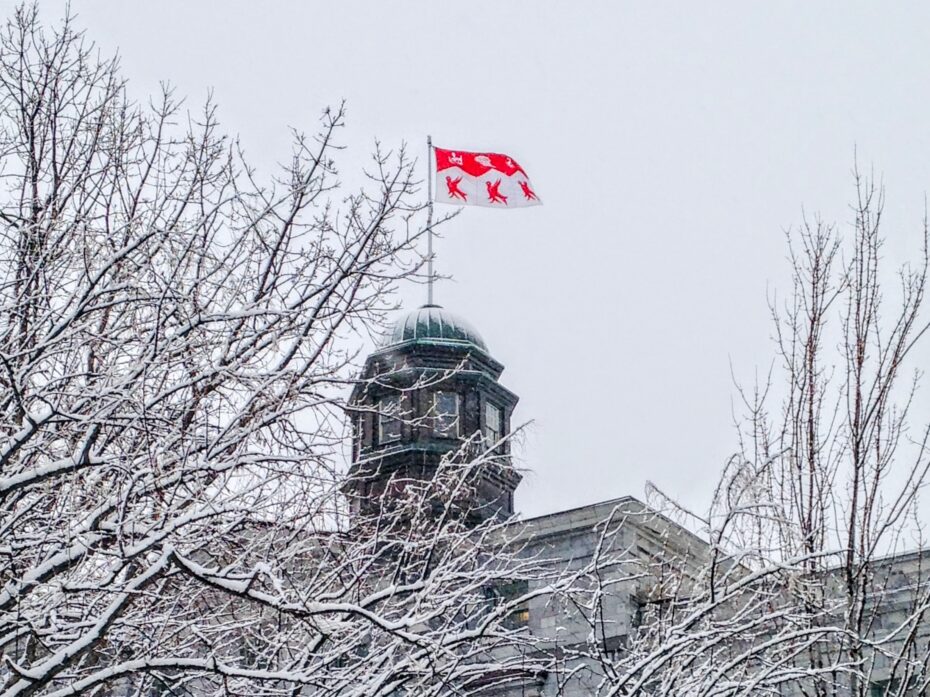 There will be no triskaidekaphobia at McGill, at least not today.
As announced this morning, for the 13th consecutive year, the University is being celebrated as one of Montreal's Top Employers.
The annual competition is organized by the editors of Canada's Top 100 Employers to recognize the employers in Greater Montreal that lead their industries in offering exceptional places to work. This year's winners were announced this morning, February 9, in a special magazine featured in the Montreal Gazette.
Stellar working conditions, time-off opportunities
McGill scored high marks for employee health and well-being initiatives featuring "resources, tools and strategies to help employees adopt and sustain positive mental, physical, financial and nutritional health, and social connection."
The University was also touted for flexible work hours, in-house training for employees, onsite childcare options and its health plan premium.
On top of stellar working conditions, McGill was praised for the time off it offers employees. The University "encourages employees to take time off to recharge with three weeks of starting vacation allowance, moving to four weeks after only three years on the job," said the Top Employers citation. "Additionally, the organization offers paid time off during the summer and winter months, as well as four paid personal days that can be scheduled throughout the year."
Commitment to employees
For Diana Dutton, Associate Vice-Principal, Human Resources, the good news only reinforces McGill's long-term commitment to its employees.
"With the personal perspective of a quarter century at McGill, I can see the progress that the University has made as an employer in that time. As a knowledge-based institution, our employees are our most important asset," said Dutton. "McGill recognizes this and has invested in benefits to support employees' quality of life both at and outside of work."
"It is a systematic and continuous improvement process," she continued. "Engaged employees not only enjoy their work and are able to perform better, they are also a significant source of feedback and inspiration in McGill's process for implementing the kinds of policies and programs that the Top Employer award evaluates. In short, when you feel connected to and balanced in your work, it has a positive effect for everyone involved."
Putting people first
The criteria used during the Montreal's Top Employers selection process focuses on physical workplace; work atmosphere; health, financial and family benefits; vacation and time off; employee communications; performance management; training and skills development; and community involvement. Employers are compared to other organizations in their field to determine which offer the most progressive and forward-thinking programs.
"The project has always aimed to highlight best practices of this nature, and the past year has demonstrated that these kinds of 'essential' benefits really do matter," said Richard Yerema, Managing Editor of the Canada's Top 100 Employers project. "Whether it's helping employees take time to take care or enabling them to have an impact in the community, the best employers recognize the need to put their people first."