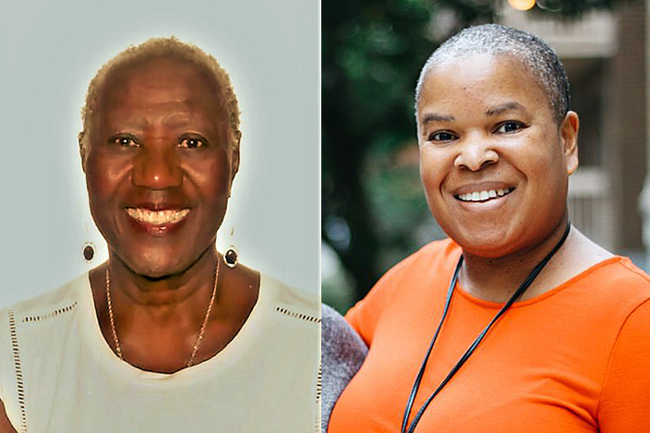 Adrienne Piggott and Myrna Lashley, two exemplary leaders of McGill's and Montreal's Black community, were among 12 honoured at Montreal City Hall where they signed the City's Golden Book in honour of Black History Month.
Piggott is Chair of the Joint Board-Senate Equity Subcommittee for Racialized and Ethnic Persons, and a Manager in Procurement Services.  She played a key role in the creation of Black History Month at McGill, along with Shanice Yarde of the Social Equity and Diversity Education (SEDE) office, and MC'ed the opening ceremony.
Piggott says she grew up on campus, darting between McLennan, where her Mother Sylvia worked as a librarian, and Bronfman, where her father Glyne Piggott was a Professor of Linguistics, and one of a very few black faculty members.
She says her dad has been in the "equity trenches" at McGill for 44 years. "It is a Piggott family tradition to engage in some form of equity work. I am proud to be a McGillian. However, I also recognize that McGill is not a perfect place," she says. "We have work to do to make our institution feel welcoming and accessible to people outside of the core demographic. We have an outstanding reputation for teaching and research, but we do not have that same reputation when it comes to equity, diversity and inclusion. From where I sit, this is as important as any of the other criteria we are evaluated on."
Myrna Lashley is an Assistant Professor in the Department of Psychiatry where she teaches courses on diversity. Her contributions to raising the level of awareness about diversity issues span a huge range of organizations and institutions, including the Montreal police and the provincial police college, the juvenile justice system, and John Abbott College, where she was the first black Associate Dean.
"It is important for people, especially the youth, to know about their ethno-cultural group's contributions to the well-being of the community and the country. They need to know that those contributions and achievements are important and of intrinsic value," says Lashley. "Too often negative beliefs and images associated with their group cause pain and force individuals to be constantly fighting racial battle fatigue. The constant onslaught of micro-aggressions, the need to keep understanding the 'joke,' and turning the other cheek is exhausting and anger-producing."
Lashley says if her work can reduce that pain and help those with prejudices to re-evaluate their beliefs, then it is worthwhile.
"In February [Black History Month] the media are awash with stories, music, movies and documentaries. Then on March 1, it's over," she says. "If we added the histories of all people to the history which is taught in school curricula, then Black History Month could be a time of celebration of what is already there, rather than a 'once-per-year' remembrance. After all, we don't take one family member, lock them away in the attic and take them out on their birthday – we celebrate their special day but the rest of the year they're part of the family. Black people are part of the family and should be treated as such. Their history is the history of us all."
Other members of Montreal's black community who signed the Golden Book at City Hall included:
Emilie Nicolas
Thierry Lindor
Duke Eatmon
Gabriella Garbeau
Félix Zogning
Louisa Lafable
Dramatik
Ali Nestor
Malik Shaheed
Sylvie Guiguemde