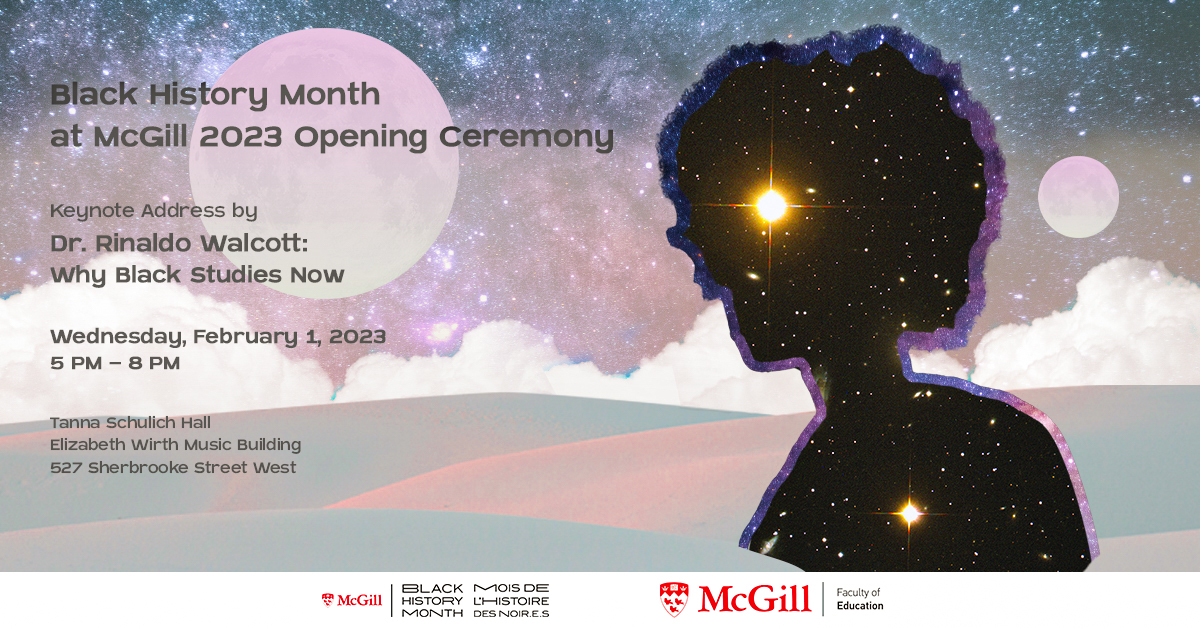 McGill's seventh annual Black History Month (BHM) will begin tomorrow, with the Opening Ceremony. This year's iteration marks the first in-person BHM since before COVID pandemic. People are understandably excited for the opportunity to celebrate together.
For organizers, however, the nuts and bolts of in-person events adds a level of complexity – and anxiety.
"I woke up the other day thinking 'did we book tables to put the food on?'" laughs Shanice Yarde, Senior Advisor: Anti-Racism & Equity Education, Office of the Provost and Vice-Principal (Academic). "But it will be wonderful to meet with people face to face again."
February 1: Opening ceremony
BHM kicks off on February 1, with the Opening Ceremony at the Tanna Schulich Hall in the Elizabeth Wirth Music Building, from 5 to 8 p.m.
The event in partnership with the Faculty of Education will feature Rinaldo Walcott, Professor and Chair of the Department of Africana and American Studies and Carl V. Granger Chair of Africana and American Studies at the University at Buffalo. Walcott's teaching and research are in the area of Black diaspora cultural studies and postcolonial studies with an emphasis on questions of sexuality, gender, nation, citizenship, and multi-culturalism.
Walcott will deliver the keynote address: Why Black studies now?
"The theme of the talk really connects with ongoing efforts across McGill, particularly in relation to the Anti-Black Racism Action Plan," says Yarde. "It's going to offer an opportunity for those of us here at McGill to think about what the institution is going to look like in coming years. There's a historical element there around a decades-long push and advocacy for a Bblack studies program as well as the expansion of current programs. His talk is going to be speaking to the necessity of moving forward on that."
There are still some in-person spots left for the Opening Ceremony. People are encouraged to reserve their spot online.
People who can't attend the live event, can always tune in remotely to watch the Opening Ceremony live.
February 23: Community gathering
The other main event being planned by Yarde and her colleagues in the Office of the Provost and Vice Principal (Academic) is the community gathering on February 23.
The gathering will include food and music, and, of course, the opportunity to mingle – in person.
"For me anyways, the most impactful part of these celebrations is that we're coming together," says Yarde. "Being together in the same space, sharing food and listening to music, is so important – particularly in terms of making people feel seen, included and connected."
"We work and study in silos within silos within silos," says Yarde. "Those opportunities that allow people to connect and reconnect – especially for our students – is really important. This is a great way for us to partner with the associations like Black Students Network (BSN) and McGill African Students Society (MASS)."
Racines, a local Black-owned bookstore will have a table at the event.
Pan-McGill celebrations
This year, the Faculty of Education is the official faculty partner of the BHM Opening Ceremony. But, as BHM at McGill has grown over the years, so too has the number of faculties, departments and units organizing events.
"It's a bit of a shift for us. At the beginning we were planning and organizing most of the events," says Yarde. "Now we play more of a support role in helping promote the activities across campus."
Events on tap include offerings from student groups, administrative units, as well as schools, institutes and faculties.
"There's been significant growth on a collective level. It's really exciting just to see the demand and the interest, and also to see the effort people are putting in to ensure that we celebrate BHM comprehensively," says Yarde. "And it's equally exciting to see the way McGill has supported people and their capacity to organize and host events."
To see a list of upcoming events, visit the Black History Month website for regular updates.