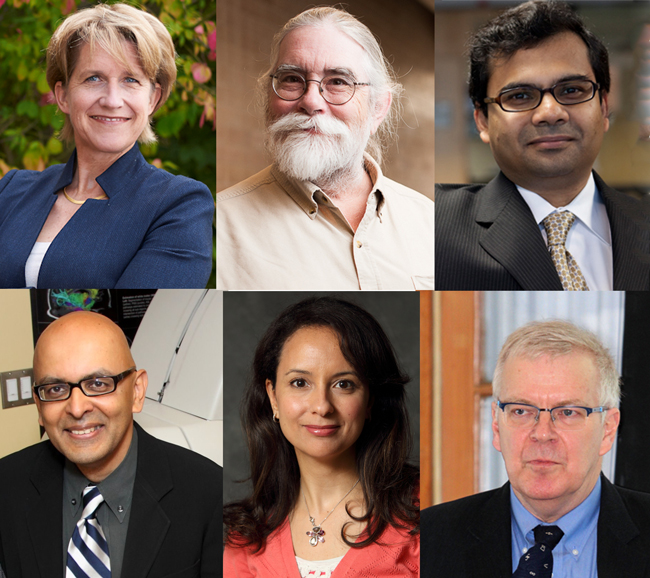 New labs and equipment through the CFI's Innovation Fund will help six transformative McGill research projects to collaborate, innovate and train the next generation of scientists for the jobs of tomorrow.
Today at the Université de Montréal, the Minister of Transport, Marc Garneau, on behalf of the Minister of Science, Kirsty Duncan, announced an investment of $67 million through the CFI's Innovation Fund to support research infrastructure in Quebec, including more than $31 million for McGill. The funding is part of the more than $554 million announced by Minister Duncan in October 2017.
Quebec's Minister of Higher Education, Hélène David, committed matching funds for the Quebec-based projects. With the generous contribution from industrial partners, the total value of these infrastructure awards at McGill is $59 million.
McGill's projects, including Biomedical Research and Informatics Living Lab for Innovative Advances of New Technologies (BRILLIANT) in Mobility, will use the funds to purchase new, state-of-the-art equipment and facilities to accelerate research. BRILLIANT, led by Professor Sara Ahmed of the School of Occupational and Physical Therapy, is a collaborative initiative of researchers from McGill and Université de Montréal focused on improving mobility among those with acquired brain injury (ABI), such as from a stroke or cerebral palsy.
Professors Timothy Geary (Department of Parasitology), Anja Geitmann (Faculty of Agricultural and Environmental Sciences) Subhasis Ghoshal (Department of Civil Engineering), John Gyakum, (Department of Atmospheric and Oceanic Sciences) and Dr. Abbas F. Sadikot (Montreal Neurological Institute and Hospital) were each awarded funding in this round. Collaborating across disciplines, these researchers will tackle a diverse set of problems, including exploring the interactions of parasites with their environment, performing an intensive study of the St. Lawrence River Valley ecosystem, developing new techniques for image-guided neurosurgery and helping to improve the sustainability of a new class of physical substances called nanomaterials.
Over the lifetimes of the projects, the CFI will contribute $9.3 million for operations and maintenance of the infrastructure. McGill is concurrently collaborating on ten CFI-funded projects across the country, including with researchers at Carleton University, the University of Toronto, Dalhousie University and Queen's University.
"Thanks to these significant investments from the governments of Canada and Quebec as well as from our industrial partners, McGill's researchers and their collaborators will accelerate discoveries that address environmental challenges and improve the health and quality of life of all Canadians," said Martha Crago, Vice-Principal (Research and Innovation).
The best plant for a changing climate
Professor Anja Geitmann, Canada Research Chair in Biomechanics of Plant Development and Dean of McGill's Faculty of Agricultural and Environmental Sciences, is leading a team of researchers at McGill and the University of Sherbrooke, in developing the Eastern Canadian Plant Phenotyping Platform (ECP3), which received close to $24 million in combined CFI and matching funding. The ECP3 research program will develop new plant varieties, precision agricultural tools and management practices adapted to climate change in Eastern Canada.
The ECP3 Platform includes sophisticated controlled growth and plant-pest containment environments, which will help ECP3's researchers to address emerging challenges to Canada's agricultural sector through the coming decades. ECP3 will harness McGill's advanced plant phenotyping capabilities — an emerging field of plant science that links genomics with plant ecophysiology and agronomy — to expand multi-disciplinary capabilities in plant imaging, genomics and plant transformation.
"The Eastern Canadian Plant Phenotyping Platform will position Canada as a global leader in agricultural innovation in the fight against rapid climate change", said Geitmann. "The unique plant science capabilities of ECP3 may also be applied to other research spheres, such as the development of a plant-based vaccine production platform. The Canada Foundation for Innovation together with the government of Quebec plays an essential role in advancing Canada's research capacity in crucial areas of plant science."
There's an app for accessibility
For people with acquired brain injury (ABI), it can be challenging to navigate public spaces, such as shopping malls. Dr. Ahmed's project, BRILLIANT, will expand upon the groundbreaking work of the CRIR RehabMaLL Living Laboratory and will connect researchers from various disciplines. Together, they will use next-generation biomedical community-based technology, multiple learning applications and data to understand why people with brain injuries experience difficulties accessing and navigating a variety of spaces. Using predictive analytics and artificial intelligence models, BRILLIANT will provide evidenced-based research to improve mobility and rehabilitation for many subgroups of people. Among the planned developments is an app for patients to use in navigating public spaces like a mall.
"Mobility is not only about individuals' physical health but also about how all the sensory systems work together and what changes occur in the environment", said Dr. Ahmed. "The funding provided by the CFI and Quebec government enables BRILLIANT to integrate data from various sources and undertake sophisticated biostatistical analysis to plan more accessible environments and enhance mobility for people with various physical limitations. Clinicians need this information to be able to deliver personalized, cost-effective care that supports each individual's long-term and meaningful participation in the community."
Dr. Ahmed will work closely with partnering Centre de recherche interdisciplinaire en réadaptation du Montréal métropolitain (CRIR) rehabilitation centres in Montreal: CISSS de Laval (Jewish Rehabilitation Hospital), CIUSSS West-Central Montreal (Constance-Lethbridge Rehabilitation Centre and the MAB Mackay Rehabilitation Centre), CIUSSS Centre-Sud-de-l'Ile-de-Montréal (Institut universitaire sur la réadaptation en déficience physique de Montréal et l'Institut de réadaptation Gingras-Lindsay-de-Montréal) and the CIUSSS Centre-Sud-de-l'Ile-de-Montréal (Institut universitaire sur la réadaptation en déficience physique de Montréal and Centre de réadaptation en déficience physique Lucie-Bruneau).
Here is the complete list of McGill's CFI and Government of Quebec-funded projects: