Since 2013, the Social Equity and Diversity Education (SEDE) Office's Alternative Spring Break (ASB) has provided McGill students with the opportunity to volunteer at local community organizations for four days during reading week. As they work at their different placements, which this year included organizations such as Share the Warmth, Santropol Roulant, Montreal LGBTQ+ Community Centre, and The House of Friendship, ASB provides an avenue for community-engaged learning that facilitates new friendships, links with new communities, and an understanding of one's capacities to contribute to and learn from different social causes.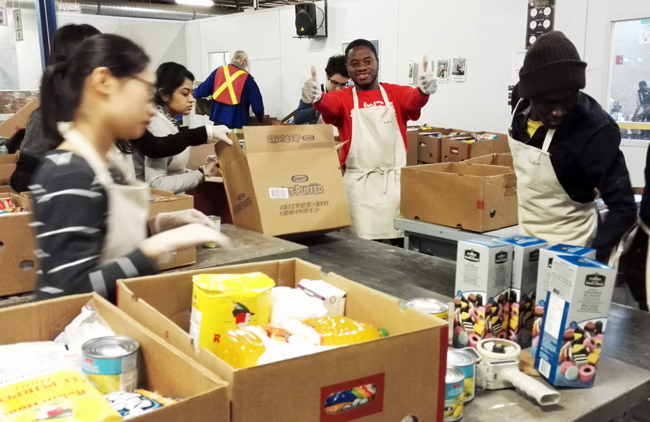 On top of helping with the needs of different organizations, ASB encourages students to critically reflect on what their volunteer work means in the context of equity and solidarity, with pre-placement training, daily guided journaling and a group reflection at the end of the week.
According to SEDE's Community Partnerships Associate and the organizer of ASB, Carly Breger, every year it is surprising how much both the organization partners and the student volunteers are able to get out of the brief experience, which is especially evident when participants share what they learned about themselves and their relationships to others. For example, she says "Many of the volunteers are international U0 or U1 students, their volunteer work might have been the first instance they have actually connected with people who live in the greater Montreal community, and it may prove to them that they are capable of engaging with the city in which they are living and studying."
Breger emphasized that ASB, and volunteer work in general, is powerful because it unearths the implicit biases we need to work through in order to grow. When engaging with populations one may have little exposure to (for example, children on the autism spectrum, people living with HIV, people who may not have homes or who are struggling with addiction or mental illness), what may begin as feelings of discomfort is actually an essential part of understanding and overcoming barriers to building a more inclusive society.
At week's end, some students said that ASB was eye opening in that it helped them come to terms with their own privileges, and many shared personal stories of the process of unlearning preconceptions they may have had about different people they worked with. According to one student: "The community in St. James [Drop-In Centre for marginalized and homeless people] helped me a lot about figuring out what does homeless mean and why these beautiful, sharing, loving people are 'labeled' as homeless. On the other hand; talking with them and learning their past, seeing how open they are about their vulnerabilities made me understand that I don't need to hide myself…[from this comes] strength and power." Others shared that they had not expected to feel so confident in their interpersonal skills, and that the connections they developed with their organization made them want to continue to volunteer.
As with any successful partnership, a major component of ASB's success has to do with making sure that the participating organizations are also getting a lot out of the experience.
Some of the organizations, such as St-James Drop-in Centre, have been working with Breger since the beginning, and she dedicates a lot of time to meeting with the coordinators to find out what they really need from a student placement. These end up being strong partnerships between McGill and the Montreal community.
In some cases, partnerships made through ASB have evolved into longer-term, more comprehensive courses through SEDE's ExCELR program (Experiential Community-Engaged Learning and Research). For example, Baobab Familial, Chez Doris, and the Museum of Jewish Montreal all developed ties with McGill during ASB, and went on to develop internship programs this year with SEDE and McGill professors, in order for students to complete part of their required coursework through volunteer research projects.
Central to the mission of SEDE is the promotion and support of more diverse, inclusive and equitable communities through education. Initiatives such as Alternative Spring Break are an ideal way to bolster and build upon classroom learning by providing students with the right tools to engage with equity in practice. The support of the administration is crucial because it highlights McGill's support of experiential learning as a valuable co-curricular practice. Dean of Students Chris Buddle provides each student with a letter acknowledging the importance of this type of experience and Principal Suzanne Fortier gave warm words of encouragement and thanks to the participants during the celebratory end-of-week lunch.
Whether it means showing students different models for work they may do in their careers, helping students make new friends and connections in a strange city, or kickstarting a meaningful partnership between McGill and the greater community, Alternative Spring Break offers an invaluable foundation for equity work that will last long after reading week ends.