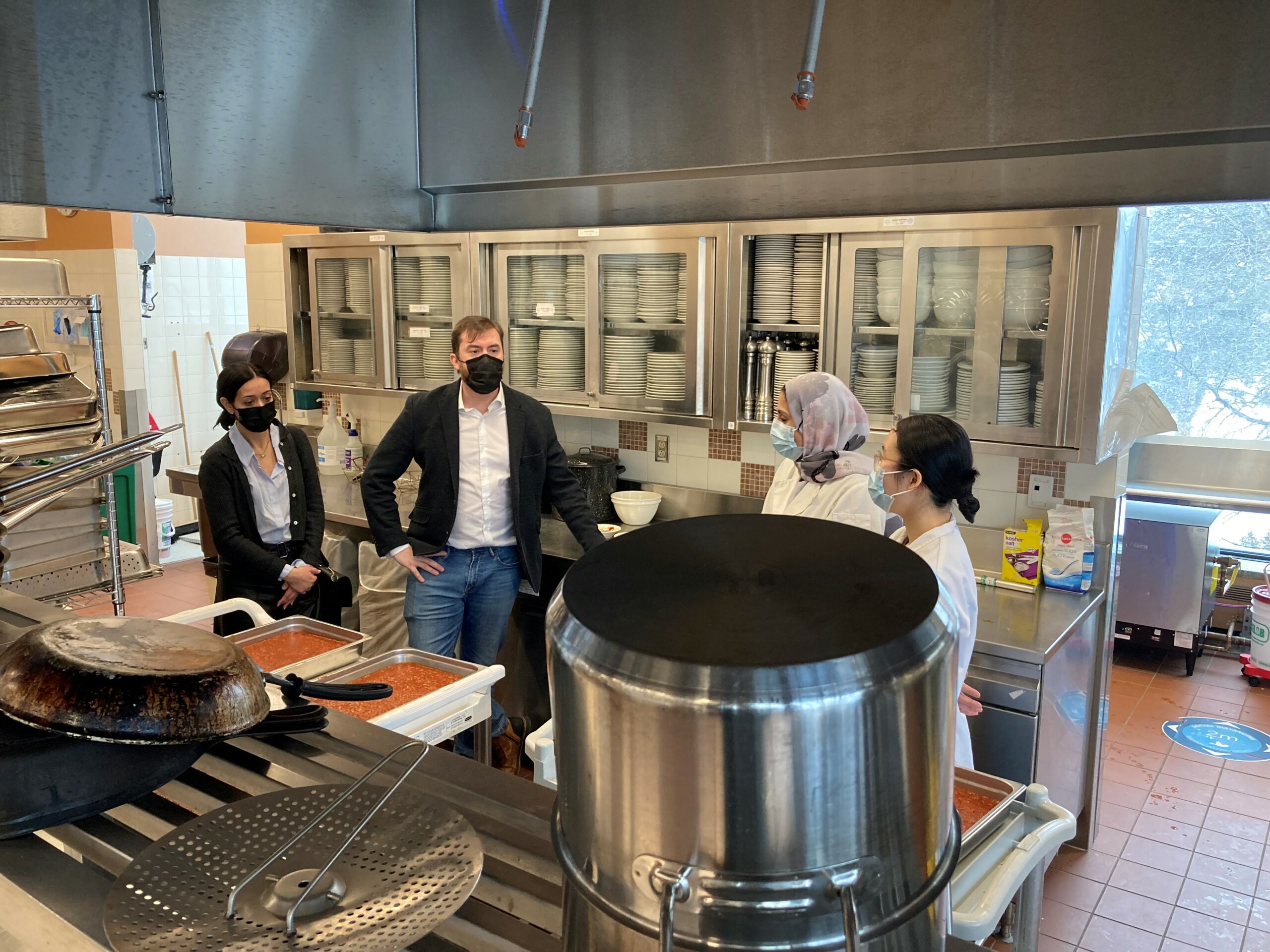 Earlier today, students in the School of Human Nutrition expressed their gratitude to a group of women who have been serving on the frontlines in the battle against COVID-19 since its onset: those working in the Montreal West Island Integrated University Health and Social Services Centre (CIUSSS). The community-outreach initiative saw 600 meals delivered to CIUSSS employees, that were planned, prepared, packaged and delivered by students in the School's Dietetics and Nutrition program.
"Part of the dietetics program involves understanding how to manage a food service operation, and the best way to learn to do that is to give students a hands-on opportunity to do just that," explained Paul-Guy Duhamel, a Faculty Lecturer in McGill's School of Human Nutrition and Manager of the university's Food and Nutrition Laboratories.
In the fall, students are asked to propose a business development project and build a strategic plan around its execution, which takes place several months later in the winter semester. "Students often come to realize that the project they have in mind in September is different from the one they are able to execute in the winter or spring, and they learn to adapt," said Duhamel. "It's an opportunity to experience handling the logistical side of a food service-based operation, including how to manage a budget and stay on schedule."
CIUSSS employees were offered a choice of three meal options with either meat-based, vegetarian, or plant-based protein pasta sauce. Each meal package included pasta, cheese, and a salad with a homemade vinaigrette and was designed to feed four.  The meals were prepared over a 6-week period leading up to the event, during which time students learned that there are a variety of factors to consider when it comes to large-scale food preparation.
"One of the biggest challenges is human resources, like finding volunteers for food prep and packaging," said Karelle Côté, a student in her qualifying year of the master's degree in dietetics. "You need to ensure you have enough people to handle the work but not so many that you become inefficient."
It's also important to consider the availability of the equipment needed to prepare those foods, Côté added. "If you're limited to certain pots, for example, you may not be able to make as much sauce, even though you have a lot of volunteers and ingredients at hand. There's a lot of scheduling involved which can make a large-scale meal event logistically challenging to plan."
Food and the human connection 
As a volunteer at his local West Island CIUSSS vaccination site, Duhamel couldn't help but notice that most of the workers were women from various disciplines who, in the face of uncertainty and fear surrounding COVID-19, had risen to the challenge—registering, guiding, swabbing, vaccinating, observing and managing these centres, and doing it well.
"It came to a point where I felt we had to do something to recognize the contribution being made by the women at these screening and vaccination sites. They believe in and are invested in what they do and have devoted the last two years to bettering the health of our community," said Duhamel. "It's no small feat."
It was also an environment reminiscent of the one Duhamel works in, Dietetics and Nutrition, dominated by dedicated women who make up 94 per cent of the industry's professional workforce. So, when the idea was proposed to use the meal project to celebrate the women of The Montreal West Island's CIUSSS on International Women's Day, it wasn't hard for the program's largely female student body to get on board.
"To be able to give back and show our support to everyone who has been on the frontlines of this pandemic, particularly the women, is so important. We hope to be able to put a smile on their faces, encourage them to keep moving forward, and to show them that we really do appreciate them," said Samiha Younes, a second-year Dietetics program student who helped manage the project.
According to Younes, initiatives like these allow students the opportunity to experience the larger implications of food beyond nutrition and physical health—it helps them understand the integral role that food plays in establishing and fostering human connection.
"When you first head into this program, you see food as its components: macronutrients, calories, and carbs, but once you start manipulating the food, you feel like there's a whole story behind it. There's a financial part, a cultural part, and the sheer pleasure of sharing a meal with someone. Our Food Guide actually encourages you to enjoy food with others because it's meaningful," Younes added. Therefore, it seemed a natural way to thank this dedicated workforce, who have collectively administered over 500,000 screening tests and roughly 700,000 vaccines since the onset of the pandemic.
A community effort 
McGill students weren't the only ones inspired to give. In fact, the project was made possible thanks to funding from the Brown Martlet Funding Committee of the Martlet Foundation and financial contributions from businesses, community members, and local politicians, including McGill alumnus Greg Kelley (BA'09), MNA for Jacques-Cartier.
"As the brother of four dynamic, generous women, I recognize and cherish women's contribution to our society," said Kelley. "As an MNA who has the benefit of having the Lakeshore General Hospital and many seniors' residences in his riding, I am immensely proud of the many sacrifices healthcare workers have made to keep our community safe."
Donations came in other forms, too, including ingredients from Métro Plus Lachine and Provigo Baie d' Urfé, and fresh, locally-sourced produce from Lufa Farms, co-founded by alumna Lauren Rathmell (BSc'10).
"Lufa Farms is proud to donate produce to help out initiatives like these ones. It warms our hearts to know that women at CIUSSS West Island sites will be recognized for all the hard work they've done for the community these past months," said Lufa Farms in a statement. "Giving back to the community is something we value, and supporting our co-CEO's alma mater at the same time makes it even better."
The Cities of Baie d'Urfé and Beaconsfield generously lent transportation vehicles to the cause, while the food service management team—alongside roughly 40 additional student volunteers—spent the morning packing vehicles with meals and receiving deliveries at various West Island CIUSSS locations, including testing centers in Kirkland, Lachine and Verdun, and vaccination centers in Dollard-des-Ormeaux, Pierrefonds, Pointe-Claire. The last stop was the Dollard St-Laurent Civic Centre in Lasalle at noon, where the Dean of the Faculty of Agricultural and Environmental Sciences and Associate Vice-Principal (Macdonald Campus) Anja Geitmann, MNA Hélène David (Marguerite-Bourgeoys), and Amine Saadi, Assistant Director of Specialized Mental Health and Addiction Services at The Montreal West Island CIUSSS, gathered to thank all those involved.
The gift of gratitude 
In a brief address, Amine Saadi, representing The Montreal West Island CIUSSS, expressed his gratitude to McGill and its students for making the event possible.
Dean Geitmann responded in kind, thanking the women­—and all employees—at The Montréal West Island CIUSSS sites for their ongoing dedication in the face of the pandemic, often persevering in the face of public fear and doubt. "Thanks to you, we are on the cusp of normal life. You have made that possible. On behalf of the School of Human Nutrition and the McGill community, I thank you."
Paul-Guy Duhamel also took a moment to acknowledge the abundant generosity that made this event possible, including donations from MNAs Enrico Ciccone (Marquette), Hélène David (Marguerite-Bourgeoys), Monsef Derraji (Nelligan), Greg Kelley (Jacques-Cartier), and Carlos J. Leitão (Robert-Baldwin), and others whose contributions helped ensure the success of the project.
"McGill and our students are grateful for the opportunity to help them learn and grow their skills. The experience is invaluable and will help propel them into future careers in the fields of Dietetics and Nutrition."