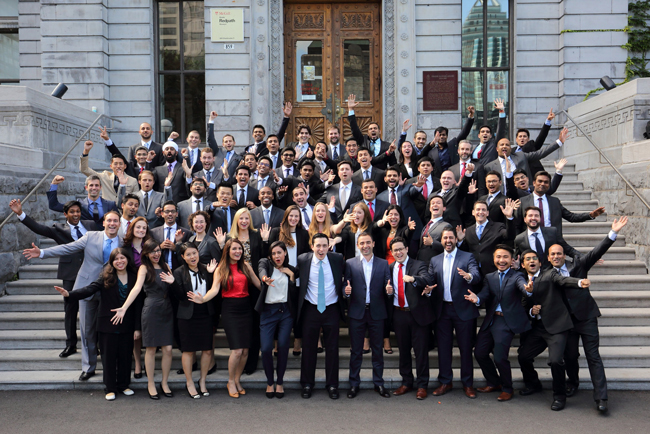 Not even a month into 2018, and it is already shaping up to be a great year for the Desautels Faculty of Management. Earlier today, the 2018 Financial Times Global MBA Rankings was issued and the Desautels program was named the top MBA program in Canada.
Desautels was one of only three Canadian schools to make the Top 100 list, finishing 78th this year. The other two Canadian programs included on the list were University of Toronto's Rotman School of Business (86th) and Western University's Richard Ivey School of Business (90th).
"These results reflect some of the changes and investments we have made in our MBA in recent years, including the expansion of our professoriate, enhancement of our admissions criteria, improvement in career services, and increase in MBA student awards," said Isabelle Bajeux, Dean, Desautels Faculty of Management. "This success is owed to the collective efforts of all members of the Desautels family, for which I am very grateful."
And, the Dean also pointed out, with the brand-new Donald E. Armstrong Building now open for MBA students, the Faculty is poised to make "huge strides forward in 2018."
Every year, the Financial Times ranks the world's best 100 MBA programs using multiple criteria. The MBA Class of 2014 was surveyed for this ranking. Read more about the methodology.
Desautels MBA received high marks in a variety of categories. The program was first (or tied for first) in Canada in the following categories:
Salary Percentage Increase
Career Progress
Aims Achieved
Percentage of Female Faculty
Percentage of International Board Members
Desautels was tops in North America in the following categories:
Percentage of Female Students
Percentage of International Faculty
Percentage of International Students
International Mobility (17th Globally) and
International Course Experience (14th Globally)
When the news broke at Desautels, people were thrilled, but not completely surprised.
"I think I can speak on behalf of the MBA student body in saying that we chose to study here at Desautels because of the unique qualities the program offers: the global brand, quality teaching and sense of community," said Tegan Boaler, MBA'19, Desautels Graduate Student Society President. "Being ranked as the #1 MBA in Canada is great recognition of what is so special about our experience here at McGill, and I am very proud that we can celebrate this fantastic achievement."
These sentiments were echoed by Ariel Sacramento, MBA'14, an Associate at McKinsey & Company. "My MBA experience was amazing, way beyond my expectations," said Sacramento. "The program struck the right balance between great faculty, diverse and inspiring classmates, and tailored career services. The right dosage of those three ingredients ensured we learnt the fundamentals of business, built a new and strong network, and successfully transitioned into competitive new career paths."
Founded in 1906, the Desautels Faculty of Management at McGill University is ranked as one of the world's top international business schools by BusinessWeek, Canadian Business, Forbes and The Economist.
Desautels houses numerous research centres and academic programs at the undergraduate, masters, executive, and PhD levels. The curriculum is built on an integrated, interdisciplinary model that combines research, practice and teaching.
Read the complete 2018 Financial Times Global MBA Rankings.
Visit the new Desautels blog which show cases the Faculty's MBA students.