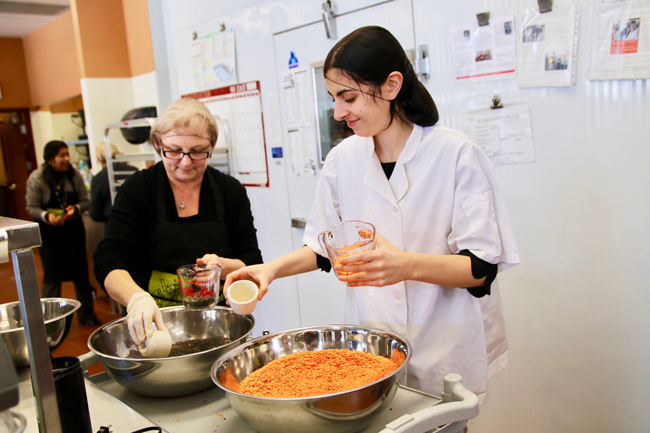 Soup is one of life's great comfort foods. This is especially true for people who struggle to make ends meet and get food on the table.
Yesterday, more than 60 volunteers donned hairnets, rolled up their sleeves and pitched in to make some 200 litres of hearty soup during the second MacShares event. Both varieties, a farmhouse lentil soup and a squash and apple velouté, have been donated to a variety of local charities, including Share the Warmth, the NDG Food Depot, AMCAL Family Services and Corbeil de Pain/Bread Basket Lac-St-Louis.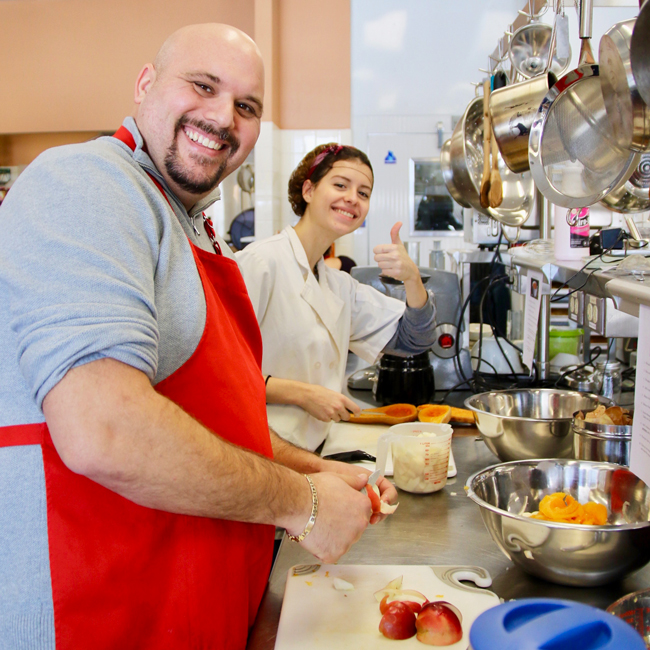 "We started in the fall, making 200 apple pies that we donated to various organizations," says Maureen Rose, Director, McGill Food and Nutrition Laboratories and one of the MacShares organizers. "The idea was twofold. First, of course, we wanted to give back to the community, but we also wanted to bring the Mac community and get people talking to people from different units."
By those parameters, the day was a rousing success. Broken into two, two-hour sessions, MacShares saw undergraduate students and support staff chopping onions and peeling apples side by side with grad students and faculty members. Representatives from the organizations benefitting from the soup also pitched in. The soups were made in Mac's state-of-the-art Food and Nutrition Labs.
"Nobody understands the problem some of our students face," says Amy Vincent, Financial assistance officer at John Abbott College who took part in the morning session. "Everybody thinks that John Abbott students are well-off and that a student who pays $162 per semester in school fees would have no problem affording food. But there's a huge need for it."
Vincent says that some 40 – 50 John Abbott students use the CEGEP's food bank every month and receive coupons for local grocery stores and the Mac Market.
"This soup is a real bonus. They get something fresh they get something homemade and not just something off-the-shelf," says Vincent.
Prior to hitting the kitchen, volunteers had a brief information session in which they learned about the benefits of soup.
Soup is efficient and cost-effective. You can easily whip up a healthy batch using leftovers that might otherwise go to waste.
Unlike canned soup, which is high in sodium and has lost a lot of the nutrients during processing, homemade soup retains virtually all its nutritional value. Plus, it's a great go-to meal on cold, blustery days.
In order to appeal to a wide range of dietary preferences, both soups were vegetarian. However, it was pointed out that lentils are a fantastic source of protein and fibre minus the fat associated with meat. The squash and apple velouté is high in Vitamins A and C, potassium, fibre and antioxidants.
According to Rose, most of the produce used to make the soups came from the Mac Market. "They sent over different foods that they managed to keep for us from the fall. Apples and onions and other produce," she says. "We also processed some foods in the fall and froze them. A lot of food we use is what otherwise would be wasted because it isn't pretty. It's completely edible but it just doesn't look pretty, so it is perfect for a soup!"
Rose says both MacShares have been a real hit with the Mac community and that they will probably be held approximately once a semester. Having polled participants, she says the next project could be chili, a stew, or some preserves. "We're open for suggestions," she says. "And we're hoping to draw even more people to the next one."