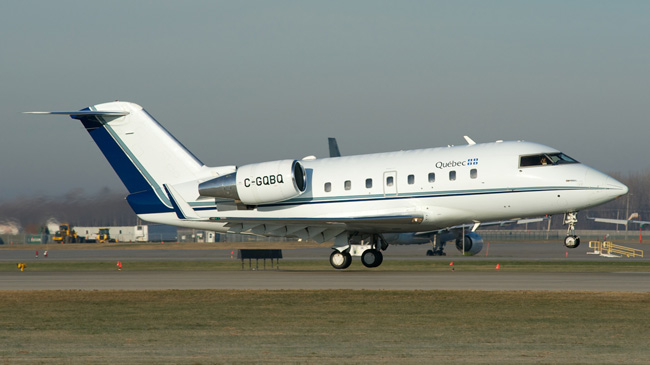 In following decades-old policy in Quebec, children in need of urgent medical attention from remote communities that require airlifting via the province's Challenger jet have been forced to endure the transportation alone, without parental accompaniment.  Unwilling to stand idly by with respect to a policy which they say disproportionately affects Inuit and First Nations children, in December 2017, Dr. Samir Shaheen-Hussain, Dr. Saleem Razack and Dr. Harley Eisman, three McGill-affiliated doctors working at the Montreal Children's Hospital, co-authored a letter to the Ministry of Health decrying the situation and calling for change.
The letter resulted in considerable media coverage, shedding light on the policy, which the doctors found to be unique to Quebec among Canadian provinces. Dr. Shaheen-Hussain has argued that in addition to the important role that parents play in comforting and supervising children in what are frequently highly stressful and frightening situations, often the children need major medical procedures that require parental consent. Unable to speak English or French the children are often unable to communicate with the doctors in Montreal who usually don't speak Inuktitut, and in many situations the parents face delays in getting a commercial flight into Montreal. In the last year alone, the Children's treated 219 children from fly-in communities in Nunavik and 146 children from remote Cree communities.
"It would be heartbreaking for any child to receive medical care, surrounded by strangers oftentimes speaking a foreign language, without the presence of a caring family member," says Dr. Shaheen-Hussain. "This situation is particularly abhorrent given that Indigenous communities have experienced forcible removal of their children through myriad colonial policies over the years, including in residential schools and through youth protection services."
In February, the Ministry of Health indicated an intention to change the policy to allow parents to accompany their children, however there was a case in early March where an Inuk child was forced to travel unaccompanied.
The situation was recently a topic of discussion with the government's Commission d'enquête sur les relations entre les Autochtones et certains services publics au Québec : écoute, réconciliation et progress, chaired by the Honourable Jacques Viens.  On March 21 Dr. Shaheen-Hussain appeared before the Commission during hearings held at the Palais des Congrès in Montreal and provided 90 minutes of testimony.
"For a Commission whose purpose is to address systemic discrimination against Indigenous peoples accessing public services in Quebec, providing an overview of the A Hand to Hold campaign to ensure all children across the province are accompanied for medical emergencies requiring air-transport was very well-received," notes Dr. Shaheen-Hussain. "As I argued during my testimony, this is not only an antiquated and draconian policy, but it is an example of a colonial policy. It is absolutely unjustifiable if the provincial government cares about the well-being of Indigenous children and their families."
Related Coverage
La presse | Enfants autochtones: une pratique d'évacuation «barbare»
Montreal Gazette | Fix policy of airlifting children to ER without family members: MDs
Radio Canada | Des médecins dénoncent l'évacuation d'urgence d'enfants malades sans leurs parents
Radio Canada | Des médecins dénoncent le transport médical des jeunes Inuits
98,5 fm Montréal | Une pratique d'évacuation «inhumaine» pour les Inuits
La presse | Évacuations d'enfants seuls: Barrette ne prévoit pas de changement
CBC | Quebec policy leaves Indigenous children anxious and alone on medical flights, doctors say
CTV News | Quebec doctors urge province to let parents accompany kids on medical flights
CBC Listen| Doctors call for change to Quebec medevac policy
Montreal Gazette | Airlifting sick kids: Quebec has long ignored pleas to let parents accompany them, health workers say
La presse | Évacuations médicales aériennes en solitaire: «Voir un enfant partir comme ça, c'est terrifiant»
Montreal Gazette | Allison Hanes: Shame on Quebec for leaving behind parents of airlifted children
Montreal Gazette | Airlifting sick kids: More doctors appeal to Quebec to revise 
National Post | Paediatric societies call for Quebec to allow parents on child medical flights
CBC | Quebec mother whose toddler son died says family should be allowed on air ambulances
Globe and Mail | Quebec's air ambulance policy separating kids from parents reeks of paternalism
La presse | Opinion, Isabelle Picard : Ceux qui sont loin
City News | Quebec doctors push to allow parents to accompany children being airlifted to hospital
CityNews Toronto | Quebec doctors push to allow parents to accompany children being airlifted to hospital
CTV News | More doctors demand Quebec change air ambulance policy
Montreal Gazette | Airlifting sick kids: Quebec looking at ways to accommodate a parent, Barrette says
Le devoir | Avion-ambulance: Barrette demande des aménagements
La presse | Pour en finir avec les orphelins des airs
Le Soleil, le quotidien de Québec | Québec révise sa politique d'évacuation médicale avec des enfants
Montreal Gazette | Airlifting sick kids: Quebec to allow family member on plane
Globe and Mail | In reversal, Quebec to allow parent to accompany children on air ambulances 
Montreal Gazette | Airlifting sick kids: Nunavik baby flown without mom, despite revised policy
La presse | Une mère inuite n'a pu accompagner sa fille à bord de l'avion-hôpital