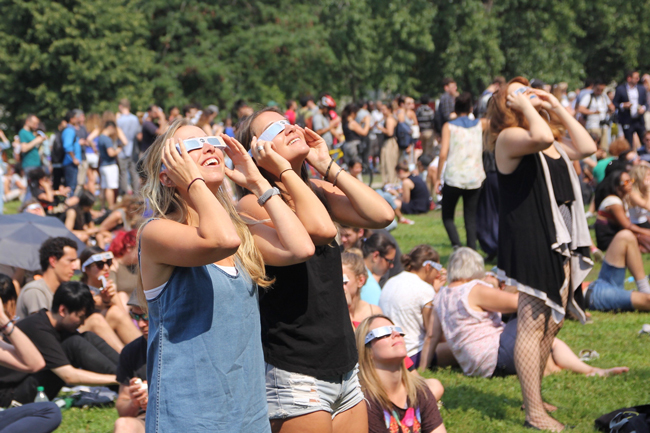 It's not every day that a cosmic spectacle unfolds in the skies over Montreal. Last August 21st, some 3,000 people packed into Lower Campus on McGill's downtown campus to watch the Moon pass between the Sun and the Earth. Hundreds of eclipse fans were sporting protective eyewear courtesy of AstroMcGill. Although North America won't see another total solar eclipse until April 8, 2024, you can put your ISO-certified eclipse glasses to good use before then.
AstroMcGill is collecting the used cardboard specs for redistribution by Astronomers Without Borders, a U.S.-based not-for-profit organization. AWB will donate eclipse glasses to schools in developing countries so children will be able to safely watch eclipses in 2019.
Two solar eclipses will occur over populated areas next year. On July 2, 2019, a total solar eclipse will be viewable from Argentina and Chile. An annular eclipse, in which the Moon doesn't fully cover the Sun, will happen on December 26, 2019; the event will be seen from parts of Borneo, Guam and India, as well as Malaysia, Singapore, Sri Lanka and Sumatra.
Send your eclipse glasses via internal mail, or Canada Post, to: AstroMcGill, Rutherford Physics Building, 3600 University Street, Montreal, QC H3A 2T8.
All ISO-certified eclipse glasses are welcome, not just AstroMcGill-branded pairs. AWB will inspect each pair of glasses to make sure they are safe and undamaged. They will also screen for counterfeits.
Founded in 2011, AstroMcGill is the education and public outreach branch of the astrophysics group in the Physics Department and the McGill Space Institute. The organization is student-led and run by volunteers who are studying physics, astrophysics or a related field.