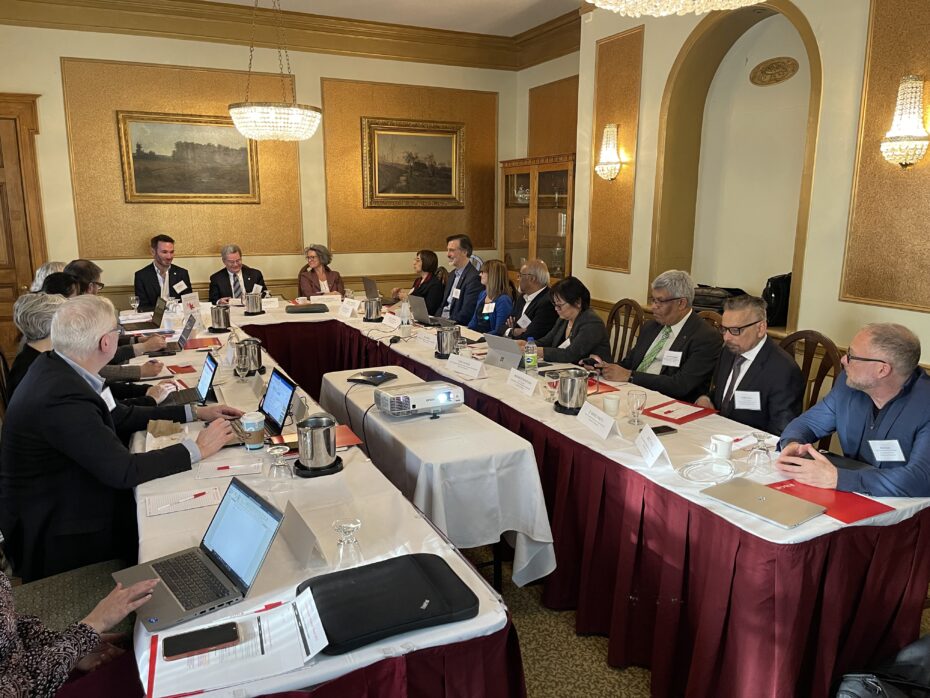 On February 7, representatives from Canada's top-ranked universities met at the McGill Faculty Club to discuss emerging trends, challenges and opportunities in international higher education and research.
Co-hosted by McGill and Université de Montréal, and facilitated throughout the day by Valérie Amiraux, Vice-rector – Community and International Partnerships (UdeM), and Brian Bauer, Director of Global Engagement (McGill), the U15 Senior International Officers summit welcomed special guest speakers from Immigration, Refugees and Citizenship Canada (IRCC), and the international student recruitment and placement service, IDP Connect.
In his welcoming remarks, Interim Principal and Vice-Chancellor Christopher Manfredi drew a link between international engagement and McGill's overarching vision to be an open, connected and purposeful university.
"Being connected means forging links with our local and global communities, as well as across disciplines, sectors, and geographic boundaries," the Interim Principal said. Manfredi outlined a number of the University's goals with respect to maintaining international student enrolment, facilitating student and faculty mobility, and developing international partnerships to support research activity and the delivery of programs outside Canada.
The diversification of international student populations at Canadian universities was a recurring theme throughout the day. From the IRCC, Cynthia Ralickas, Director, International Students Policy and Programs, and Carolyn Konopski, Assistant Director of Forward-Looking Policy, International Students Policy and Programs, spoke about recent shifts in the international student policy and program landscape. IDP Connect CEO Simon Emmett and his colleagues Christine Wach, Director Client Partnerships North America, and Yomi Asade, Country Manager Canada, looked at how Canadian institutions were faring against other destination countries in established markets such as China, and discussed key growth opportunities in the Sub-Saharan African market, including French speaking countries, to better understand the realties and challenges of recruiting in this region.
The summit continued with presentations from a range of speakers from the two co-hosting institutions, each examining a different facet of the international research and higher education landscape. Among the highlights:
Martha Crago, Vice-Principal, Research and Innovation, joined Marie-Josée Hébert, Vice-Rector of Research, Discovery, Creation and Innovation from Université de Montréal, in tackling the at-times thorny issue of building international research partnerships in an era of enhanced security awareness.
Ronald Jean-Gilles, Director of McGill's Sustainable Development Office, Université de Montréal and Divya Sharma, Climate Officer, McGill University explored strategies for encouraging sustainable travel.
Brian Bauer, McGill's Director of Global Engagement, led a discussion on programs for students and scholars at risk.
The U15 Senior International Officers group will meet again this year to continue engaging in a collaborative way on issues similar to those discussed at the summit.