McGill's fourth annual Queer History Month (QHM) is set to get underway, and this year's theme highlights the importance of sharing space, which we have missed over the course of the ongoing pandemic.  
The theme Coming Together recognizes unity as a source of resilience and a sense of belonging for all, and especially for members of 2SLGBTQIA+ communities. For the past year and a half, the COVID-19 outbreak has restricted or closed those spaces. With gradual and limited reopening of such spaces, this year's QHM is offering a new and welcome opportunity to come together to celebrate, share, reflect, and reconnect.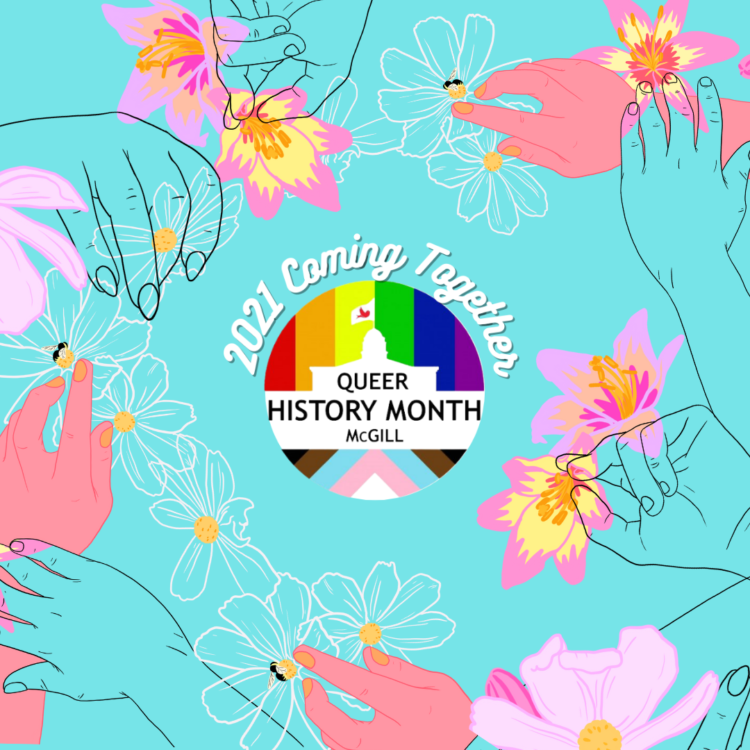 "The pandemic has further underlined the importance of shared spaces for 2SLGBTQIA+ communities as a collective source of strength and affirmation," says Andrea Clegg, Equity Education Advisor (Gender Equity and 2SLGBTQIA+ Education). "This month offers a renewed opportunity of 'Coming Together' to celebrate the achievements of 2SLGBTQIA+ communities. This year's QHM also further punctuates the important role of 'Coming Together' as a way of strengthening our collective wellbeing." 
"We are delighted to be kicking off QHM again this year," says Angela Campbell, Associate Provost (Equity and Academic Policies). "We are working hard to make McGill a campus where people of all gender identities and sexual orientations feel welcomed – it is critical to the work of equity and inclusiveness, which are among the key principles of McGill University." 
This year's QHM programming includes film screenings, panels, workshops and community events. The programming begins on Sept. 29 with Return of the Rainbow, McGill's homecoming event for current and past students, staff, and faculty who identify with 2SLGBTQIA+ communities. The event will be opened by invited Elder Kawennotas Sedalia Fazio, from Kahnawà:ke, who will also close out the month on Oct. 28 following a Queer Open Mic hosted by the one and only musical act Opéra Queens. 
Dr. Jessica L Ware, a Professor of Entomology at Rutgers University and curator at the American Museum of Natural History, will deliver the keynote address on Friday, October 1. She will speak to the history of entomology and the past and present contributions of 2SLGBTQIA+ scientists within her discipline. The address will be available on Zoom.  
Queer History Month started in 1994 in Missouri to highlight and teach 2SLGBTQIA+ histories. While it is celebrated broadly in the United States and the United Kingdom, McGill's 2018 Queer History Month was the first of its kind at a Canadian university. This past May, McGill's Senate adopted a motion endorsing the formal recognition and promotion of October as Queer History Month. 
The goal of QHM is to raise awareness, advance education, and increase visibility of 2SLGBTQIA+ communities by recognizing their history and contributions, building bridges, and bringing together McGill students, staff, faculty, and alumni and Montreal community members. 
For a full list of events and registration information, visit the Queer History Month website.