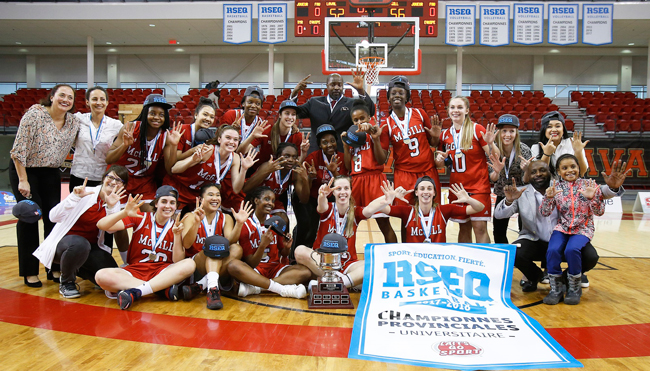 Frederique Potvin of Ste. Julie, Que., scored 16 points as the McGill women's basketball team rallied from a 13-point deficit in the final quarter to stun Laval 56-52 and capture the RSEQ league championship, presented by Laits Go Sport, at Centre PEPS, Saturday.
It marked an unprecedented seventh consecutive Quebec crown (and 12th overall) for the defending national champions, who punched their ticket to next week's U SPORTS Final Eight tournament in Regina. The Redmen claimed the men's RSEQ basketball title over Concordia just minutes later back at home as McGill swept the provincial championship for the fifth time in six years.
The Martlets led 16-14 after the first quarter but found themselves trailing 36-25 at halftime and 50-37 after three before posting an unbelievable 19-2 final frame to claim the win. The two points allowed in the final stanza was a school record for fewest points allowed in a quarter.
"I guess we've said all year, sometimes we start slow and it's not a great thing, but at least we know we're not going to panic in that situation," said Ryan Thorne, who improved to 253-192 in 445 games overall during his 15 years as head coach at McGill. "A 13-point deficit is nothing in basketball. Our talk between the third and fourth quarters was just about chipping away at the lead, not trying to win it in the first two minutes. Just chip away, chip away, chip away.
"We believed in what we could do defensively and then we got some points off our defence, so that was great. We had to stop the rebounds, that was the big thing. We had to stop giving up so many offensive rebounds, so once we did that we were okay."
Laval held a 35-31 edge in rebounds but the Martlets had an 8-6 margin in steals and a 3-2 advantage in blocks. Both teams forced 16 turnovers. McGill played a disciplined game that gave the Rouge et Or just three chances from the foul line. Laval was 3-for-3 from the charity stripe but McGill gained 11 additional points from the line (14/19), which proved to be huge in a game that was decided by four-point margin of victory.
Potvin, a 5-foot-10 guard, shot 5-for-19 from the field, including 2-for-8 from three-point range, and was 4-for-5 on her free-throws. She grabbed three rebounds, had five assists and stole one ball.
Marie-Love Michel of Montreal followed with 13 points. The 5-foot-9 winger shot 6-for-7 from the field, sank one of two freebies, and had a pair of steals along with an assist. League MVP Alex Kiss-Rusk of Beaconsfield, Que., pulled down a game-high 16 rebounds and scored nine points, just one shy of a "double-double." The 6-foot-4 centre shot only 2-for-10 from the floor but went 5-for-6 from the charity stripe and had two assists along with a game-high two blocks.
"Two leaders who took over were Fred Potvin and Marie-Love," praised Thorne. "Laval does a really good job of collapsing on Alex, which makes it tough. Alex was able to pass out of those situations and find open players, so even though she wasn't scoring as much as usual, she was contributing."
Raphaëlle Côté led the Rouge et Or with 17 points and teammate Claudia Émond followed with 11.
The Martlets shot 35.2 per cent per cent from the field (19/54) and 23.5 from downtown (4/17). Laval shot 35 per cent from the field (21/60) and 29.2 from beyond the arc (7/24).
The victory over Laval follows in the wake of an eye-opening 63-44 loss to the Rouge et Or in McGill's second-last game of the regular season, which cost the Martlets first place but proved to be a wake-up call heading into the playoffs.
"I think it was necessary," Thorne admitted. "After that game we had to really self-assess. We talked about our program and what we wanted to achieve and the commitments that we had to make, not just to be on this team, but to each other. We had a real good session, it lasted about an hour, just sitting there and talking after the game. Ever since then I think there's been a real difference in our commitment and our turn-around."
The Martlets go into the 2018 U SPORTS Women's Basketball Final 8 ranked fourth and will play the No.5-ranked McMaster Marauders in the quarter finals on Thursday, March 8, at 4 p.m.