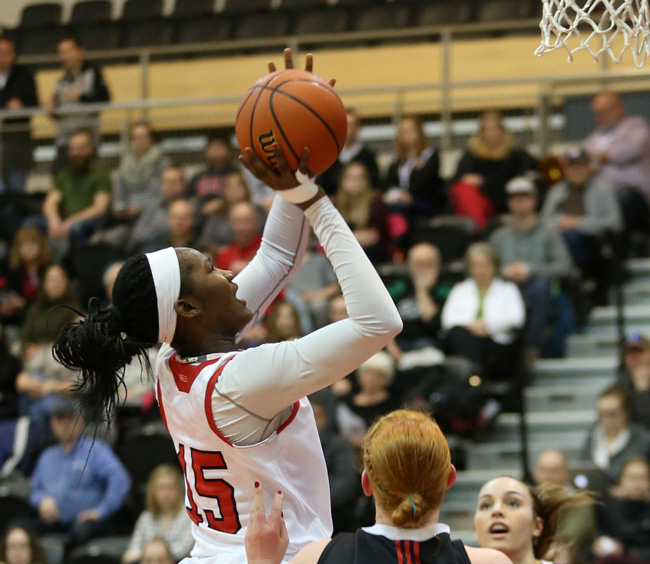 No. 1-ranked Martlets advance to semis on Saturday
By Ryne Bondy
Seniors Mariam Sylla and Dianna Ros each scored in double figures as the top-seeded McGill Martlets defeated host UNB, the No.8 seed, 58-52 in a sudden-death quarter-final at the ArcelorMittal women's basketball championship, before a packed house at the Richard J. Currie Centre, Thursday.
McGill (1-0) advances to a semifinal showdown against No.5-seeded Ryerson (1-0) on Saturday at 1:30 p.m. (Eastern) live on Sportsnet One and www.cis-sic.tv. It will mark McGill's second straight year of reaching the semis after a silver-medal performance last year in Quebec City.
The Martlets held a 20-14 advantage after the opening quarter but a raucous home crowd gave the Varsity Reds momentum in the second frame to close the gap to 34-32 at halftime. The third stanza resulted in no advantage as both teams scored 13 points apiece.
Both defences buckled down in the final quarter. UNB managed only seven points but found themselves with a surprising 52-51 lead and only 3:58 remaining. Sylla then took the game into her own hands, scoring six of McGill's last seven points including a pair of clutch free-throws with a minute remaining and a foul-line jumper with just 21 seconds left. Playing hurt, the pharmacology major from Guinea didn't start but came off the bench and played 24 minutes. She went 5-for-9 from the field and 2-for-2 from the charity stripe, adding nine rebounds, two blocks and one steal.
Ros, a co-captain who was named as McGill's player of the game, contributed greatly, scoring 11 points, while adding five assists, five steals and one rebound. "That's veteran leadership out there, that's maturity," mentioned Martlet bench boss Ryan Thorne of Ros' play. "There were some key decisions that changed the momentum of the game and that's why you need her out there in crunch time."
Alex Kiss-Rusk, a 6-foot-4 centre from Beaconsfield, Que., was the only other Martlet to reach double digits, tallying 10 points in 22 minutes of play. The second-team All-Canadian struggled shooting the ball, making just five of 15 from the floor but managed to come down with five rebounds while adding two assists, a pair of steals and two blocks.
Rounding out a balanced scoring performance for McGill was Gabriela Hebert (7), Stephanie Blais (5), Marie-Love Michel (5), Marika Guerin (4), Geraldine Cabillo-Abante (2) and Jennifer Silver (2).
The Varsity Reds kept it close by beating the Martlets at their own game. McGill, which led the nation in blocks per game and ranked eighth in rebounding margin, had a disadvantage in both categories. UNB out-rebounded the Martlets 34-27 — including an 11-5 margin on the offensive glass — and had six blocks compared to McGill's five.
"They are a good team who never stop hustling," noted Thorne, named the night before as the CIS coach of the year. "Jeff Speedy does a great job with them and they had the crowd (as a) sixth man behind them who made it tough on us."
Leading the way in scoring for UNB was Grace Wade and Laura Kaye who had 15 and 11, respectively.
"I'm disappointed, of course, but in this game we knew we belonged in this tournament, said Wade. "The crowd was a spark, for sure, a good thing to have behind us. At halftime, all our comments were positive, we knew we were in this and could win this."
McGill shot 37.1.per cent from the floor, 38.5 from three-point land and went 7-for-8 from the foul-line. The Varsity Red's shot 33.9 and connected on only one of four from long range.
UNB cannot finish higher than fifth and will now face fourth-seeded Regina, which lost 73-70 to No.5 Ryerson, in the second game of Friday's consolation bracket.