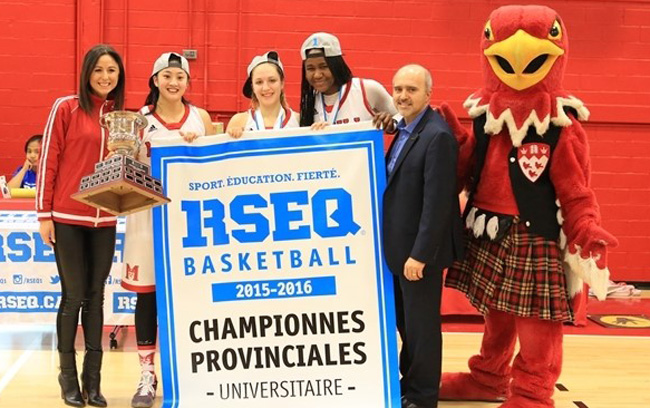 By Kirsten Whelan (Source: McGill Athletics and Recreation)
Mariam Sylla and Alex Kiss-Rusk each recorded a "double-double" as the top-ranked McGill women's basketball team defeated third-seeded Laval 71-56 to capture a fifth consecutive Quebec conference championship, Saturday, at the RSEQ Final Four tournament, presented by Milk 2 Go Sport.
The event was played before a record crowd of 657 at Love Competition Hall, surpassing the 587 at Thursday's semifinal, which had been the largest crowd ever to witness a women's hoops game in McGill history. This was the Martlets' fifth-straight provincial title.
The conference banner also clinches a berth in the CIS Final Eight national championship, slated for Fredericton, N.B., March 17-20.
"(This victory is) probably a little more special (than the past four) because it's the end of the career for some of these special people to me," said McGill head coach Ryan Thorne, the conference coach of the year.
"Dianna Ros and Gabriela Hebert have been here for five years, and every year they've won a championship. Sometimes (as a coach) you feel like it has to do more with you, but it doesn't. It's those kids, their commitment, their effort, their work, so definitely this one seems a little more special."
Sylla, a two-time All-Canadian and Martlets co-captain, scored 22 points and nabbed 10 rebounds. The native of Guinea sank half of her 14 shots from the field and was 8-for-9 from the free-throw line. She was also credited with four assists and a steal.
"It was a really emotional game, especially at the end because it's probably my last game at McGill," reflected the pharmacology senior, who is expected to graduate this spring but has another year of eligibility remaining. "We didn't have the start we wanted… but we kept fighting. I'm really, really proud of my team. I'm really lucky to be part of this group so right now we're just going for that national title we didn't get last year – that's the goal now."
The Martlets won silver at last year's Nationals, their best-ever result. They have also had two fourth-place finishes, in 1996 and 1974; three fifth-place finishes, in 2014, 2013, and 1995; and made four other appearances, in 2012, 1993, 1998, and 1986.
"At the start I wasn't getting the shots I wanted and my shots were not going in, but it's really a mental game," Sylla said. "I was telling myself, 'you come in this gym every day, you practice here – this is it, you have to come and keep shooting.' At the third quarter, my shots started really falling so I was more pumped up, and I got a couple offensive rebounds. That's my game, so that brought my energy up and that's contagious. Alex started going to the board and knocking down some shots, Dianna did super well, and it was really a team effort. They were looking for me and everyone just came together. We did that together."
Kiss-Rusk, a third-year psychology student from Beaconsfield, Que., shot 6-for-12 from the floor and netted her only free throw. She pulled down a game-high 15 rebounds and had three assists, two blocks, and as many steals.
"Alex does her moves down there and if you don't double her, she's just going to kill it," said Sylla of her all-star teammate. "She knows where to find me and I know where to find her, and when we get really double-teamed, we just call for a shooter."
Ros, a co-captain from Montreal who missed much of the season to injury, scored nine points and had three rebounds, in addition to a pair of steals and a game-high six assists. She shot 4-for-8 from the field and sank her only trey. Hebert, an industrial relations senior from Chicoutimi, Que., shot 3-for-6, with all of her successes coming from beyond the three-point arc. She also stole two balls and chipped in two assists.
"Ros with her knowledge, her maturity, and her leadership, just allowed us to get over the top," credited Thorne. "We had people like Hebert who's in her fifth year, who just gave everything she had and laid her body out for steals and things of that nature, so just a great effort. Those kids were going to make sure they weren't losing in their last year, so it had more to do with them anything else."
Ros does not expect her injury struggles to hamper her Final Eight experience. "I'm good to go for nationals," she insisted. "There's three more games, and I wouldn't miss it for anything in the world!"
Marika Guerin of Sorel, Que., also reached double-digits for the Martlets. She shot 2-for-4 from the floor, including a three-pointer, and 5-for-6 from the line to total 10 points. She also grabbed a rebound and had two assists, along with a game-high three steals.
Despite a quick start from McGill, the Rouge et Or finished the first quarter with a 19-17 advantage. They carried a 29-27 edge into halftime, before the Martlets took control in the third and outshot their guests 19-7, to enter the final frame with a 46-36 lead.
Sarah-Jane Marois of Quebec City led Laval with 20 points and five rebounds, followed by Gabrielle Girard of Saguenay, Que., who scored a dozen and grabbed three rebounds.
"That's a tough team out there, they're well-coached," offered Thorne. "We had to really work and grind. They tried to take away a lot of things in the interior, so we ended up settling for some shots and our 'bigs' started to step up and make some shots, which opened up the interior a little more."
"There's only one team that beat us this season, and that's McGill," said Laval head coach Guillaume Giroux, who served as an assistant with the Martlets from 2012-2015. "I think they're going to win the national championship, so we have nothing to be ashamed of."
The Rouge et Or, whose players were all competing in their first RSEQ championship game, are expected to return a full roster next year, with no players lost to graduation.
"I told the girls I was proud because we took a huge step," added Giroux. "There's just one small step left, though it's still enormous, in order to take that last step to the top. That's what were here for and that's what we'll try to do next season."
The Martlets shot 40.7 per cent from the field (24/59), sank a third of their 18 chances from the three-point range, and were 17-for-22 from the stripe (77.3 per cent). Laval shot 19-for-60 for 31.7 per cent overall, 9-for-33 (27.3 per cent) from beyond the arc, and 9-for-12 from the line.
McGill had a 34-25 advantage in rebounds, a 2-0 difference in blocked shots, and an 11-7 margin in steals. Both teams recorded 15 turnovers.
The Martlets travel to Fredericton on Tuesday to prepare for the Final Eight tournament, where they are likely to be seeded first.
MARTLET MURMURS: McGill played with a short bench as both Gladys Hakizimana, the conference rookie of the year, and third-year forward Jennifer Silver were both kept out of the lineup with undisclosed injuries.
Related story:
Redmen win provincial championship, punch ticket to nationals
Click on the thumbnail below to watch the highlights.