Saturday turned out to be a banner day for McGill Athletics – as in championship banner – as no fewer than three varsity sports teams combined to complete a record-breaking hat-trick, each winning provincial championships on the same day in the Réseau du sport étudiant du Québec.
It started with a pair of matinee victories for the women's hockey and basketball teams, and concluded with an evening conquest in men's basketball at the RSEQ Final Four tournament, held at the Centre Pierre-Charbonneau.
On the ice, the Martlets posted a 3-0 road victory to sweep a best-of-three series over Concordia, the second straight shutout for freshman goaltender Tricia Deguire of Sherbrooke, Que., who made 24 saves Sunday and 19 in a 4-0 win in the series opener on March 2. It marked the 14th Quebec title for the Martlets and their ninth in 12 years. They will depart on March 14 for the U SPORTS Final Eight national championship in Nappanee, Ont., where head coach Peter Smith will be looking for the team's fifth national title. Read the full game report.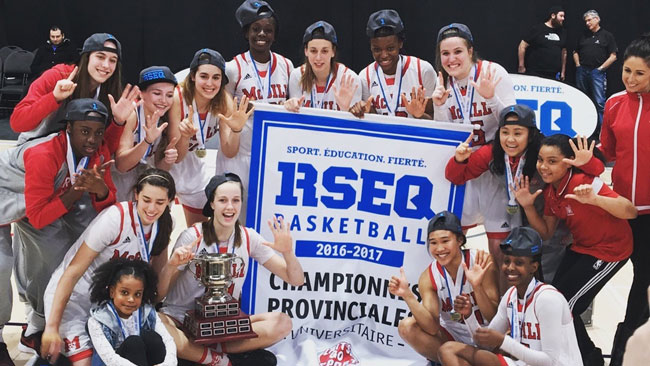 In women's hoops, senior Alex Kiss-Rusk of Beaconsfield, Que., scored 18 points and junior Marie-Love Michel of Montreal recorded a "double-double" as the second-seeded Martlets captured their sixth consecutive RSEQ conference championship with a 63-51 victory over fourth-seeded Concordia. It was also the 12th Quebec banner overall for the Martlets. Bench boss Ryan Thorne and his squad is expected to depart on Tuesday (March 7) at 2 p.m. for the Final Eight national tournament in Victoria, B.C., scheduled for March 9-11. Read the full game report.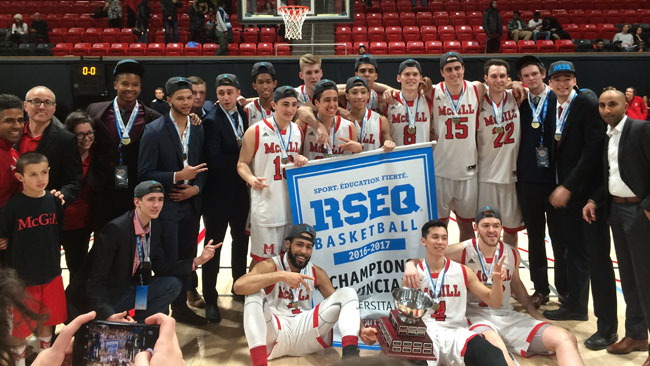 In men's basketball, four different players reached double digits in scoring, including player of the game Dele Ogundokun, a native of Hamilton, Ont., who tallied 13 points, as the top-seeded Redmen cruised by third-seeded UQAM 82-65. It was the fourth conference banner in five years for the Redmen under head coach David DeAveiro, in his seventh season at McGill. The Redmen are expected to leave on Tuesday night, Mar. 7 for the Final Eight tourney in Halifax, slated for March. 9-11. Read the full game report.