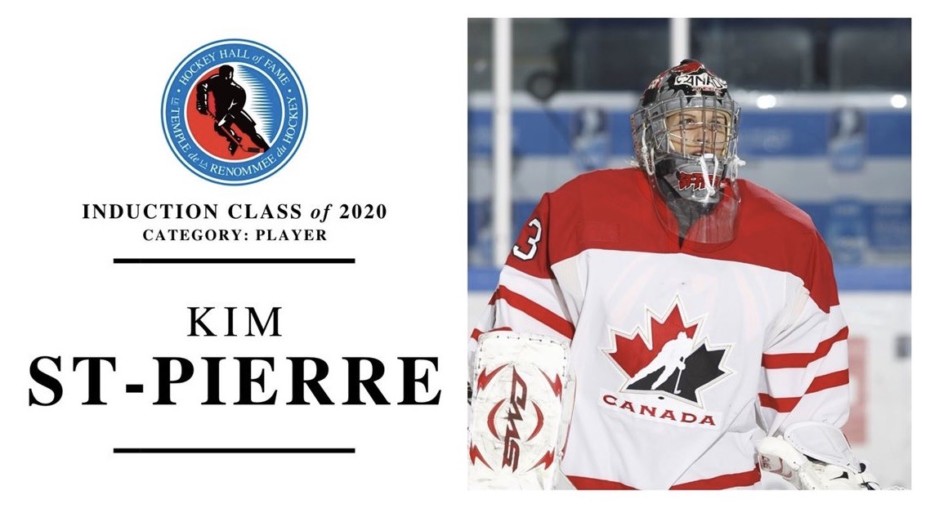 Goaltender Kim St-Pierre, a three-time Olympic gold medalist from Châteauguay, Que., who played for both the McGill University men's and women's hockey teams, is among the prestigious Class of 2020 inductions announced on Wednesday, for the Hockey Hall of Fame.
One of six new additions to the prestigious pantheon, she enters the Hall with a group that also includes NHL greats Jarome Iginla, Marian Hossa, Kevin Lowe and Doug Wilson, in addition to Ken Holland, who was selected as a builder.
"Hockey has always been my passion and this is a very special honour," St-Pierre told the media via a conference call. "When I was growing up it was only boys, and when that changed my dream was able to come (true)."
Three Olympic gold medals
St-Pierre, who was previously inducted to the McGill Sports Hall of Fame in 2014, followed two years later by a call from the Quebec Sports Hall of Fame, becomes the University's 11th former athlete to merit a berth in the Hockey Hall of Fame based in Toronto.  Three other McGillians, who did not play for the University, are also in the Hall (see complete list below). She is the eighth women's player named to the Hall and the first female goalie.
"For me, it's a huge day … to be the eighth woman to be inducted into the Hockey Hall of Fame is very special," St-Pierre said.
She served as Team Canada's backstop for more than a decade, from 1998 through 2011, and shares the IOC record with Charline Labonté – another McGill grad – for most Olympic gold medals by a goaltender with three.
Now 41, St-Pierre, also holds the world championship records for most medals (five gold, four silver), shutouts (13) and longest shutout sequence (430:09), which spanned four tournaments.
Banner career
While earning an education degree – majoring in kinesiology – at McGill in 2004, the 5-foot-9 netminder single-handedly turned the women's hockey program around. A member of the Martlets from 1998 to 2004, St-Pierre took a sabbatical to play at the Olympics and also played briefly with the McGill men's team in her senior year (2003-04).
She was honoured prior to a Concordia-McGill women's game on Nov. 30, 2002, as the first McGill student in 90 years (and the first woman ever) to win an Olympic gold medal. A banner was raised at McConnell Arena to recognize her achievement and that night, she recorded a 48-save shutout as the No. 5-ranked Martlets defeated No. 4-Concordia).
A four-time all-Canadian and Team MVP, her collegiate career highlight occurred in 2002-03 when she received the Brodrick Trophy as CIS hockey player of the year, the Gladys Bean Award as McGill's top female athlete and the BLG Jim Thompson Trophy as CIS athlete of the year.
Breaking barriers
In 103 career varsity games (99 starts) with the McGill women, St-Pierre posted a 50-40-12 overall record with 27 shutouts and a 2.13 goals-against average. In regular season play, she registered a career 19-8-6 record in 33 games with 12 shutouts and a 1.74 GAA. She collected a plethora of McGill records, including a single-game mark of 62 saves in a 6-0 loss at Concordia on Oct. 25, 1998. St-Pierre was the Quebec conference rookie of the year in 1998-99 and was twice voted as the league's player of the year (2000-01, 2002-03)
She was the first woman in McGill history to play for a men's varsity team in a pre-season game on Oct. 3, 2003 and saved nine of 11 shots in relief of starter Patrice Godin in a 4-2 setback at St. Mary's University. St-Pierre became the first woman in Canadian Interuniversity Sport history (now known as U SPORTS) to be credited with a win in a men's regular season game when McGill defeated Ryerson 5-2 at McConnell Arena on Nov. 15, 2003. She saved 27 of 29 shots, was selected as the game's first star and then was named as the McGill, Quebec and Canadian university female athlete of the week.
St-Pierre was also the first woman to play a full men's game, surpassing the 20 minutes played by Lesley Reddon with the UNB Varsity Reds in 1994-95 and again in 1995-96.
The Hockey Hall of Fame already has on display a number of artifacts from her playing days at McGill, including the puck, official scoresheet and the hockey stick used by St-Pierre during her historic first win in a men's game. They also have the McGill jersey used when she was named CIS women's hockey player of the year.
McGill HHOFers
Other former McGill hockey players previously inducted to the Hockey Hall of Fame include brothers Lester Patrick (1945) and Frank Patrick (1958), along with Arthur Farrell (1965), Philip D. Ross (1976), Fred Scanlan (1965), Harry Trihey (1950), H.L. "Billy" Gilmour (1965), Charles Graham Drinkwater (1950) and NHL executive Brian O'Neill (1994).
Legendary Hockey Night in Canada broadcaster Dick Irvin, who skated for McGill from 1951 to 1953, was inducted in the media category in 1988. Three other McGillians have been inducted. Art Ross and Harry Hyland – who both coached at the University – were named as builders in 1945 and 1962, respectively, while Montreal Canadiens netminder Ken Dryden, a law graduate (LLB '73) was inducted in 1983.
The inductions are currently scheduled for Nov. 16, but the date could change depending on the coronavirus pandemic. The newest class was determined by a panel of 18 voters, which met virtually earlier this week to elect the Class of 2020 using a secure online ballot.