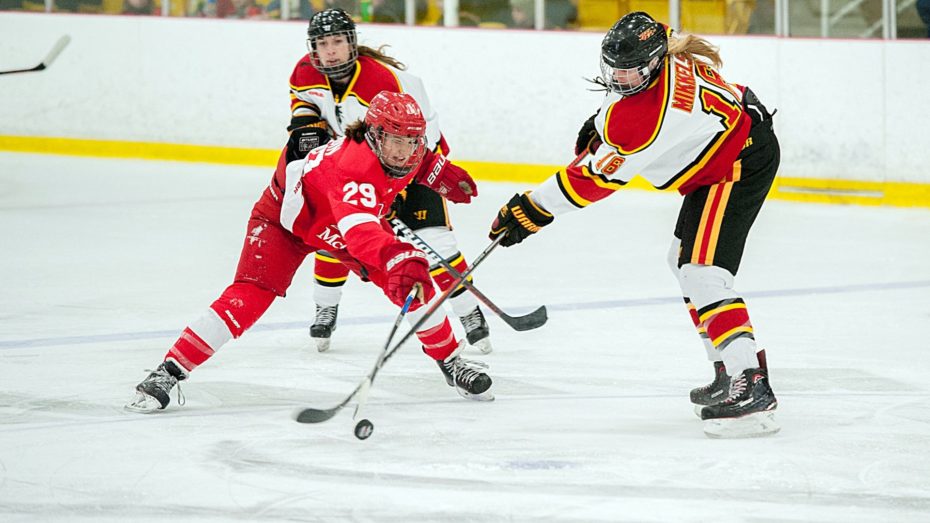 Kaitlin Lowy scored at 18:15 of the middle period and goaltender Valerie Lamenta posted a 20-save shutout as Guelph blanked McGill 1-0 to win their first-ever national title at the U SPORTS women's hockey championship, Sunday, before 1,139 at MacLauchlan Arena in Charlottetown, P.E.I. The four-day tourney, hosted by UPEI, drew 10,691 fans over 11 games for an average of 972 per outing.
McGill, a blue-collar team and the Quebec conference finalists, settled for silver and upped its lifetime medal count to four golds, six silvers and five bronzes from 18 trips in 22 years to the nationals. The team finished the 2018-19 campaign with a 23-13-1 record, including a 14-6 mark in league play. In the bronze medal affair, the RSEQ champion Montreal Carabins claimed the final podium spot with a 2-1 victory over Alberta.
"I couldn't be prouder of our group"
"I give Guelph credit, they're a good team and played hard," said Peter Smith, who owns a 511-217-33 record in in 19 seasons as head coach at McGill and has guided his team to four championships in nine gold medal game appearances, excluding another when he was on sabbatical with the Canadian Olympic team. "They hemmed us in our end at times with an energetic forecheck.
"But honestly, I couldn't be prouder of our group. Over the years I've been privileged to have so many good teams with great character and this team ranks right up there with the best of them," continued Smith. "A special group that worked hard all season. Not many people outside of our dressing room would have thought that we were going to get this far. We battled from start to finish. there was no quit on this team."
Lamenta, the all-tournament goalie who watched Guelph's quarter-final 3-2 win over Manitoba from the bench on Thursday, played the final two games and stopped all 51 shots faced. The 5-foot-8 senior from Montreal recorded back-to-back shutouts against the two Quebec-based teams, including a 5-0 semifinal win over the Carabins on Saturday.
"It's been an amazing five years at Guelph," said Lamenta, in her fifth and final season. "But this is really a dream come true being able to say this is my last game in a Guelph Gryphons jersey."
Battle of the goaltenders
McGill netminder Tricia Deguire, who was tasked with playing three games in as many days, made 20 saves on 21 shots and was saddled with the loss. The junior from Sherbrooke, Que., finished the tourney with a 2-1 record, a stingy 1.01 goals-against average and a .960 save percentage.
"It didn't go our way but we played our hearts out," said McGill junior Jade Downie-Landry, an alternate captain who led the Martlets in scoring this season with a 13-32-45 record in 35 games overall. She tied for the tournament lead with five points – all in Friday's 10-2 quarter-final win over St. Thomas – and was named as the Tournament MVP. "Our end goal was to win a gold medal and everyone gave 100 per cent but unfortunately, it didn't go our way."
Guelph, which posted a 29-10-0 record overall, including an unblemished 8-0 mark in post-season play, held a slight 21-20 edge in shots and both teams went 0-for-2 on the power-play.
"It's just so hard to win a gold medal – an incredible challenge – and the girls may be hurting a little now," Smith said. "But hopefully down the road, they look back on this and appreciate what they accomplished."
The Martlets, who featured a roster composed of three freshmen, eight sophomores, nine juniors and five seniors, are expecting to lose only one player to graduation, team captain Alison Mackenzie, a fifth-year atmospheric science major from Osgoode, Ont., who suited up in 175 career contests overall.
"She was an unbelievable captain, a fifth-year player who showed incredible development over her career," said Smith. "Ali is an awesome student and we'll miss her leadership next year for sure."
Fighting right to the end
With everything on the line, both sides came out hungry for the tourney's Golden Path Trophy. Neither opponent gave an inch in an evenly-matched first period. Each team tried to get pucks in front, but the goaltenders were eagle-eyed alert and turned away anything that came their way in a scoreless frame.
Defence continued to be the story of the second stanza, as the Martlets successfully killed off two penalties. However, the Gryphons responded late in the period on an even-strength attack. With 1:45 to go in the frame, Claire Merrick sped up through the neutral zone on a 2-on-1, then dropped the puck off to Lowy, who fired it past Deguire for the game's only goal.
"I pretty much blacked out," Lowy, the Guelph captain, said said of her goal. "I haven't had time to digest the magnitude of this, but right now I'm just really proud of this team and we're honoured to be part of a historical championship… This has been years in the making. We talk a lot about our honour, sacrifice and legacy and there's been a lot of Gryphons who have come before us who have paved a path for us to succeed."
McGill worked hard to find that equalizer in the third period, but Guelph's plahyers did everything in their power to keep the puck out of their net, including sacrificing their bodies to make a potential game-saving block. In the final minute, the Martlets pulled the goalie and threw everything at Guelph but the kitchen sink. Their best chance came with 54 seconds remaining when sniper Kellyane Lecours just missed connecting on a one-timer from the left corner of the crease while facing an empty side of the net.
"I just tried to stay focussed and not worry about the clock," Lamenta said of the harrowing final seconds of the game. "I just watched the puck and didn't think about anything else."
 (with files from Matthew MacArthey & Alan Hudes)