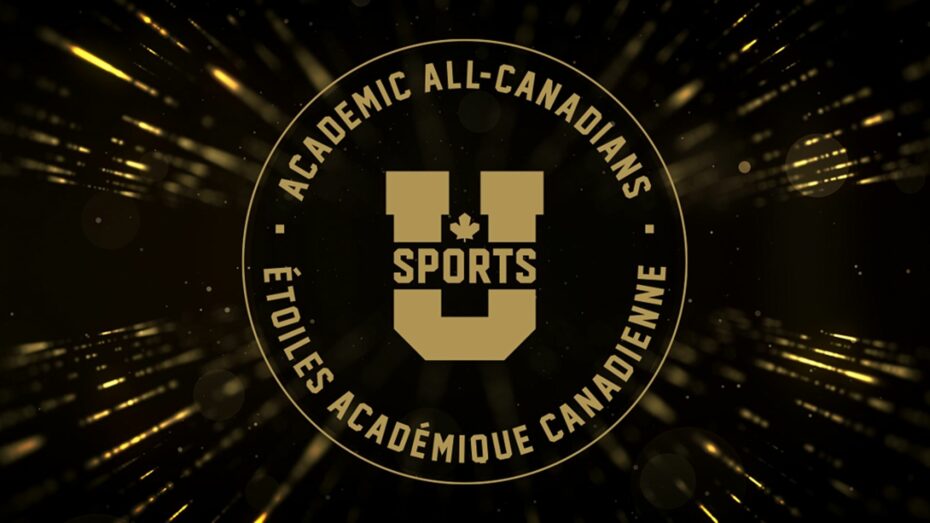 McGill University established a school record for academic prowess among its varsity sports programs in 2021. A total of 184 student-athletes achieved Academic All-Canadian status, surpassing the previous high of 150 set in 2020. The latest total accounted for 41 per cent of the institution's 449 student-athletes who were registered in programs sanctioned by U SPORTS.
That was part of about 5,500 honourees across the country by U SPORTS, the national governing body for university athletics, which is composed of 58 member institutions. Since 1991, McGill ranks second among all universities with 3,102 Academic All-Canadians, trailing only Alberta (3,228).
For the second consecutive year, the football program led all McGill teams with 30 Academic All-Canadians. It was the highest total ever produced by the gridiron squad, surpassing their previous best of 22 established last year.
The next highest group was men's soccer with 20, followed by the women's track and cross-country programs with a combined 18 honourees. The women's soccer squad was next with 16. Tied with 15 apiece was women's swimming and men's track/cross-country, followed by both hockey teams, which had 14 apiece, and men's swimming (12).
Rounding out the other sports was women's volleyball (9), women's rugby (6). women's basketball (5), men's basketball (5) and women's field hockey (5).
Forty-five of the McGill laureates achieved a perfect grade-point average of 4.0.The group of McGill high-achievers featured 88 women and 96 men. In terms of academic discipline, Science led all faculties with 65 honourees, followed by Arts (38), Engineering (31), Education (23), Management (19), Arts & Science (3), Medicine (3), Architecture (1) and Social Work (1). The breakdown by class was 55 freshmen, 44 sophomores, 37 juniors and 48 seniors.
In order to qualify, a student-athlete must be registered as full-time in a U SPORTS program and have achieved a minimum of 80 per cent in their studies (a 3.7 GPA at McGill). Normally, an honouree must also consuming a year of athletic eligibility but this requirement was waived last year as all university sports programs were halted due to the pandemic.
Among the list of outstanding individuals, one female and one male from each of the four U SPORTS conferences will be selected to make up the national top eight, who become recipients of the Governor General's Academic All-Canadian Commendation.
Breakdown of McGill's 2021 Academic All-Canadians
| | |
| --- | --- |
| BY THE NUMBERS: | |
| | |
| FACULTY | |
| Science | 65 |
| Arts | 38 |
| Engineering | 31 |
| Education | 23 |
| Management | 19 |
| Arts & Science | 3 |
| Medicine | 3 |
| Architecture | 1 |
| Social Work | 1 |
| TOTAL: | 184 |
| | |
| CLASS | |
| FRESHMAN | 55 |
| SOPHOMORE | 44 |
| JUNIOR | 37 |
| SENIOR (4th/5th) | 48 |
| TOTAL: | 184 |
| | |
| GRADE POINT AVERAGE | |
| 4.0 | 45 |
| 3.90-3.99 | 54 |
| 3.80-3.89 | 36 |
| 3.70-3.79 | 49 |
| TOTAL: | 184 |
| | |
| SPORT | |
| Football (m) | 30 |
| Soccer (m) | 20 |
| Track/Cross-Country (w) | 18 |
| Soccer (w) | 16 |
| Swimming (w) | 15 |
| Track/Cross-Country (m) | 15 |
| Ice Hockey (m) | 14 |
| Ice Hockey (w) | 14 |
| Swimming (m) | 12 |
| Volleyball (w) | 9 |
| Rugby (w) | 6 |
| Basketball (m) | 5 |
| Basketball (w) | 5 |
| Field Hockey (w) | 5 |
| TOTAL: | 184 |
| | |
| GENDER | |
| Men | 96 |
| Women | 88 |
| TOTAL: | 184 |
| | |
| MOTHER TONGUE | |
| English | 144 |
| French | 40 |
| TOTAL: | 184 |
| | |
| COUNTRY | |
| CANADA | 157 |
| USA | 18 |
| FRANCE | 2 |
| LEBANON | 2 |
| AUSTRALIA | 1 |
| BERMUDA | 1 |
| ENGLAND | 1 |
| HONG KONG | 1 |
| UNITED ARAB EMIRATES | 1 |
| TOTAL: | 184 |
| | |
| PROVINCE / STATE | |
| | |
| Quebec | 87 |
| Ontario | 33 |
| British Columbia | 24 |
| Alberta | 7 |
| Illinois (USA) | 5 |
| New Brunswick | 2 |
| FRANCE | 2 |
| LEBANON | 2 |
| Colorado (USA) | 2 |
| Massachusetts (USA) | 2 |
| Minnesota (USA) | 2 |
| Saskatchewan | 1 |
| Nova Scotia | 1 |
| Prince Edward Island | 1 |
| Manitoba | 1 |
| AUSTRALIA | 1 |
| BERMUDA | 1 |
| ENGLAND | 1 |
| HONG KONG | 1 |
| UNITED ARAB EMIRATES | 1 |
| California (USA) | 1 |
| New York (USA) | 1 |
| Ohio (USA) | 1 |
| Pennsylvania (USA) | 1 |
| Vermont (USA) | 1 |
| Washington (USA) | 1 |
| Wisconsin (USA) | 1 |
| TOTAL: | 184 |
McGill's 2021 Academic All-Canadians (184) listed by sport
| | | | | | | | | | |
| --- | --- | --- | --- | --- | --- | --- | --- | --- | --- |
| FIRST | LAST NAME | GENDER |  SPORT | LANG. | ELIG |  ACADEMIC PROGRAM | YR | HOMETOWN | PROV/STATE |
| Leonardo | De Coninck | M | BASKETBALL | FR | 1 | Management (Economics & Finance) | 1 | St. Raymond | QC |
| Antoney | Bell | M | BASKETBALL | EN | 2 | Arts (History) | 4 | Waterloo | ON |
| Sam | Jenkins | M | BASKETBALL | EN | 4 | Education (Physical & Health) | 4 | Hamilton | ON |
| Rele | Orimalade | M | BASKETBALL | EN | 2 | Science (Psychology) | 3 | Edmonton | AB |
| Sebastien | Lamaute | M | BASKETBALL | FR | 1 | Management (Finance) | 1 | St. Bruno | QC |
| Amélie | Rochon | W | BASKETBALL | FR | 2 | Medicine | 2 | Lévis | QC |
| Charlotte | Clayton | W | BASKETBALL | EN | 4 | Science (Pharmacology) | 4 | Newmarket | ON |
| Kristy | Awikeh | W | BASKETBALL | EN | 1 | Science (Kinesiology) | 1 | Montréal | QC |
| Maddy | Colpitts | W | BASKETBALL | EN | 2 | Management (Finance) | 2 | Fredericton | NB |
| Jessica | Salanon | W | BASKETBALL | EN | 2 | Management (Finance) | 2 | Ile-Perrot | QC |
| Sarah | Christensen | W | FIELD HOCKEY | EN | 2 | Science (Physics) | 3 | Canberra | (AUSTRALIA) |
| Alyssa | Tong | W | FIELD HOCKEY | EN | 2 | Science (Nursing) | 2 | Coquitlam | BC |
| Brittany | Ng | W | FIELD HOCKEY | EN | 3 | Arts (International Development Studies) | 3 | St. Catharines | ON |
| Judy | Kim | W | FIELD HOCKEY | EN | 3 | Science (Kinesiology) | 3 | Victoria | BC |
| Eleanor | Morrison | W | FIELD HOCKEY | EN | 2 | Engineering (Mechanical) | 2 | Delta | BC |
| Josh | Campbell | M | FOOTBALL | EN | 1 | Engineering (Mechanical) | 2 | Red Deer | AB |
| Conrad | Mahony | M | FOOTBALL | EN | 3 | Management (Finance) | 3 | Toronto | ON |
| Dimitrios | Sinodinos | M | FOOTBALL | EN | 4 | Engineering (Electrical) | 4 | Laval | QC |
| Nassib | Hassouna | M | FOOTBALL | EN | 2 | Engineering (Bioengineering) | 2 | Verdun | QC |
| William | Langlais | M | FOOTBALL | FR | 1 | Education (Physical & Health) | 2 | Montréal | QC |
| Nicolas | Barnes | M | FOOTBALL | FR | 1 | Science (Kinesiology) | 2 | Gatineau | QC |
| Jérémy | Langevin | M | FOOTBALL | FR | 2 | Science (Kinesiology) | 2 | Gatineau | QC |
| Gabriel | Faucher | M | FOOTBALL | FR | 1 | Science (Kinesiology) | 1 | Lévis | QC |
| Tristan | Fleury | M | FOOTBALL | FR | 4 | Science (Kinesiology) | 4 | Deux-Montagnes | QC |
| Matthew | Martin | M | FOOTBALL | EN | 1 | Management (Finance) | 2 | Toronto | ON |
| Andrew | Seinet-Spaulding | M | FOOTBALL | EN | 5 | Social Work | 5 | Montréal | QC |
| Mustapha Al Bachir | Faye | M | FOOTBALL | EN | 1 | Arts (Economics) | 2 | Longueuil | QC |
| Nicolas | Baillargeon | M | FOOTBALL | FR | 3 | Education (Elementary) | 3 | Sherbrooke | QC |
| George | Aifantis | M | FOOTBALL | EN | 1 | Arts (Industrial & Labour Relations) | 1 | Laval | QC |
| Olivier | Therrien | M | FOOTBALL | FR | 5 | Engineering (Electrical) | 5 | Trois-Rivières | QC |
| Liam Gikwong | Gi-Kwong | M | FOOTBALL | EN | 1 | Education (Physical & Health) | 1 | St. Eustache | QC |
| William | Riddle | M | FOOTBALL | EN | 1 | Management (Accounting) | 1 | Montréal | QC |
| Leo | Tischhauser | M | FOOTBALL | FR | 3 | Management (Sustainability) | 3 | Montréal | QC |
| Alexandre | Paré | M | FOOTBALL | EN | 5 | Science (Neuroscience) | 1 | Neuville | QC |
| Klaus | Calixte | M | FOOTBALL | FR | 1 | Arts (Economics) | 1 | Montréal | QC |
| Guillaume | Béland | M | FOOTBALL | FR | 4 | Management (Finance) | 4 | Town of Mt. Royal | QC |
| Jonathan W. | Wilding | M | FOOTBALL | EN | 2 | Education (Physical & Health) | 2 | Laval | QC |
| Aidan | Licoppe | M | FOOTBALL | EN | 1 | Engineering (Bioengineering) | 2 | Winnipeg | MB |
| Dante | Rienzo | M | FOOTBALL | EN | 2 | Arts (Industrial & Labour Relations) | 3 | Laval | QC |
| Zacharie | Magnan | M | FOOTBALL | FR | 1 | Arts (Geography) | 1 | Shawinigan | QC |
| Zachary | St-Surin | M | FOOTBALL | FR | 2 | Science (Pharmacology) | 2 | St. Eustache | QC |
| Cedric | Dabady | M | FOOTBALL | EN | 1 | Arts (Economics) | 1 | Gatineau | QC |
| Jacob | Samuels | M | FOOTBALL | EN | 3 | Arts (Sociology) | 4 | Vancouver | BC |
| Charles | Cossette | M | FOOTBALL | EN | 1 | Management (Finance) | 1 | Trois-Rivières | QC |
| Gabriel | Gaulin | M | FOOTBALL | FR | 1 | Education (Physical & Health) | 1 | St. Augustin de Desmaures | QC |
| Harlan | Orr | M | HOCKEY | EN | 5 | Education (Kinesiology & Physical) | 5 | Lake Country | BC |
| Samuel | Tremblay | M | HOCKEY | EN | 5 | Education (Kinesiology & Physical) | 5 | St. Hubert | QC |
| Louis-Philip | Guindon | M | HOCKEY | FR | 5 | Science (Master's; Exercise Physiology) | 5 | St. Joseph du Lac | QC |
| Shoaib-Hasan | Shaikh | M | HOCKEY | EN | 1 | Education (Kinesiology & Physical) | 1 | Brossard | QC |
| Adam | Pilotte | M | HOCKEY | EN | 3 | Education (Physical & Health) | 3 | Ste. Martine | QC |
| Alexandre | Gagnon | M | HOCKEY | FR | 1 | Education (Physical & Health) | 1 | Gatineau | QC |
| Will | Warm | M | HOCKEY | EN | 1 | Management (Finance) | 1 | Whistler | BC |
| Taylor | Ford | M | HOCKEY | EN | 3 | Education (Physical & Health) | 3 | St. Lazare | QC |
| Blake | Hayward | M | HOCKEY | EN | 2 | Arts (Psychology) | 2 | Vancouver | BC |
| Oscar | Carsley | M | HOCKEY | EN | 1 | Arts (Economics) | 1 | Toronto | ON |
| William | Poirier | M | HOCKEY | FR | 1 | Management (Finance) | 1 | St. Zotique | QC |
| Scott | Walford | M | HOCKEY | EN | 1 | Arts (Economics) | 1 | Coquitlam | BC |
| Jordan-Ty | Fournier | M | HOCKEY | EN | 3 | Arts (Industrial & Labour Relations) | 3 | Dorval | QC |
| Michael | Campoli | M | HOCKEY | EN | 2 | Arts (Economics) | 3 | Pte. Claire | QC |
| Cassidy | Stasiuk | W | HOCKEY | EN | 1 | Science (Pharmacology) | 1 | Kamloops | BC |
| Rachel | Santini | W | HOCKEY | EN | 5 | Engineering (Mechanical) | 5 | Toronto | ON |
| Marika | Labrecque | W | HOCKEY | FR | 4 | Education (Kindergarten & Elementary) | 4 | Lac Etchemin | QC |
| Kellyane | Lecours | W | HOCKEY | FR | 4 | Education (Kindergarten & Elementary) | 4 | St. Christophe d'Arthabaska | QC |
| Jade | Downie-Landry | W | HOCKEY | EN | 5 | Education (Physical and Health) | 1 | St. Jean sur Richelieu | QC |
| Mia | Väänänen | W | HOCKEY | EN | 1 | Science (Nursing) | 1 | Montréal | QC |
| Ria | Stevens | W | HOCKEY | EN | 2 | Science (Computer) | 2 | Los Gatos | CA (USA) |
| Samantha | McCluskey | W | HOCKEY | EN | 4 | Science (Physiology) | 4 | Toronto | ON |
| Amanda | Hadwen | W | HOCKEY | EN | 4 | Science (Neuroscience) | 4 | Ottawa | ON |
| Christiana | Colizza | W | HOCKEY | EN | 4 | Science (Psychology) | 4 | Wendover | ON |
| Meg | Harley | W | HOCKEY | EN | 2 | Education (Kinesiology) | 2 | Oakville | ON |
| Cassidy | Bell | W | HOCKEY | EN | 5 | Arts (Political Science) | 5 | Baldonnel | BC |
| Laura | Jardin | W | HOCKEY | EN | 3 | Engineering (Bioresource) | 3 | Calgary | AB |
| Andréa | Lacroix Le Gall | W | HOCKEY | FR | 2 | Education (Physical and Health) | 2 | St. Isidore | QC |
| Veronica | Wong | W | RUGBY | EN | 3 | Education (Kindergarten & Elementary) | 3 | Hong Kong | (HK) |
| Madeline | Avery | W | RUGBY | EN | 4 | Science (Physiology) | 4 | Heffley Creek | BC |
| Ronelle | Villarama | W | RUGBY | EN | 2 | Arts (Psychology) | 2 | Vaudreuil | QC |
| Olivia | Makinson | W | RUGBY | EN | 4 | Science (Biochemistry) | 4 | Vaudreuil-Dorion | QC |
| Jessica | McBain | W | RUGBY | EN | 2 | Arts (Economics) | 2 | North Vancouver | BC |
| Miriam | Simmons | W | RUGBY | EN | 5 | Science (Chemistry) | 6 | Dollard des Ormeaux | QC |
| Caleb | Nuttall | M | SOCCER | EN | 1 | Management (Economics & Finance) | 1 | Calgary | AB |
| Julian | Huster | M | SOCCER | EN | 2 | Engineering (Electrical) | 2 | West Vancouver | BC |
| Jake | Gerenraich | M | SOCCER | EN | 2 | Science (Mathematics & Physics) | 2 | Chicago | IL (USA) |
| Marc-Olivier | Comeau | M | SOCCER | FR | 2 | Science (Neuroscience) | 2 | Dieppe | NB |
| Jack | MacDonald | M | SOCCER | EN | 3 | Science (Physiology) | 3 | Halifax | NS |
| Ramdane | Tafer | M | SOCCER | EN | 4 | Medicine | 5 | Laval | QC |
| Christopher | Cinelli-Faia | M | SOCCER | EN | 3 | Education (Physical & Health) | 3 | Montréal | QC |
| Francesco | Pisegna | M | SOCCER | EN | 1 | Science (Neuroscience) | 3 | Montréal | QC |
| Tomas | Alvarez | M | SOCCER | EN | 1 | Engineering (Civil) | 1 | Montréal | QC |
| Gaëtan | Hamid | M | SOCCER | FR | 1 | Science (Anatomy & Cell Biology) | 1 | Oberhausbergen | (FRANCE) |
| Ethan | Gibson | M | SOCCER | EN | 1 | Engineering (Mechanical) | 2 | Ottawa | ON |
| Florian | Bettelli | M | SOCCER | FR | 3 | Science (Math & Computer) | 3 | Roquefort les Pins | (FRANCE) |
| Dalin | Saheb | M | SOCCER | FR | 4 | Science (Computer) | 4 | Montréal | QC |
| Andrew | Behling | M | SOCCER | EN | 1 | Engineering (Mechanical) | 1 | Danvers | MA (USA) |
| Christopher | Flores-Cassista | M | SOCCER | FR | 3 | Engineering (Electrical) | 3 | St. Hubert | QC |
| Juliano | Cobuzzi | M | SOCCER | EN | 2 | Engineering (Chemical) | 4 | Montréal | QC |
| Omar | Boukhabrine | M | SOCCER | EN | 1 | Management (Finance) | 1 | Montréal | QC |
| Cameron | Butterfield | M | SOCCER | EN | 4 | Engineering (Electrical) | 4 | Ottawa | ON |
| Phillip | Prucha | M | SOCCER | EN | 1 | Education (Physical & Health) | 1 | Baie D'Urfe | QC |
| Alex | Watchorn | M | SOCCER | EN | 3 | Arts (Economics) | 3 | Vancouver | BC |
| Katherine | Chadwick | W | SOCCER | EN | 1 | Science (Neuroscience) | 1 | Ottawa | ON |
| Audrey | Moyen | W | SOCCER | FR | 2 | Science (Human Nutrition) | 6 | St. Hubert | QC |
| Anna | Dove-McFalls | W | SOCCER | EN | 1 | Engineering (Civil) | 1 | Montréal | QC |
| Stephanie | Hill | W | SOCCER | EN | 1 | Science (Physiotherapy) | 1 | Dollard des Ormeaux | QC |
| Ruqayya | Hirji | W | SOCCER | EN | 3 | Science (Psychology) | 3 | Toronto | ON |
| Victoria | Sturgess | W | SOCCER | EN | 4 | Engineering (Bioengineering) | 4 | Quakertown | PA (USA) |
| Giuliana | Quattrocchi | W | SOCCER | EN | 3 | Education (Physical & Health) | 3 | Montréal | QC |
| Thalia | Krauth-Ibarz | W | SOCCER | EN | 1 | Science (Kinesiology) | 2 | Brossard | QC |
| Olivia | Mazzarello | W | SOCCER | EN | 1 | Science (Psychology) | 3 | LaSalle | QC |
| Sara | Escallon-Sotomayor | W | SOCCER | EN | 1 | Arts & Science (Environmental) | 1 | Toronto | ON |
| Mia | Engelmann | W | SOCCER | EN | 1 | Arts (History) | 1 | Chicago | IL (USA) |
| Megan | Lauener | W | SOCCER | EN | 1 | Arts & Science (Cognitive) | 1 | New Westminster | BC |
| Ariane | Ducharme | W | SOCCER | FR | 4 | Architecture | 4 | Notre Dame des Prairies | QC |
| Leah | Simon | W | SOCCER | EN | 3 | Management (Accounting) | 3 | Mississauga | ON |
| Giovanna | Tiberio | W | SOCCER | EN | 3 | Arts (Psychology) | 3 | Montréal | QC |
| Ariel | Carignan | W | SOCCER | FR | 2 | Arts (Sociology) | 2 | Sherbrooke | QC |
| Samuel | Wang | M | SWIMMING | EN | 5 | Engineering (Biological & Biomedical) | 5 | Sherbrooke | QC |
| Hazem | Issa | M | SWIMMING | EN | 1 | Engineering (Civil) | 1 | Abu Dhabi | (UAE) |
| Adrian | Haasler | M | SWIMMING | EN | 4 | Science (Anatomy & Cell Biology) | 4 | Oakville | ON |
| Samuel | Lasinski | M | SWIMMING | EN | 4 | Engineering (Bioengineering) | 4 | Penticton | BC |
| David | Hartal | M | SWIMMING | EN | 3 | Engineering (Bioengineering) | 4 | Montréal | QC |
| John | Martin | M | SWIMMING | EN | 1 | Engineering (Civil) | 1 | Evanston | IL (USA) |
| David | Brenken | M | SWIMMING | EN | 4 | Engineering (Mechanical) | 4 | Toronto | ON |
| Adrian | Goin | M | SWIMMING | EN | 4 | Engineering (Civil) | 4 | Pte. Claire | QC |
| Karl-Michael | Aumann | M | SWIMMING | EN | 2 | Management | 2 | Oakville | ON |
| William | Hein | M | SWIMMING | EN | 3 | Science (Environmental) | 3 | Holliston | MA (USA) |
| Charlie | Morse | M | SWIMMING | EN | 1 | Engineering (Computer) | 1 | Charlottetown | PEI |
| Tengbo (Brian) | Yu | M | SWIMMING | EN | 2 | Arts (Psychology) | 1 | Richmond | BC |
| Robyn | Nakano | W | SWIMMING | EN | 3 | Science (Biology) | 4 | Abbotsford | BC |
| Jennifer | Dollinger | W | SWIMMING | EN | 2 | Science (Occupational Therapy) | 2 | Montréal | QC |
| Carley | Dove-McFalls | W | SWIMMING | EN | 2 | Arts & Science (Sustainability) | 2 | Outremont | QC |
| Christina | Tan | W | SWIMMING | EN | 1 | Science (Nursing) | 1 | Richmond | BC |
| Gabriella | Doueihy | W | SWIMMING | FR | 4 | Science (Physiology) | 4 | Bsalim | (LEBANON) |
| Erin | Miller | W | SWIMMING | EN | 3 | Arts (English Literature) | 3 | Bainbridge Island | WA (USA) |
| Elizabeth | Ling | W | SWIMMING | EN | 1 | Engineering (Civil) | 1 | Calgary | AB |
| Ella | Milloy | W | SWIMMING | EN | 4 | Arts (Political Science) | 4 | Victoria | BC |
| Katherine | Na | W | SWIMMING | EN | 3 | Arts (Psychology) | 3 | Toronto | ON |
| Clare | Sanderson | W | SWIMMING | EN | 1 | Science (Environmental) | 1 | Colorado Springs | CO (USA) |
| Maclaren | Burwell | W | SWIMMING | EN | 1 | Science (Kinesiology) | 1 | Saskatoon | SK |
| Hiba | Doueihy | W | SWIMMING | EN | 1 | Engineering (Civil) | 1 | Bsalim | (LEBANON) |
| Hana | Mollin | W | SWIMMING | EN | 1 | Management (Strategic) | 1 | Schaumburg | IL (USA) |
| Daphné | Danyluk | W | SWIMMING | FR | 2 | Science (Anatomy & Cell Biology) | 2 | Montréal | QC |
| Isabella | Pittinger | W | SWIMMING | EN | 4 | Arts (Political Science) | 4 | Eden Prairie | MN (USA) |
| Taylor | Leger | M | TRACK / XC | EN | 4 | Education (Kinesiology & Physical) | 2 | Lions Bay | BC |
| Noah | El Rimawi-Fine | M | TRACK / XC | EN | 2 | Arts (Psychology) | 2 | Upper Jay | NY (USA) |
| José Andrés | Guerra | M | TRACK / XC | EN | 4 | Science (Anatomy & Cell Biology) | 4 | Toronto | ON |
| William | Davalan | M | TRACK / XC | FR | 1 | Science (Pre-Med) | 1 | St. Bruno | QC |
| Bilal | Ali | M | TRACK / XC | EN | 4 | Science (Physiology) | 4 | Calgary | AB |
| Nicholas | Sabelli | M | TRACK / XC | EN | 1 | Science (Anatomy & Cell Biology) | 1 | Montréal | QC |
| Jasper | Ross | M | TRACK / XC | EN | 3 | Arts (Political Science & History) | 3 | Brockville | ON |
| Sebastian | Danson | M | TRACK / XC | EN | 2 | Science (Computer) | 2 | Toronto | ON |
| Christopher | Wong | M | TRACK / XC | EN | 2 | Management (Finance) | 2 | Markham | ON |
| Henry | Wellenstein | M | TRACK / XC | EN | 2 | Science (Cognitive) | 2 | Wauwatosa | WI (USA) |
| François | Rocheleau | M | TRACK / XC | FR | 3 | Science (Probability & Statistics) | 3 | St. Basile le Grand | QC |
| Olivier | Cyr | M | TRACK / XC | FR | 3 | Science (Occupational Therapy) | 3 | Montréal | QC |
| Luis | Espinosa | M | TRACK / XC | EN | 2 | Arts (Economics) | 2 | Montréal | QC |
| Matthew | Beaudet | M | TRACK / XC | EN | 1 | Engineering (Electrical) | 1 | Montréal | QC |
| James | Oneschuk | M | TRACK / XC | EN | 2 | Arts (Economics) | 3 | Toronto | ON |
| Stephanie | Susinski | W | TRACK / XC | EN | 4 | Arts (Psychology) | 4 | Cobham | (ENGLAND) |
| Jennifer | Ireland | W | TRACK / XC | EN | 3 | Science (Computer) | 3 | Shelburne | VT (USA) |
| Laura | Carlton | W | TRACK / XC | EN | 4 | Engineering (Bioengineering) | 4 | Bracebridge | ON |
| Erika | Houde-Pearce | W | TRACK / XC | EN | 1 | Arts (Information Studies) | 1 | Montréal | QC |
| Mathilde | Parent | W | TRACK / XC | FR | 1 | Science (Nursing) | 1 | St. Bruno | QC |
| Vanessa | Lu Langley | W | TRACK / XC | EN | 1 | Engineering (Chemical) | 1 | Ottawa | ON |
| Maia | Watson | W | TRACK / XC | EN | 3 | Arts (Environment & Development) | 3 | Victoria | BC |
| Isabelle | Champion | W | TRACK / XC | EN | 1 | Science (Life Sciences) | 1 | Victoria | BC |
| Mary | Hnatyshyn | W | TRACK / XC | EN | 2 | Engineering (Chemical) | 2 | Calgary | AB |
| Juliette | Croce | W | TRACK / XC | EN | 4 | Arts (Political Science) | 4 | Minneapolis | MN (USA) |
| Belanna | Gans | W | TRACK / XC | EN | 5 | Arts (Economics) | 5 | Toronto | ON |
| Anakin | McMahon | W | TRACK / XC | EN | 2 | Science (Nursing) | 2 | Woodstock | ON |
| Lauren | Woods | W | TRACK / XC | EN | 5 | Science (Biology & Mathematics) | 5 | Guelph | ON |
| Brianna | Mendes | W | TRACK / XC | EN | 4 | Management (Commerce) | 4 | Devonshire | (BERMUDA) |
| Emilie | Johnson | W | TRACK / XC | EN | 1 | Science (Kinesiology) | 1 | Denver | CO (USA) |
| Kate | O'Hare | W | TRACK / XC | EN | 1 | Arts (Psychology) | 1 | Montréal | QC |
| Lina | Ikhlef | W | TRACK / XC | EN | 2 | Science (Microbiology & Immunology) | 2 | Hudson | OH (USA) |
| Allison | Frantz | W | TRACK / XC | EN | 2 | Science (Neuroscience) | 2 | Pte. Claire | QC |
| Melanie | Dormann | W | VOLLEYBALL | EN | 2 | Science (Anatomy & Cell Biology) | 2 | Ottawa | ON |
| Andréanne | Tremblay | W | VOLLEYBALL | FR | 4 | Medicine | 4 | Longueuil | QC |
| Charlene | Robitaille | W | VOLLEYBALL | FR | 3 | Science (Nutrition) | 3 | Mont St. Gregoire | QC |
| Camilla | Ciapponi | W | VOLLEYBALL | EN | 1 | Science (Neuroscience) | 1 | Montréal | QC |
| Meaghan | Smith | W | VOLLEYBALL | EN | 2 | Science (Cognitive) | 3 | Vancouver | BC |
| Salomé | Deslauriers-Brouillard | W | VOLLEYBALL | FR | 3 | Science (Occupational Therapy) | 3 | Montréal | QC |
| Audrey | Trottier | W | VOLLEYBALL | FR | 2 | Education (Kinesiology) | 2 | Longueuil | QC |
| Erin | Keating | W | VOLLEYBALL | EN | 1 | Arts (Political Science) | 1 | Lake Forest | IL (USA) |
| Victoria | Iannotti | W | VOLLEYBALL | EN | 2 | Arts (Psychology) | 2 | St. Laurent | QC |