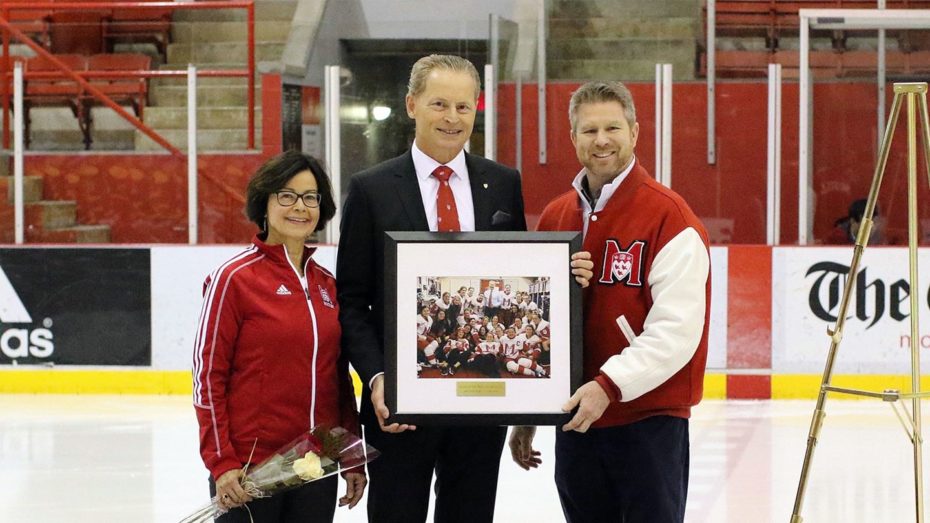 Peter Smith, who helped coach Canada to gold medal victories at both the Turin and Vancouver Olympics – and guided McGill University to four national championships – has announced his retirement as bench boss.
One of only three Canadian university women's hockey coaches to reach the 500-win plateau, the 67-year-old native of Lachine, Que., informed his McGill Martlets team of the decision in a teary-eyed announcement via a Zoom conference call on Tuesday evening.
"This has been an emotional time and a difficult decision for me. Coaching the Martlets these past 21 years has been an incredible journey and a huge part of my life," said Smith. "I have been so fortunate to have worked with and coached so many amazing people. Winning games and championships have been exciting, but more rewarding, has been witnessing the growth and development of these young women as players, teammates, leaders and most importantly, as people. The relationships built will last a lifetime."
Excluding a one-year sabbatical with the national team in 2009-10, Smith has spent two decades coaching at McGill and guided the Martlets to a berth at the U SPORTS Final Eight tournament in 17 of his 20 seasons, winning four gold medals, five silvers and five bronzes. He owns a career record of 534-229-33 in 796 games overall (.671) behind the McGill bench. In regular season play, his record stands at 276-70-11 in 357 contests for a lofty .789 winning percentage.
Mentorship role
"Peter's time as coach of Martlet hockey has been truly impressive. His outstanding contributions to our varsity program and the student-athlete experience can never be adequately recognized," said Philip Quintal, interim senior director of McGill Athletics & Recreation.
"He has brought our women's hockey program to the premier level in this country and I'm pleased to say that this announcement does not mark the end of his career as an important member of our staff. Peter has agreed to stay on and serve as a mentor and resource person for all our varsity coaches. He will offer insight and guidance in areas that include recruiting, team-building, academic prowess, game-day management, media training and alumni relations."
Smith's final campaign was bittersweet. The Martlets captured the RSEQ conference championship and made the long trek out to Charlottetown for the Final Eight tournament, only to learn, on the eve of their opening game, that it was canceled due to the coronavirus pandemic.
Creating a winning culture
"I will certainly miss the Xs and Os of the game but even more, the coaching and mentoring of players," noted Smith, who has also won nine Quebec league titles. "I want to thank all those who have provided me with support over the years, especially to my wife, Vango, and daughters Natalie and Christina, both of whom I had the pleasure of coaching at McGill."
Among McGill's coaching fraternity, he ranks first in championships and winning percentage, second in victories and fifth in coaching longevity. His 20 seasons trails track coach Dennis Barrett (36 seasons), volleyball's Rachèle Béliveau (29), football's Charlie Baillie (29) and soccer's Marc Mounicot (22).
"Peter built the program into a perennial contender but the biggest impact he's had can't be measured in gold medals," said Shauna Denis, captain of McGill's first national championship squad, who is employed by the Montreal Canadiens as the director of content strategy. "He created a winning culture by stressing excellence and championship habits with everything from power-play execution to how his players performed in the classroom and in the community.
"He cared as much about how we developed as people as he did how we performed as athletes, and always expected more of his players than we often did of ourselves. He gave everything he had to the program and he should be extremely proud of the legacy he's leaving and the culture he's created. Those of us who have had a chance to play for Peter are better for it."
Thee-time CIS Coach of the Year
During his four national championship seasons at McGill (2008, 2009, 2011, 2014), the team posted a spectacular 131-5-0 record against Canadian university opponents. The 2007-08 title marked the first time that any McGill women's team, in any sport, had captured a CIS or U SPORTS championship.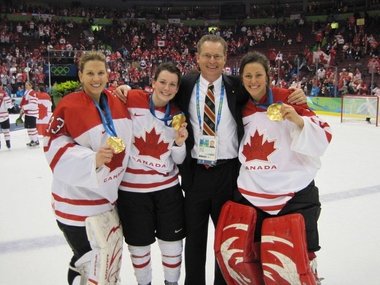 An eight-time recipient of Quebec university coach-of-the-year honours, Smith was also a three-time CIS coach of the year, winning the award in 2003, 2008 and 2012.
A former junior hockey player with the Lachine Rapids, Smith attended Vanier College before moving on to McGill, where he was a varsity swimmer from 1976 to 1979 and served as team captain. He holds a bachelor's degree in physical education (1979), followed by a master's degree in sports psychology (1986). After graduating, he was hired as coordinator for the McGill intramural sports program in 1979 and 20 years later, was appointed head coach of the Martlets.
In 2007, he was the inaugural beneficiary of a chaired coaching position, created from a $1 million gift from Sheryl and David Kerr. That donation ensured the program would have perpetual funding for a full-time coach. At the time, it was the largest single donation to a women's sports program in Canadian university history.
From 2005 to 2010, Smith served with the Canadian national women's team as an assistant coach, helping guide them to gold medals at numerous tournaments, including the 2006 Turin Games and the 2010 Vancouver Games. He served as head coach of the national team in 2007-08, winning gold at the Four Nations Cup in Sweden and silver at the IIHF world championships in China.
An announcement about the vacant head coaching position is expected to be made shortly.