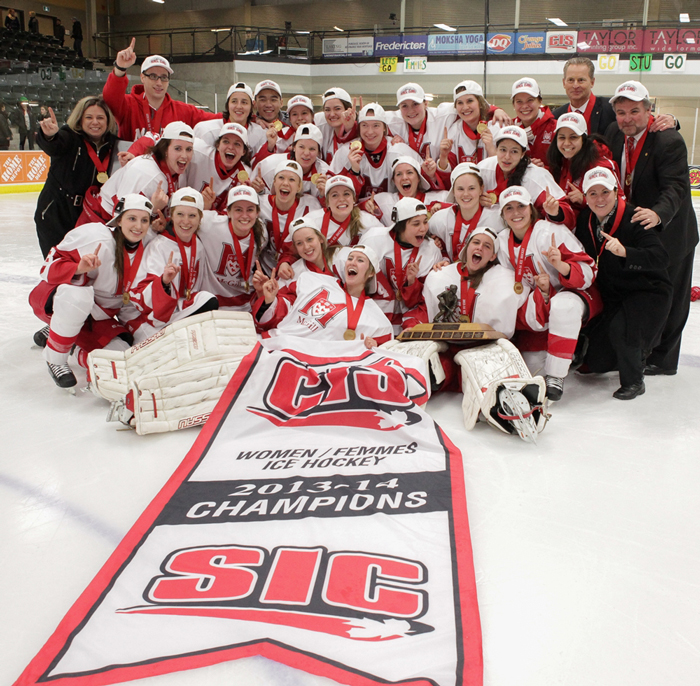 By Earl Zukerman
FREDERICTON – Brittney Fouracres, a defenceman from Calgary, scored a power-play goal at 37 seconds of double overtime to give fifth-seeded McGill a hard-earned 4-3 victory over the top-seeded Montreal Carabins to capture the Scotiabank CIS national women's hockey championship before a crowd of 827 at the Grant Harvey Centre on the campus of St. Thomas University, Sunday evening.
It was the fourth CIS title for the Martlets, who were dethroned as Quebec conference champions in each of the last two seasons by the upstart Carabins, a team that captured the CIS banner last year. McGill improved to 32-7 lifetime against the Carabins, including a 5-4 record this season.
"It's very overwhelming but this is what we wanted so we're all very happy and I'm beyond words," said Fouracres, a chemical engineering junior, whose wristshot from inside the top of the right faceoff circle struck pay-dirt off the far left goal post. "All I wanted was for the puck to go in that net. I know I've scored on (goaltender Elodie Rousseau-Sirois) in that spot before so I was going with it and am glad it worked out."
Tournament MVP Gabrielle Davidson tallied twice and assisted on the winner for the Martlets who had a 33-24 edge in shots. The sophomore from Pointe Claire, Que., who led the nation with an RSEQ single-season record 28 goals in 20 games, finished the CIS tournament as the top sniper, with six goals and nine points in three contests. Four of her six tourney goals came on backhanded shots.
"It was nice to see that Gabby (Davidson) got the tourney MVP award," said McGill head coach Peter Smith. "She had a great year but was real nicked up in the playoffs and wasn't 100 per cent. Then to come here and played the way she did…she lifted the team on her shoulders at times. She has such sweet hands."
Davidson gave McGill 1-0 and 2-1 leads, sandwiched around Ariane Barker's first of two for the Carabins.
Michelle Daigneault, a senior rearguard from Hay River, N.W.T., gave McGill what appeared to be an unsurmountable 3-1 lead at 10:17 of the third period. It was only her third marker in 44 games overall this season and her first since scoring against the Carabins on Nov. 24.
But the never-say-die Carabins scratched their way back to tie the score at 3-3 on goals by Janique Duval of Val d'Or, Que., at 11:00 and Barker, who hails from Napierville, Que., at 16:47 to force overtime.
Carabins defenceman Sophie Brault was called for holding with 20 seconds remaining in the 10-minute sudden-death period. McGill capitalized seconds after returning to the ice for a second extra period.
"I'm just so happy for those girls, they worked so hard," said Smith, who guided his troops to a 34-10-0 record overall, including a 29-4-0 mark against CIS opponents. "We've got four graduating players and what a way to go. I'm just thrilled for them.
"It was quite a victory… Britt Fouracres had a great game and tournament, so for her to get the winning goal was poetic justice. In terms of the team's performance today, I've coached a lot of hockey and that's probably one of the best-played games that I've been involved with. Our team stuck with a plan from start to finish. Sure we made a couple mistakes but that's what hockey is all about. We did a great job in sticking with it. Everybody bought in from the beginning and contributed to the success of the team.
McGill forward Leslie Oles, a senior from Beaconsfield, Que., was a dominant threat throughout the weekend and collected three helpers, including one on the gold medal winner, to finish second in tourney scoring with a 2-6-8 record.
"What can I say about Leslie," said Smith. "She is an inspiration to her teammates, how hard she plays. She's one of the top players that I've ever coached in terms of going hard, every single shift. She is a nightmare to play against and an absolute dream to play with."
Special teams told the tale of the tape, with McGill connecting on 3-of-7 power-play opportunities. They also snuffed out all seven shorthanded situations against the Carabins, who led the nation with a potent power-play of 29.5 per cent during the regular season. A large factor to the success of the PK unit was Joanne Cagianos, a third-year forward from Dorval, Que., who blocked a plethora of shots.
Sophomore goaltender Taylor Hough registered 21 saves for the win. She entered the CIS tourney as the back-up but started each game and backstopped McGill to three consecutive victories. At the other end of the ice, Rousseau-Sirois, who posted back-to-back shutouts in the preliminary round, was beaten four times on 33 shots and was saddled with only her second loss in eight post-season games for the Carabins.
"We're real lucky in the culture of "Martlet hockey" that we have had," added Smith, reflecting on the bigger picture. "We've always had great leadership and this year has been phenomenal, from team captain Darragh Hamilton and our four alternate captains (Leslie Oles, Katia Clement-Heydra, Adrienne Crampton and Andrea Weckman). They've just pulled the team together, they're great role models and you could not ask more from our leadership group this year."
Click on photo to enlarge it.
MARTLET MURMURS: The team bus is expected to arrive back at McConnell Arena on Monday around 5 p.m… The four graduating seniors who have played their last game for McGill include F Darragh Hamilton, G Andrea Weckman, F Chelsea Saunders and D Michelle Daigneault… McGill's previous CIS championships in women's hockey occurred in 2011, 2009 and 2008… Unless the tournament format changes, the victory by McGill ensures that the RSEQ conference will again receive a second berth to the 2015 national championships.
See video highlights on SportsNet 360
CIS All-Tournament Team
G: Elodie Rousseau-Sirois, Montreal
D: Julia Flinton, Saskatchewan
D: Brittney Fouracres, McGill
F: Gabrielle Davidson, McGill
F: Ariane Barker, Montreal
F: Laura Brooker, Laurier
Tournament MVP
F: Gabrielle Davidson, McGill