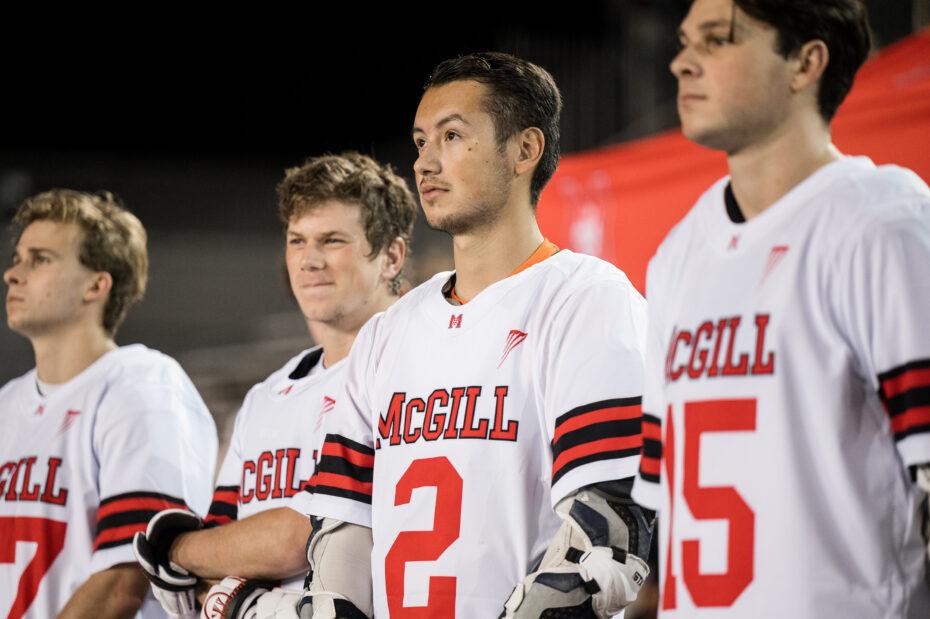 On the day Isaiah Cree arrived in the world, his great-grandfather gave him a wooden lacrosse stick he had made by hand, engraved with Cree's name and birthdate.
"Lacrosse has always been a part of my people and part of my family," says the 22-year-old International Development Studies major, whose earliest memories include playing throw-and-catch with a lacrosse ball with his father and grandfather when he was barely old enough to walk.
"A lot of people who come from Akwesasne are very good lacrosse players, because our community cares a lot about [the game]. We produce a lot of excellent lacrosse players every year."
Tragedy and triumph
Cree's selection as McGill first Indigenous lacrosse captain follows a strong 2022 season, in which he scored a total of 12 goals for the Redbirds as they advanced to the semi-finals of the Baggataway Cup, the championship tournament of the Canadian University Field Lacrosse Association.
But the highs of last year were a long time coming for Cree, whose first three seasons at McGill – 2019, 2020 and 2021 – were wiped out, first by an anterior cruciate ligament injury suffered in his final year of high school, then by the Covid-19 pandemic.
Come September 2022 and, at last, it was Cree's moment to take the field. But barely three weeks into his long-delayed first season, a devastating car accident claimed the life of one of his closest childhood friends. With the experience of attending the funeral of one of his "first and best" friends still raw, Cree was determined not to pull out of two back-to-back league games scheduled to be played in the days immediately following.
"I didn't want him to feel like I was sacrificing a part of my life because of how much pain I had in losing him," Cree explains. "I wanted to play those games. I paid those respects to him in those games."
Celebrating lacrosse's roots
Cree scored three goals in each of those two games, both of which ended in victory for McGill. The second, played against Queen's University at Molson Stadium on September 30, was special for another reason, too. Known as the Legacy Game and scheduled to coincide with the National Day for Truth and Reconciliation, the event featured a special tribute to the game's Indigenous origins, including a smoke dance performance, an honour song, words shared on behalf of former Grand Chief of Akwesasne Mike Mitchell, fundraising for an Indigenous community organization, and speeches to raise awareness about Orange Shirt Day.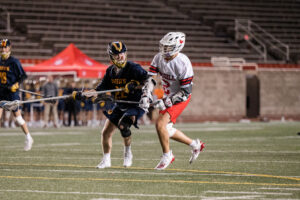 Cree says the idea for the Legacy Game came out of discussions between students and staff at McGill's First Peoples' House. He credits Aneeka Anderson, whom he met when they were both residents at First Peoples' House, with being a driving force behind the initiative.
Anderson, now working as an Indigenous Initiatives Associate in McGill's Office of Indigenous Initiatives, says the event would not have been the success it was if not for Cree.
"I ran so many ideas by him and other friends at First Peoples' House," she says. "A lot of times I felt like, 'If he's happy, then we did a good job'.
"He's a beacon of hope and pride for our youth, so I think he reminded us why this representation and celebration of Indigenous excellence, in lacrosse and beyond, matters."
In September this year, the Legacy Game initiative will be extended to other sports to include all the McGill teams playing home games on Saturday, September 30. With planning already underway, Cree has enlisted the help of Brandon Lazore, an artist from Akwesasne, to create a new design for the commemorative jersey that will be worn by the players and available for sale at the games.
The only Indigenous player on the team
Cree feels honoured to have been included in the conversations that led to the creation of the Legacy Game. He is keenly aware that, despite lacrosse's cultural heritage, he is the only Indigenous player in the Redbirds squad.
"I thought there would be more considering how close we are to other reservations. But it's good to be representing my community in a place where we aren't usually represented," he says, referring not only to his place on the team, but also to what he has achieved as a McGill student.
"Everything that I've done to be here and be successful enough to graduate and even apply for a master's, it's a lot of things my family can't say they've tried to do because of the horrors of residential school and boarding school.
"I'm just hoping that the stigma around universities isn't as prominent in the future – because we don't have to look at them as superior; we can look at them as a resource to help understand some of the problems we have within reserve instead of it being more of a colonizing form and space."
An inspiration to others
At the McGill Athletics awards ceremony in April this year, Cree was presented with the Dr. Mac Teskey Award for overcoming adversity while serving as an inspiration to others. While Cree's steadfastness during his recent years on the sideline and the courage and skill he displayed when he finally got to play for McGill are proof enough of how much he deserves such an honour, Cree is all the more an inspirational figure for the hard work he has put in over many years to make the most of his natural talent.
"I knew I was going to go somewhere with lacrosse because in seventh or eighth grade, I had [university] coaches asking me if I was in high school," he says.
This level of interest materialized into an offer of a full athletic scholarship to attend Sierra Canyon School in Los Angeles, some 3,000 miles from his home in Akwesasne. Cree grabbed the opportunity with both hands and, in doing so, found a level of support both on and off the sporting field that went well beyond what he had experienced at his local high school in Massena, NY.
"[At Massena,] I didn't have a lot of teachers care about me because they thought I was just another troubled student," Cree says. "I'd get low Bs and Cs, but then I go to a private school where teachers actually care, and I start getting As."
Upon graduating from Sierra Canyon, Cree earned a Tewaaraton Native American Scholarship from USA Lacrosse, which provided him with further support to pursue university study. He puts his sporting and academic achievements into context by reflecting on the choices his grandfathers had to make when, still in their teens, they moved to other cities to take on hard, manual work to help support their families.
"I knew that if I wasn't going to do what they had done, I was going to put just as much effort into something else that was going to benefit me and my family, and my community. And I worked as hard as I could and got the offer to go to LA. I took it because that's what my grandfathers would have done.
"I took it and then did the best I possibly could and then ended up getting into McGill."