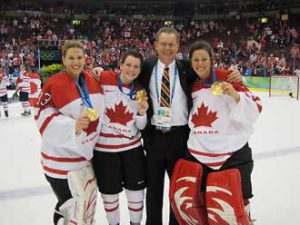 By Jim Hynes
The Vancouver winter Games were barely a day old before a student athlete contributed to McGill's overall Olympic medals tally. And three more gold medals were added last night courtesy of Canada's women's hockey team.
The gold medals earned by current student Charline Labonté, a physical education junior from Boisbriand, and graduates Catherine Ward (BCom '09) from Town of Mount-Royal, and goaltender Kim St-Pierre (BEd '05) of Châteauguay, bring the total number of Olympic medals – Summer and Winter Games combined – won by McGill students or graduates since the Olympics began, to 28. The University has produced 112 Olympians who have now won a total of eight gold medals, nine silver, and 11 bronze.
Last night's 2-0 victory over the U.S.  gave St-Pierre a third Olympic gold medal, while Labonté, who was between the pipes for Canada's gold medal victory in 2006 (Turin), earned her second. Olympics rookie Ward earned her first, but probably not last, Games medal. She scored 2 goals and added two assists in five games and was a pillar on the blueline for defending Champions. Ward was on the ice for both of Canada's goals in the gold medal game and helped kill off a number of Canadian penalties.
Jennifer Heil, a management major from Spruce Grove, Alta., captured Canada's first medal on the first day of competition at the Games, a silver in women's freestyle moguls. Heil, 26, and the defending gold medallist in the event, finished second behind American Hannah Kearney, the daughter of two McGill grads: Jill Gass (BEd '79) and Tom Kearney (MA '79).
The only McGill-connected athlete still competing at the Games is short-track speed skater Tyson Heung (BEd'05), a Montreal teacher originally from Brampton, Ont., who is skating for Germany. He has qualified for the quarterfinals of the 500 m and will compete in the B Final of the 5000 m relay. Both events take place tonight (Friday Feb. 26). Hueng also participated in the 1500 m and the 1000 m, where he qualified for the quarterfinals before being edged out in a difficult heat.
Eight other McGill graduates are involved with the current Games in coaching or administrative roles. Peter Smith, the current head coach (on sabbatical) of the hockey Martlets, served as an assistant with Canada's women's team. Canada's men's team, meanwhile, is coached by current Detroit Red Wings bench boss Mike Babcock, a McGill grad (BEd'86) who played for the Redmen from 1983 to 1987.