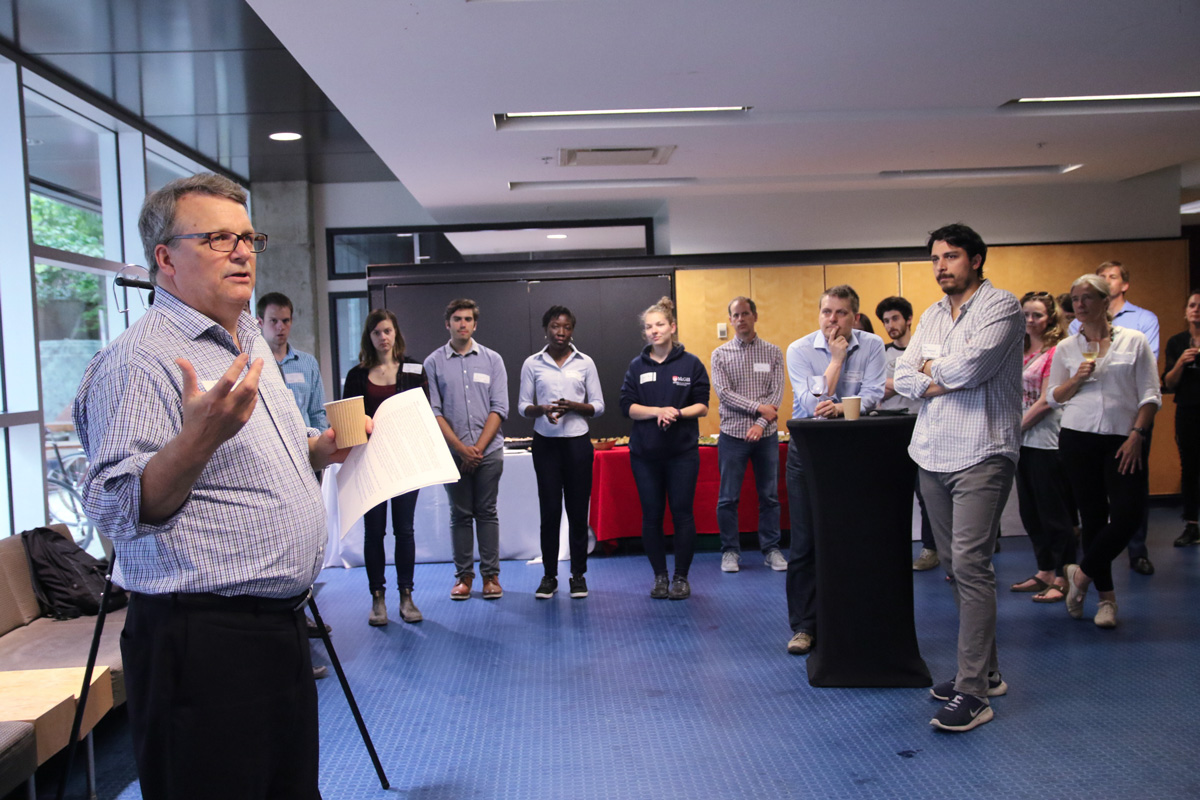 On June 13, people gathered on the 2nd floor lobby of the Lorne M. Trottier Building to celebrate risk takers – specifically, the 19 sustainability projects that have been awarded seed funding by the McGill Sustainability Systems Initiative (MSSI).
"I like to say [these are initiatives] that no one else would fund because if we went through the tri-council process, no one would ever agree to the ideas found here," said Bruce Lennox, Dean of the Faculty of Science and a member of the MSSI's Executive Committee (along with Jim Nicell, Anja Geitmann and Heather McShane). "The criteria we have [with the MSSI] is to do something daring, difficult – which you would never put into a grant proposal – and projects that some might think are too crazy. But that's exactly what we want. We are funding risk and we are funding innovation."
Launched last fall, the MSSI is committed to building a network of researchers from social sciences and humanities to natural sciences and engineering, to develop sophisticated, cross-disciplinary responses to address some of the world's complex sustainability challenges.
"Across McGill, we are close to 200 Principal Investigators in the two campuses who self-declare as having research that is deeply embedded in sustainability solutions and sustainability problems," said Dean Lennox. "It is a gigantic network that is dispersed among 22 departments. Over 1,000 graduate students are associated with these research programs and a couple of hundred postdocs.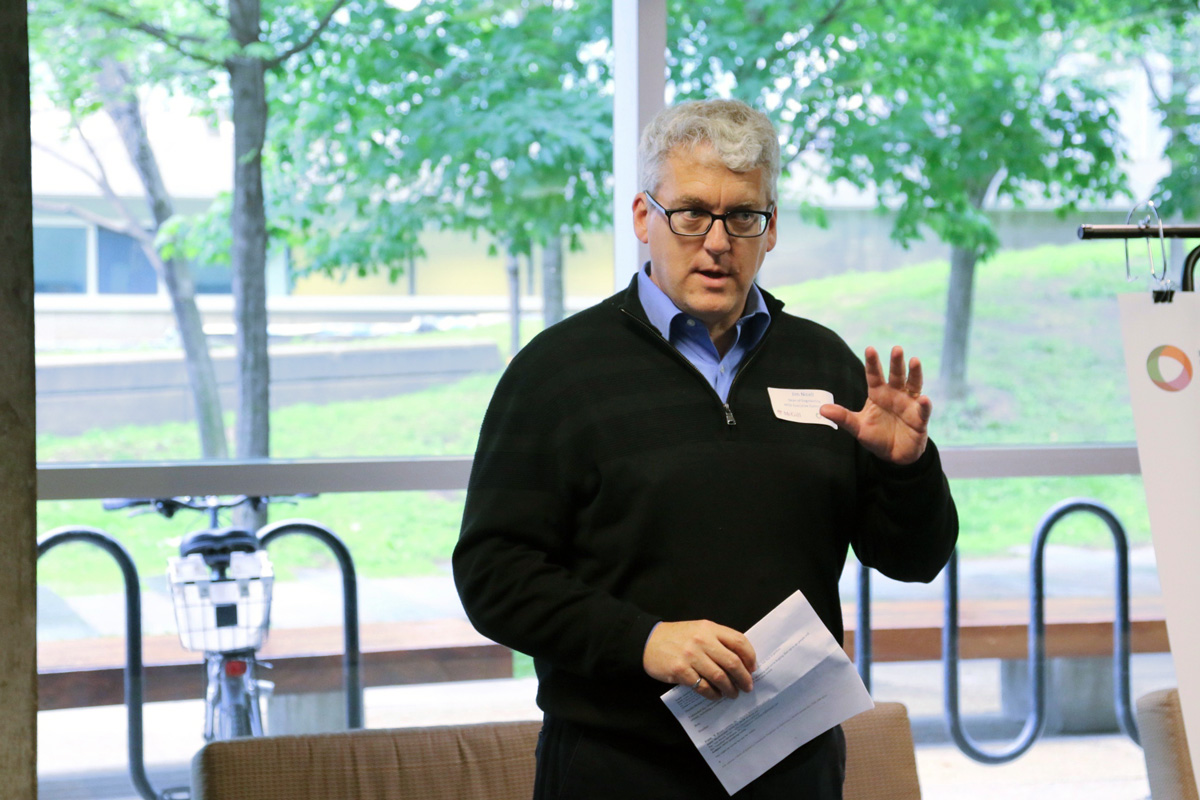 "We use terminology like 'community' and 'interdisciplinarity,' but it all comes down to people realizing they are doing things that are complimentary and they can solve really big problems, not projects, but problems. That really is what our goal is."
Jim Nicell, Dean of the Faculty of Engineering, echoed his colleague's sentiments – and his enthusiasm.
"It's not just the projects themselves that is the product, it's the fact that we've worked collaboratively, and become familiar with each other's capabilities. In the process that creates a new capacity that we didn't have before," said Jim Nicell, Dean of the Faculty of Engineering.
"One thing I've been celebrating almost daily [since the launch of MSSI] is that fact that Bruce Lennox, Anja Geitmann, Dean of the Faculty of Agricultural and Environmental Sciences, and I have worked incredibly closely together. We have Faculties that want to work together across boundaries and we're not fighting for resources. This is about doing the right thing to support people at the University."
In all, 14 projects will be supported by the MSSI's Ideas Fund, enabling faculty and students alike to explore bold projects and novel ideas which, if successful, could make a significant impact on sustainability. The funding allows recipients to explore the feasibility of ideas before dedicating significant resources to flesh them out. The Ideas Fund will support 11 research projects led by scholars across nine departments and three faculties, as well as three projects led by students – an essential part of MSSI.
"One of the untapped potentials of our University is our students. The students that flow into our University – almost 40,000 now – are carriers of ideas and creativity and then they carry those ideas out into the workforce later on," said Dean Nicell. "What we haven't done enough, is allow our students the opportunity to pursue their ideas as well. A number of the projects that are funded [by the Ideas Fund] are student projects, where they get the chance to take their idea and put it into practice.
The MSSI's Innovation Fund, provides support to move sustainability-focused projects to the next the next stage of development, from activities required for commercialization to policy development. The Spring 2018 MSSI Innovation Fund competition will fund five projects from three departments across two faculties.
"We're funding these proposals because when we went through them in the review process we said 'If this works, this will be spectacular.' For many of us who have been on granting committees, that's not what we read in discovery grants. There are very few 'wow' moments because no one wants to extend themselves and take a risk," said Dean Lennox.
"We ask whether you have something that is ready to develop as a prototype, something as a demonstration, something that, with funding, you could bring to the next step so that you could take it out of McGill into venture capital, into programs such as NSERC and SSHRC and go into that next orbit," continued Dean Lennox. "This is a seed fund to enable people to take something they have developed but have not reached the point where they are certain to sell it to investors."
MSSI's work is centred on three thematic areas in which McGill excels: Adapting Urban Environments for the Future; Creating Sustainable Materials for the Future; and Sustaining Landscapes for the Future.
Here is a list of the projects that have received MSSI support:
MSSI Ideas Fund faculty recipients – Spring 2018
3D Printing of lightweight sustainable materials: Wood-fiber reinforced cellular composites
Hamid Akbarzadeh & Larry Lessard
Development of an electrocatalytic method for the direct functionalization of methane to aldehydes
Bruce Arndtsen
Supercritical metal-water reactor proof of concept
Jeffrey Bergthorson
Indigenizing concepts of food security
Treena Delormier, Gordon Hickey & Murray Humphries
Green supramolecular polymer assembly inspired by the velvet worm
Matthew Harrington
The role of induced earthquakes on methane emissions from oil and gas infrastructure in Western Canada
Mary Kang, Peter Douglas, Yajing Liu & Jeffrey M. McKenzie
Changing-climate resilient cisgenic crop variety development through genome editing
Ajjamada Kushalappa
Engineering nanocatalysts for photo-fixation of nitrogen into ammonia
C.J. Li, Hong Guo & Zetian Mi
Sustainable copolymer additives for durable roadway asphalts
Milan Maric
Resilience planning in new master-planned cities
Sarah Moser, Idowu Ajibade & Laurence Côté-Roy
Developing the use of seawater eDNA to track species responses to environmental change
Jennifer Sunday
MSSI Ideas Fund student recipients – Spring 2018
SymBioSyn
Yves Abanda, Stephanie Goyer, Robert Ishimwe, Connor Spencer, Treena Delormier (faculty supervisor)
Using air and solar energy as a sustainable source of water
Kevin Kelly, David Villegas, Jan Kopyscinski (faculty supervisor)
Development of a solar-powered UAV
Callaghan Wilmott, Jovan Nedic (faculty supervisor)
MSSI Innovation Fund Recipients – Spring 2018
Solvent-free enzymatic depolymerization of poly(ethylene terephthalate)
Karine Auclair & Tomislav Friščić
Novel plasma technology for renewable ammonia synthesis
Sylvain Coulombe
Sustainable Green Plasticizers
Richard Leask, Milan Maric & Jim Nicel
Design of advanced Na-ion batteries
Eric McCalla
Closing the Phosphorus Loop through Phosphate Rock Production from Municipal Sludge
Sidney Omelon
Learn more about the McGill Sustainability Systems Initiative