There is a shiny black six-foot Ibach grand piano in the place of honour in Dean Brenda Ravenscroft's corner office high atop the Schulich School of Music on Sherbrooke Street. But she ruefully says she doesn't have much time to play. Since she began her appointment as Dean one year ago, Ravenscroft has been busy getting to know the School's "unique 21st-century strengths in music performance, research and technology," and putting into place a diversity mandate.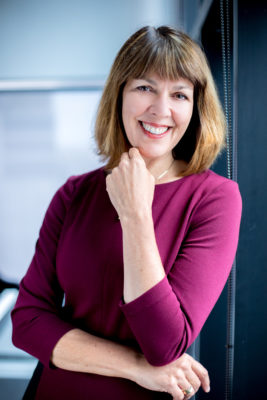 "As the school's first full-term female Dean, I believe I have a responsibility to contribute to this progressive educational environment by modeling and enhancing diversity," says Ravenscroft. (Prof. Julie Cumming was Interim Dean from July 2016 to July 2017.) "A diverse community enhances excellence. We need to recruit people from under-represented populations, and to intentionally portray the School as a welcoming environment for everyone."
To this end, Ravenscroft established the School's Accessibility Working Group in the fall of 2017. In consultation with the Schulich community, the Working Group developed a vision statement on diversity, inclusion and accessibility, affirming that the School aims to create a climate of understanding and mutual respect for all, by striving to identify, remove and prevent barriers that hinder participation in all aspects of campus life. Responsibility for furthering these values and goals is shared by all members of the School, according to the vision statement.
Ravenscroft proudly points out that the upcoming academic year marks the first time that the first-year History of Music class curriculum, traditionally weighted toward men composers, will cover an equal amount of material by women.
The staff of the Gertrude Whitley Performance Library and Marvin Duchow Music Library have been making a concerted effort to inform student directors of work by women to include in their repertoire. Ravenscroft says she is heartened to see that, during the 2018-2019 season, all of the School's major ensembles will be performing more work by women composers than in the past – including Montreal's first full-scale production of the only surviving work by Francesca Caccini, "La liberazione di Ruggiero." Known as "La Cecchina" (the Songbird), Caccini was born in 1587, and is considered to be one of the first composers of opera in general, and more specifically the first woman composer of opera.
In terms of other forms of diversity, the Students' Society of McGill University (SSMU) funded the hiring of a summer student to help the Music librarians identify, and fill, gaps in holdings from underrepresented areas such as Asia, South America and Eastern Europe.
Ravenscroft's first teaching job was at McGill, while she was a PhD student at the University of British Columbia. She loved McGill, so in that sense her return as Dean is a homecoming of sorts. Prior to her appointment as Dean, she was a music theory professor and Associate Dean in the Faculty of Arts and Science at Queen's University.
Brenda Ravenscroft grew up in South Africa, and studied music theory at the University of Cape Town, where she played reed instruments and piano. It was when she went to King's College in London to do her Master's that the importance of inclusion and diversity came into focus for her.
Distance allowed her to see her home country, then under the yoke of apartheid, more clearly. She also zeroed in on the almost complete absence of women in her chosen field, music theory.
Ravenscroft points out that music was highly gendered in the past. Even certain instruments, such as flute and violin, were considered more "feminine" than percussion or brass. Beginning in the 1970s, blind auditions, where adjudicators could only hear performers, led to a marked increase in the number of women players in orchestras. (A 2000 study published in the American Economic Review suggests that, by the mid-1990s, blind auditions had helped increase the percentage of female orchestra members from 10 per cent to around 35 per cent.) But even with those improvements, only 30 per cent of music theorists are women, and less than two per cent of the articles in music journals are about music by women. Though she says she is not militant, these are some of the reasons why Ravenscroft chaired the Committee on Status of Women of the Society for Music Theory from 2006 to 2009.
Ravenscroft is helping to drive the diversity sea change through her scholarship as well as her leadership. She and her long-time friend and colleague Laurel Parsons, music theorist at the University of Alberta, decided that there was a need for a critical mass of scholarship about women composers. Their initial concept was to edit a single collection of essays about music by women composers. Ravenscroft and Parsons issued a call for submissions, and were pleasantly surprised when it became clear they had enough material to edit several collections.
The resulting four-volume series, "Analytical Essays on Music by Women," will cover roughly 35 composers from the fifth century to 2015. The first book in the series, covering concert music from 1960 to 2000, won the Society for Music Theory's Outstanding Multi-Authored Publication Award in November 2017. Volume two, which Oxford University Press will publish in October, covers secular and sacred music to 1900.
"The biggest obstacle is attitude: complacency, accepting the status quo as 'normal,' willed ignorance, or indifference to the issues, or, worse still, belief that under-represented groups are not worthy of inclusion," says Ravenscroft. "No gesture or act is too small. We all share the responsibility of achieving greater diversity and inclusion in our community. We have to be proactive, make purposeful choices to enhance diversity – and we need to remain vigilant and attentive."