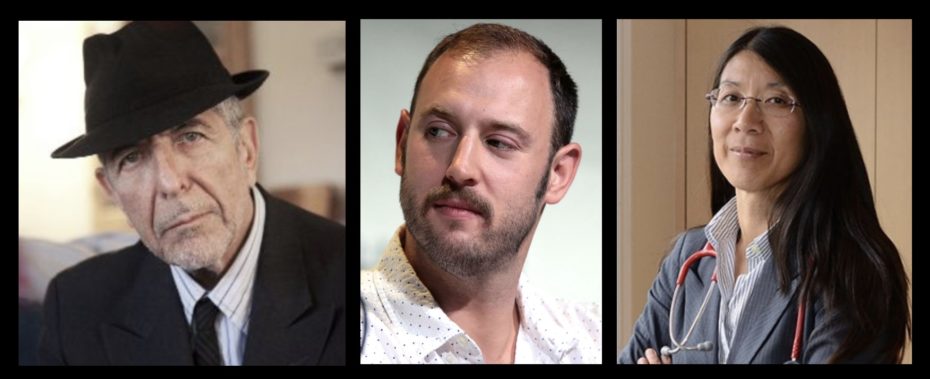 McGill alumni Leonard Cohen (BA'55, DLitt'92), Evan Goldberg (BA'05) and Dr. Joanne Liu (MDCM'91, IMHL'14, DSc'16) will be the latest Canadians to have their names emblazoned on Canada's Walk of Fame (CWOF). The Hollywood Boulevard-style sidewalk plaques are permanent tributes displayed along King Street West and Simcoe Street in downtown Toronto's Entertainment District.
In total, 10 new inductees were announced today. A formal awards show will take place at the Sony Centre for the Performing Arts in Toronto on December 1, 2018. The CWOF recognizes outstanding Canadians in five categories: sports and athletics, philanthropy and humanities, arts and entertainment, business and entrepreneurship, and science and technology.
The late Leonard Cohen earned worldwide fame as a singer-songwriter with classic songs such as "Suzanne," "Bird on a Wire" and "Hallelujah," but his literary career began in earnest while he was still an undergrad at McGill.  He published his early poems in the McGill student paper The Forge, and his first volume of poetry, Let Us Compare Mythologies (1956), launched the McGill Poetry Series.
Evan Goldberg is a screenwriter, producer and director. Together with his writing partner and childhood friend Seth Rogen, Goldberg created popular films such as Superbad, This is the End and Pineapple Express.  He also co-developed the hit TV series Preacher. Goldberg is the co-creator of And Action!, a program that gives elementary and high school students a chance to work with professionals to create their own movies.
As International President of Médecins sans frontières (Doctors Without Borders) Dr. Joanne Liu has worked with Malian refugees in Mauritania, helped people affected by the earthquake in Haiti and the tsunami in Indonesia, and tended to war-wounded patients in Syria. In 2015, Time magazine named her one of the 100 Most Influential People. "McGill changed my life," she told a graduating class in November 2016, "…because it gave me a chance."
173 Canadians have been inducted into the CWOF since its founding in 1998. McGillians who have received the honor include the musician Joni Mitchell (DMus'04) and actors Christopher Plummer (DLitt'06) and William Shatner (BCom'52, DLitt'11).