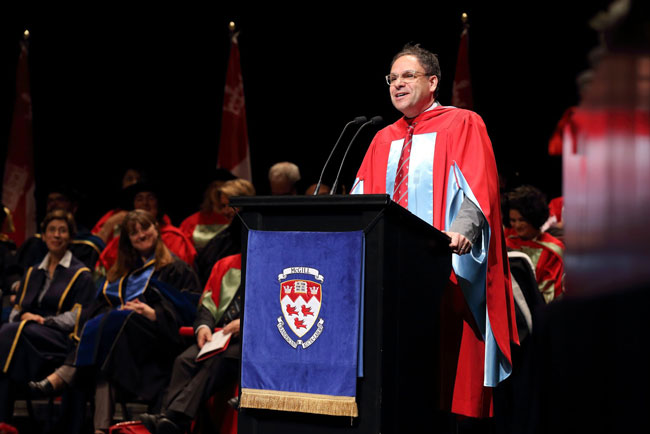 By Neale McDevitt
At both of yesterday's Fall 2016 Convocation ceremonies at Place des Arts, graduating students were challenged to use their talents to make a positive impact in the world.
The day began with the morning ceremony for graduating students from the Faculties of Agricultural and Environmental Sciences, Arts, Education, Law, Management and Music. But before making that memorable march across the stage in Salle Wilfrid Pelletier to accept their degrees, students listened to the Convocation address of Bertrand Cesvet (watch the video of Cesvet's speech at the end of the article), of the award-winning creative agency Sid Lee.
Cesvet, who was conferred with a Doctor of Letters degree, began by congratulating the Class of 2016 for achieving such a significant milestone. "I commend your hard work, your commitment and all the personal sacrifices that you and your families have made in order for you to be here today," said Cesvet. "Canada and the world badly needs you. We need young, educated and optimistic women and men who will be willing to propel our society forward."
Cesvet got some chuckles when he reminisced about his early days at the University. "I came to McGill in 1983. The Cold War was raging. Michael Jackson's Billie Jean was topping the charts," he said. "My English was very bad and, sadly, I was wearing a mullet.
"Like most 19-year-olds I was not quite sure why I was here," he continued. "If I look back the most honest answer to this question, it was that I was trying to please my wonderful parents, conform to the societal norm and find a way to make an honest living."
Cesvet remembered a pair of questions nagging at him throughout his time at McGill – especially upon graduation. "Two critical questions: What and where? I know they are on top of your mind right now," he told the Class of 2016. "Some of you may know exactly what and where you are going to do next. Others, like me when I stood in your shoes 28 years ago, are probably completely petrified because you have absolutely no clue about what you are going to do next."
But the truly important question, he continued, is neither what you will do next, nor where you will do it. Rather, it is with whom.
Paying homage to everyone from his parents and wife to his friends and business partners, Cesvet reminded the audience that people are the most important aspect in any life.
"Take a moment and look to your right and look to your left," Cesvet told students. "Regardless of age, race, political views, social status, sexual orientation or gender, we all share the same spaceship. Every person in this room has the potential to make a positive difference in your life. Some may turn out to be your lifelong friends and become your extended family. Others may teach you something. Some may become your business partner. They may one day care for you. They may even prompt you to write a love letter.
"So open your heart, trust people but choose your friends wisely," Cesvet concluded. "Alone we are nothing. We can find strength and wisdom in each other. Together we are stronger."
Joanne Liu, International President of Médecins Sans Frontières/Doctors Without Borders, began her address for thanking McGill for taking a bit of a chance on her more than 25 years ago.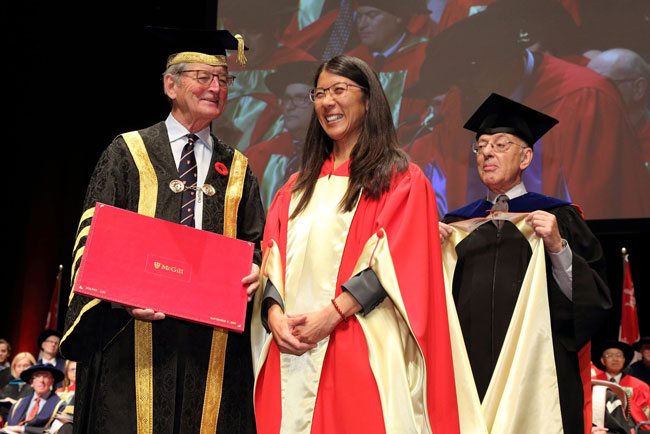 "McGill changed my life. Not through the excellence of its medical education – although it was [excellent] – but because it gave me a chance," said Liu. "I was on a waiting list to be excepted in medical school. But I didn't have the marks to get in – one score was too low. But McGill invited me for an interview and they listened to me. They listened to me describe my aspirations. They listened to me tell them that I wanted to attend to those most in need. I had fire in my stomach. I dreamed about changing the world. I wanted people to care for the plight of others because every life counts."
Liu admitted that being a McGill med student was not easy. "I wanted to quit," she told students graduating from the Faculties of Dentistry, Engineering, Medicine, Science, and the School of Continuing Studies. In fact, the impulse to quit has been a constant throughout Liu's distinguished career.
"I realize that there is a pattern in all the major things I've done in my life. I start. I want to quit. I recharge myself to go further," said Liu. "During this quitting mode I [have] an existential crisis as if my life depends on this choice of staying or leaving. But each time the process is the same; I am looking for meaning. And once I have re-affirmed and reconfirmed, I recharge and keep going to the finish line and beyond."
The secret, says Liu, is finding that meaning because meaning allows people to "rise to the occasion… and keeps us focused and humble."
Liu proceeded to tell the audience about the 2014 Ebola crisis in West Africa and how the situation quickly escalated to epidemic proportions, leaving her and her colleagues at Médecins Sans Frontières who were working on the front lines to feel all but abandoned by the global community.
"[We] had no more capacity to take more patience [in our clinics]. We could only open the doors for 30 minutes in the morning to fill up the beds of the people who had died overnight," she said.
An internal debate within Doctors Without Borders raged, with some people saying if the rest of the world won't help, why should they? "We could not climb this mountain alone," said Liu. "Our teams were exhausted and in despair."
But stay they did. "We rose to occasion again and again – up to the breaking point. Constantly asking ourselves how far we could go and how long we could last. But we stuck with it. Despite the loss of patients. Despite the loss of colleagues," said Liu. "Because caring for these Ebola patients had meaning.
"Yes, our intervention was a truly humbling experience. We failed lamentably in the standards of care. We settled for imperfection because imperfection was better than no care at all. But it was care stripped to its bare-bones. Palliative care alone," said Liu. "But for each patient it had meaning."
Liu closed her address by answering a question often posed to her – aren't you tired of working in such hopeless situations?
"My answer never changes. No," she said. "I work with people who have no choice and I believe we have to give them our best precisely for this reason – because they have no choice. I don't pick. I don't take. I just give the best I can. This is what brings meaning to my life.
"So here's my take-home message to you the class of 2016," said Liu. "Go out there build a society of givers, not takers. For me a taker is someone who has no choice. If we have a choice, be a giver."
Click on the thumbnails to watch yesterday's Convocation addresses.