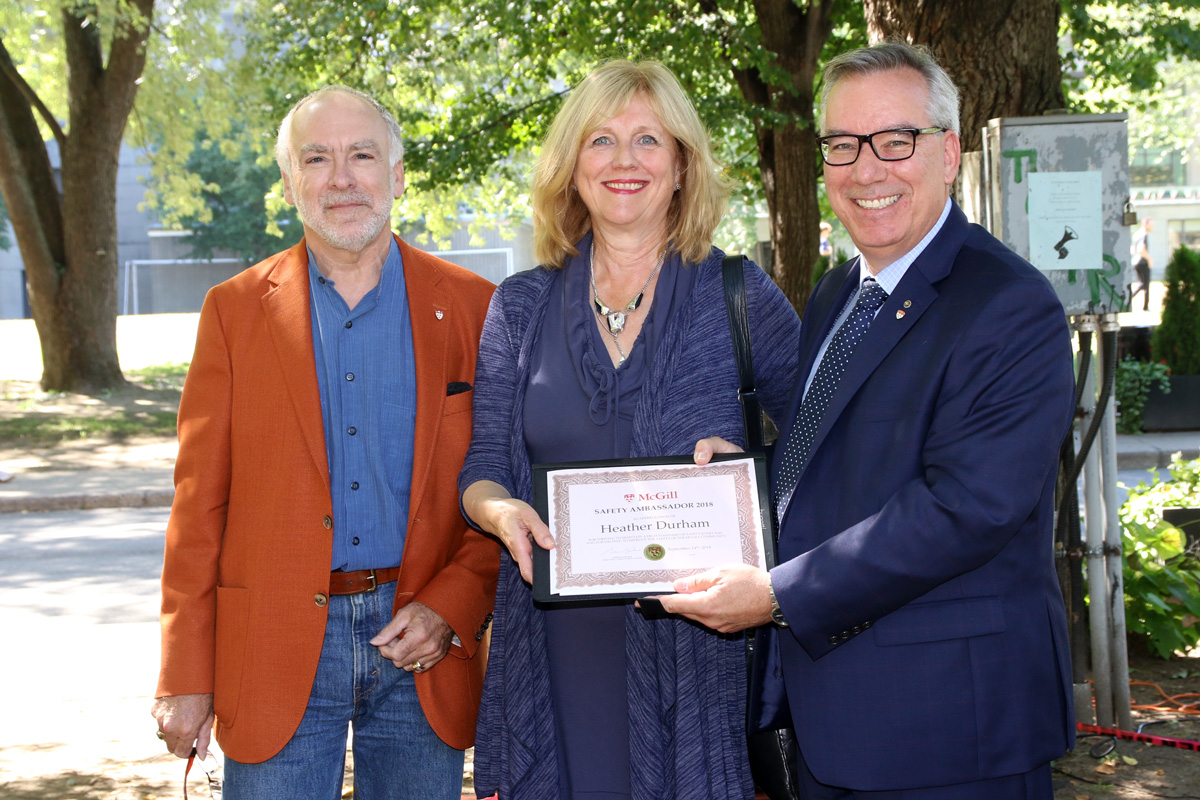 Each year during Safety Week, Campus Public Safety (CPS) takes a moment to recognize members of the McGill community who have been instrumental in ensuring the safety of their unit or of the occupants of the building where they work. They are named McGill Safety Ambassadors.
"These are individuals from any faculty or any department who go above and beyond their actual job – which often is not related to safety at all – to make sure that their colleagues feel safe and secure on campus," said Yves Beauchamp, Vice-Principal (Administration and Finance) at the Security Services annual community barbecue, on September 14, where the awards were handed out.
The 2018 Safety Ambassador Award recipients are:
Serghei Dernovici – Flow Cytometry Core Manager, Institute of Parasitology
Serghei was nominated by the Hazardous Waste Management, who says that he is a valued partner, always making sure that chemical waste is identified properly and that the University procedure to dispose of equipment such as old computers is followed.
Heather Durham – Principal Investigator, Montreal Neurological Institute
Heather has been the Departmental Safety Chair at the MNI for many years. She is a great supporter of myLab – the information system that helps the University manage hazardous waste safely – and she was involved in the creation of the MNI Lab Safety Information and Document Centre on the MNI's website.
Jo-Ann Sciampacone – Manager of Parking and Transportation Services
Jo-Ann has helped develop safety protocols and regulations and is instrumental in communicating them and ensuring they are respected. You can often see her walking through the campus identifying safety issues and taking the necessary measures to have them corrected.
Heidi Strohl – Digital Design Manager, Communications and External Relations
Heidi is a member of the Emergency Communications Group. She was the nominee of the Emergency Management and Preparedness team, who praised her creativity, resourcefulness and commitment to emergency preparedness on McGill campuses.
Gérard Grégoire – System Administrator, NCS
Gérard has been at McGill for nearly 30 years and has been an invaluable partner of Security Services. His expertise has helped ensure security device installations across campus are done in a timely and professional manner. He is always there to solve issues and respond to emergency requests, says Security Services.
The McLennan/Redpath Library Evacuation Team
The McLennan/Redpath Library Evacuation Team is the largest at the University, with a total of 71 members. During emergencies, their exceptionally well-coordinated efforts to facilitate the evacuation of their building is "a sight to behold", according to the Fire Prevention team.
The Sept. 14 ceremony was also the opportunity to recognize the efforts made by staff who make their contribution at the departmental level, as part of a Departmental Safety Committee (DSC).
"The DSCs are rated on the basis of their safety performance – taking into account the results of the lab inspections and other aspects of safety compliance – and for implementing any safety projects or activities over the past year," said Robert Couvrette, Associate Vice-Principal (Facilities Management and Ancillary Services), who announced that the recipient of the 2018 Departmental Safety Committee Productivity Award is the Comparative Medicine and Animal Resources Centre Departmental Safety Committee.