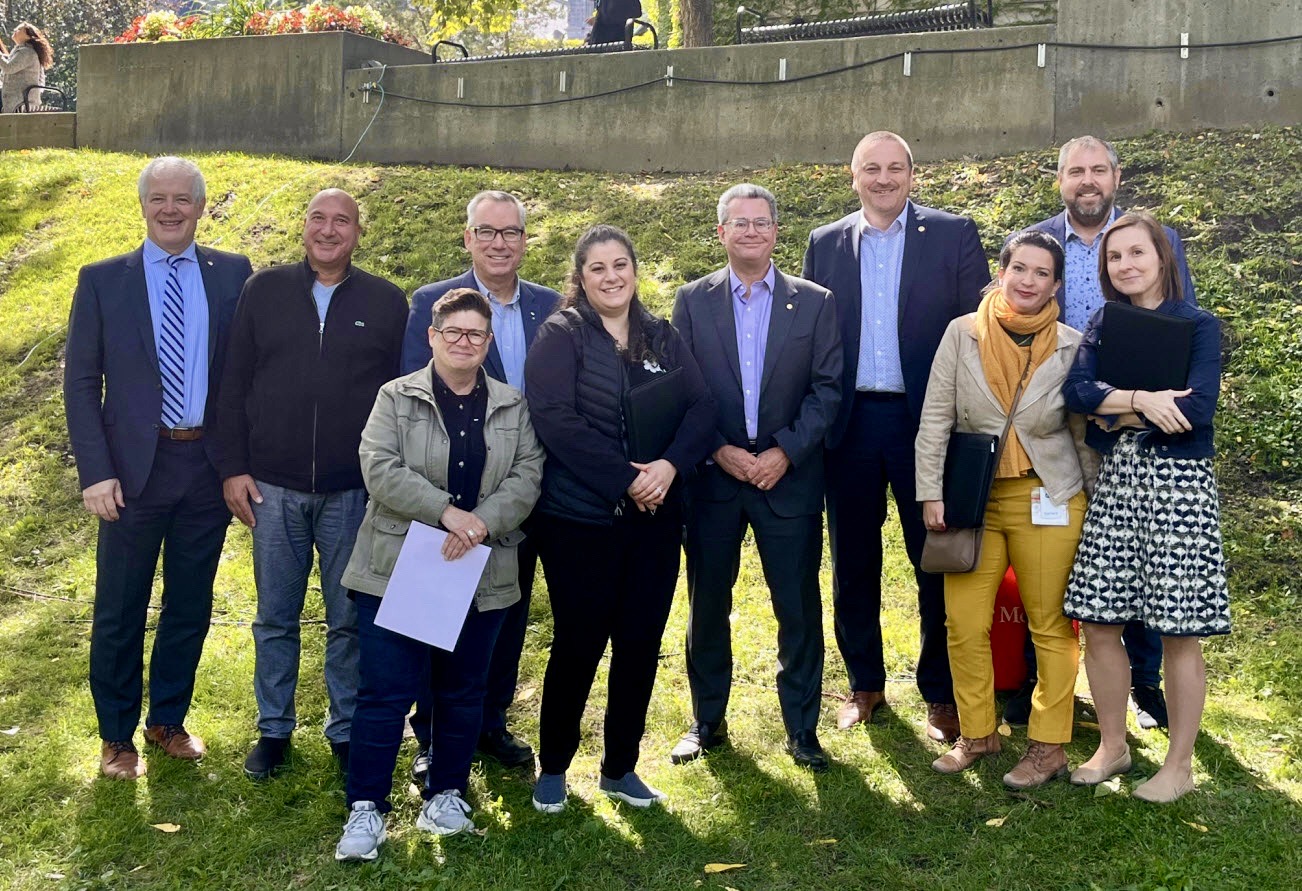 The 2022 Safety Ambassador Award recipients were announced on September 16, as part of the Security Services Community Barbecue, which resumed after a two-year hiatus.
The event is meant to thank the many McGill units and individuals, as well as external emergency responders (Montreal police and fire prevention services, for example), who support Campus Public Safety (CPS) in providing safe and secure campuses.
In particular, each CPS team names a Safety Ambassador, a McGill colleague they consider to be a safety champion even though their job is not directly related to safety.
Hosted by Pierre Barbarie, Director of CPS, the event was also an opportunity to recognize the work done by the CPS teams themselves throughout the pandemic.
"You do essential work every day, and you often do this work behind the scenes," Prof. Yves Beauchamp, Vice-Principal (Administration and Finance), said to the CPS staff. "But one of the things that the pandemic has highlighted is the critical contribution your work makes to the successful functioning of the University."
The 2022 Safety Ambassador Award recipients were introduced by Denis Mondou, Associate Vice-Principal, Facilities Management and Ancillary Services. They are:
Marcela Fernández Pedrozo – Assistant Project Manager, Project Management, Facilities Management and Ancillary Services (FMAS)
(Nominated by Security Services Downtown)
"Marcela is a trusted partner of Security Services and has worked with us on many projects," Mondou said on behalf of the Security Services team. "You may recognize Marcella from having spotted her visiting construction sites across campus, wearing a hard hat and high-visibility vest. Not only is she quick to report safety issues, but regularly corrects them herself. We are grateful for the immense contribution of employees such as Marcela, for their consistent awareness and proactive approach."
Jenny Eng – Laboratory Manager, Natural Resource Sciences
(Nominated by Security Services Macdonald)
"Jenny is very proactive when it comes to safety in the workplace, always reaching out to ask questions to ensure a safe workplace and building for all," wrote the Security Services Macdonald team. "Jenny is never afraid to reach out to Security when she sees something unsafe. During an emergency, you can always count on her collaboration and help. Her diligence and dedication to her work has been essential in helping prevent workplace accidents."
Pasqualino Pietromonaco – Senior Director, FMAS Operations
(Nominated by Environmental Health and Safety)
"Pasqualino arrived at McGill just ten days before a worldwide pandemic was declared," Mondou noted, on behalf of Environmental Health and Safety. "For the next two years, as Co-Chief of Logistics on the Emergency Operations Centre (EOC), Pat demonstrated a steadfast commitment to ensuring that McGill remained a safe environment for all those who work or study here. While we have returned to a more normal day-to-day, we continue to see that Pat is a true advocate of occupational safety matters and a champion of EHS causes."
Melissa Valente-Paterno – Research Assistant and Lab Manager, Department of Anatomy and Cell Biology
(Nominated by Hazardous Waste Management)
"Since Melissa started working at McGill in 2019, she has been very proactive in the management of her lab by implementing several waste management procedures. This includes not only hazardous waste but also recycling and reusing lab plastics," the Hazardous Waste Management unit wrote. "Melissa is very thorough and goes the extra distance to make sure that what comes out of her lab will be decontaminated properly, then recycled or disposed of as per regulations, ensuring the safety of everyone involved in the process." 
Éric Champagne – Horticultural Supervisor, Buildings and Grounds, FMAS
(Nominated by Parking and Transportation Services)
"Éric has assisted us on numerous occasions by rapidly reporting and resolving safety issues," Parking and Transportation Services wrote. "These range from noticing and immediately repairing damaged speed bumps to cutting and removing fallen trees or branches that obstruct campus roadways. He has also reported and intervened when he has seen trucks driving over the campus speed limits and has been instrumental in ensuring roadways and entrances are cleared of snow and ice quickly during winter months."
Julie Fortier – Communications Manager, FMAS
(Nominated by Fire Prevention)
"Julie stands out for her understanding of the need to raise safety awareness, her knowledge of the McGill community and her communications expertise," Mondou said, on behalf of Fire Prevention. "We have worked with Julie on a number of communications initiatives. For example, when we had to forego our regular fire drills during the pandemic, Julie supported us in communicating emergency evacuation procedures by producing a video that we could then distribute to the community."
Group award for COVID-19 Case Management Group  
The Safety Ambassador Awards ceremony is often the opportunity to also recognize a group of people who have made an exceptional contribution to the safety of their department or building, or, more widely, the McGill community.
The COVID-19 Case Management Group (CMG), selected by the Emergency Management and Preparedness team, received this year's group Safety Ambassador Award.
Established in October 2020, the CMG received and managed all reports of symptomatic or positive individuals who had been on campus and determined the need for disinfection and contact tracing.
The Safety Ambassador Award was presented to the CMG by Interim Principal and Vice-Chancellor Christopher Manfredi.
"Reflecting the vital need for their work, the [CMG] grew from one Case Management Coordinator to a team of 11 staff members," Principal Manfredi said.
In addition to the core members, the team relied on the support of colleagues in Environmental Health & Safety, Human Resources, the Office of the Dean of Students, Student Housing & Hospitality Services, Athletics & Recreation, Building Services, Security Services, and Emergency Management & Preparedness.
"It was this team effort that allowed for the efficient management of COVID-19 cases on campus," Manfredi added. "Congratulations to all members of the Case Management Group and thank you to everyone who helped them keep our community safe."
Cindy Mancuso, then Supervisor of the CMG and now Associate Dean of Students, accepted the award on behalf of the group.