Just as she was preparing to leave her Macdonald campus office on May 24, 2022, Kelsey Tibbo, Operations Manager, Security Services, got a call from a patroller reporting that a man had collapsed in front of the Morgan Arboretum entrance and was unconscious.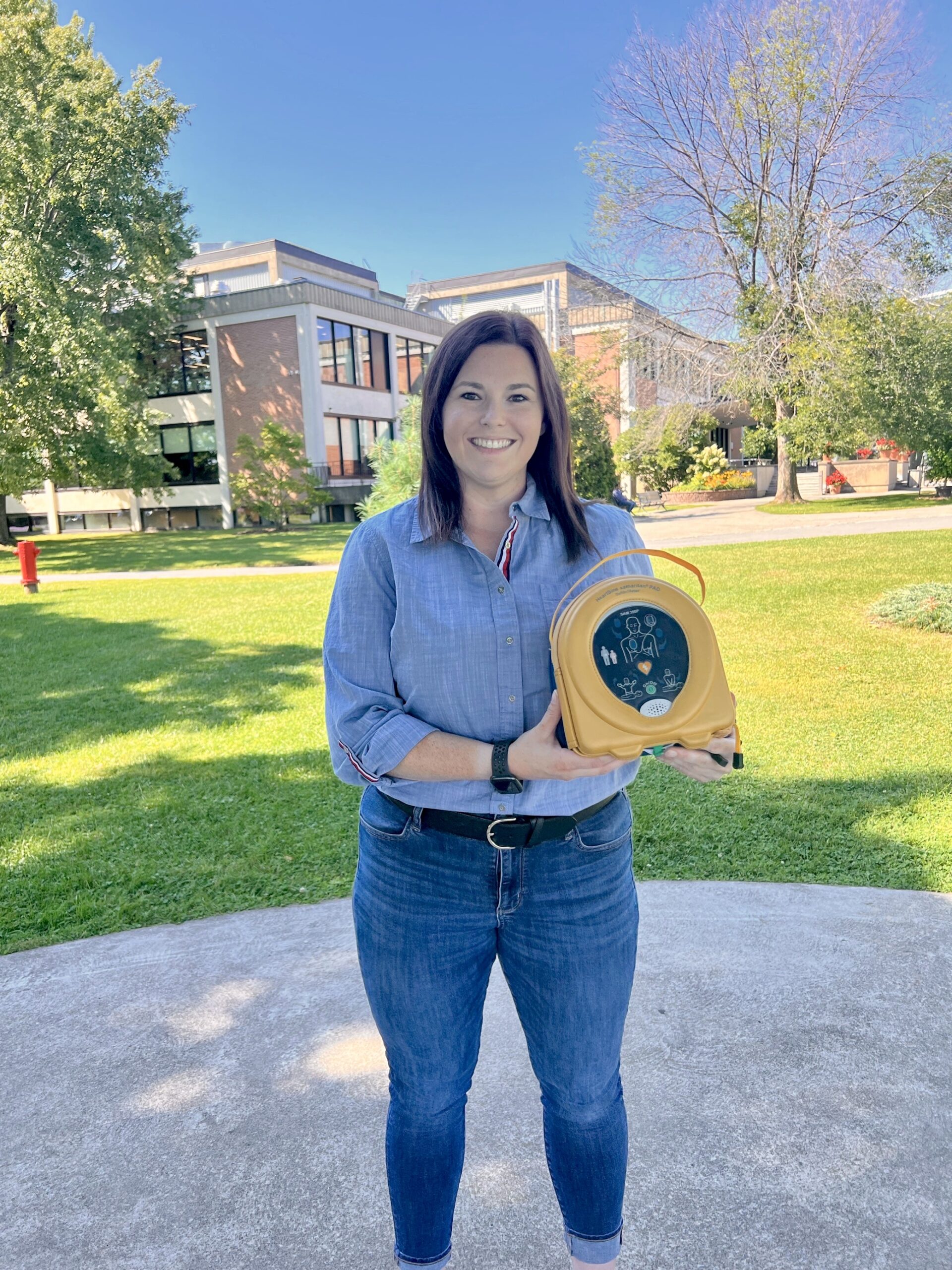 Tibbo and another patroller hopped into the Security vehicle and drove to the Arboretum. Once there, Tibbo saw that the man – who had been cycling – was in cardiac arrest. Aided by an automated external defibrillator (AED), she performed CPR until she felt a pulse and saw that the man was breathing on his own again.
It's unclear whether the cardiopulmonary resuscitation (CPR) efforts would have been as successful without the AED. Tibbo and her colleague got to the scene six or seven minutes after they got the call, but it took another six or seven minutes for first responders to arrive.
"It goes to show that McGill did a great job making sure AEDs are available on campus, in our buildings and with Security in patrol cars," Tibbo says.
AEDs are portable devices that check the heart rhythm and can send an electric shock to the heart to try to restore a normal rhythm or, in the case of cardiac arrest, get the heart beating again. The device gives detailed audio instructions to the user.
AEDs can be found in more than 50 locations on McGill campuses (see full list). When opened, the door to an AED box automatically notifies Security Services.
Saving lives as a calling
It's not the first time Tibbo has had to provide potentially life-saving assistance. In addition to her full-time job at McGill, she is a part-time firefighter for the municipality of Coteau-du-Lac, north of Valleyfield.
She can be called anytime on evenings or weekends as a first responder. While the incident at the Arboretum ended well, she has been called to the scene of more tragic events. "Calls involving fatal car accidents are particularly difficult, and I've responded to countless ones," she says.
On top of the additional work hours (the amount of which varies from one month to the next), Tibbo devotes about ten hours a week to crossfit training. Because as a firefighter, she has to be physically fit and strong. "I have to be able to lift the heaviest member on my team, so if my heaviest member is 250 pounds, I need to make sure I can get him out if I need to, with all the equipment."
Tibbo initially wanted to be a police officer. Toward the end of her Police Technology studies at John Abbott College, she found out her vision problems disqualified her for the police academy and could not be corrected through surgery. Not easily discouraged, she completed a second professional diploma program, this one in Firefighting, on evenings and weekends. She has been a firefighter for 12 years.
Tibbo thinks her determination and career choice may have come from surviving a life-threatening illness that struck her when she was six months old. "I had a rare form of meningitis and the doctors had told my mom I would not make it," she says. "So I wanted to make the life I wasn't supposed to have worth it and especially give back. There's definitely an adrenaline rush [when working as a firefighter]. I drive fire trucks, I run into burning buildings, but for me it's really about giving back to the citizens."