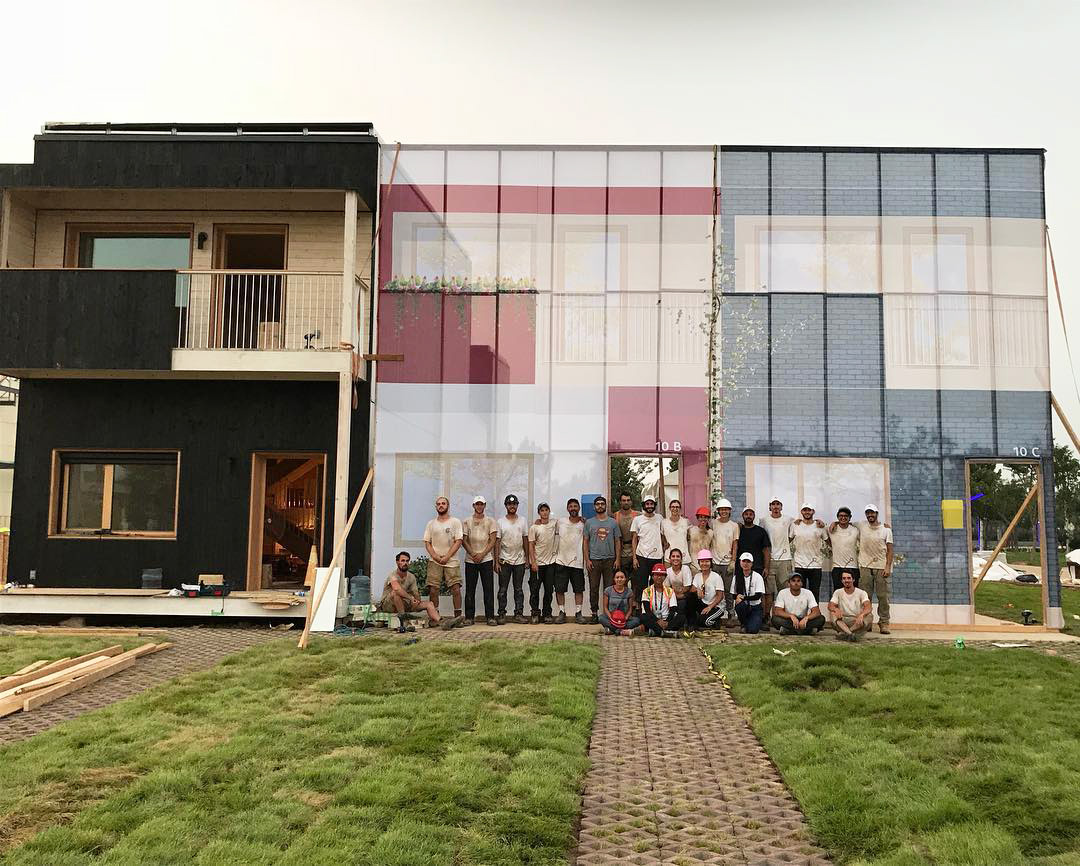 After more than two years of hard work, Canada's sole entry in the 2018 Solar Decathlon competition has won first prize in the Architecture; Market Appeal; and Communications contests with thirds in the Innovation and Engineering contests making TeamMTL the biggest winner in the expert review juries. The collaborative effort between students and faculty from McGill University and Concordia University competed against 22 teams from 38 schools and 10 countries to construct the best solar-powered house. The team's Deep Performance Dwelling (DPD) is net-zero energy capable and low or zero carbon system-built. It uses 80 percent less electricity than conventional homes.
In the short span of three weeks, the 60-strong team raced against the clock and the sweltering summer heat and torrential downpours in Dezhou, China, to assemble and furnish their innovative row house from top to bottom. When completed, TeamMTL's structure was among the most finished and presentable houses at the competition. Juries began their assessments earlier this month and the overall winner was declared on August 17.
The group was judged on its performance in five expert peer-reviewed juried contests (architecture, engineering, innovation, market appeal, and communications) as well as five measured contests (energy balance, home comfort, commuting, home life, and appliances).
"The team has been truly outstanding this summer and it was an extraordinary experiential learning endeavour that is quite simply impossible to replicate in the classroom or lab situation," said Michael Jemtrud, faculty lead and professor at McGill's Peter Guo-hua Fu School of Architecture. "It's been an amazing journey for all of us and it took a huge inter-institutional effort to make it happen. Thanks to the many people from both universities who got us here and we couldn't have done it without the support of Hydro Quebec and our many sponsors."
TeamMTL pulled together nearly 80 companies, government agencies and institutions to support the project — a testament to its viability as a scalable housing option, Jemtrud added.
"This experience has been extremely informative and rewarding," said Benjamin Wareing, the Architecture Lead for Team MTL and a PhD student at McGill. "I have learned so much over the last 2 and a half years and the 3 week construction period in China was an intense and enriching hands-on learning opportunity for us all. I'm so proud of our team and all we have accomplished, to have been so well received by the competition juries and to have been awarded first place in architecture is truly gratifying."
TeamMTL is an inter-institutional and interdisciplinary group made up of faculty members and students from McGill's Faculty of Engineering and Desautels Faculty of Management and from Concordia's Faculty of Fine Arts, Faculty of Engineering and Computer Science and the John Molson School of Business (JMSB).