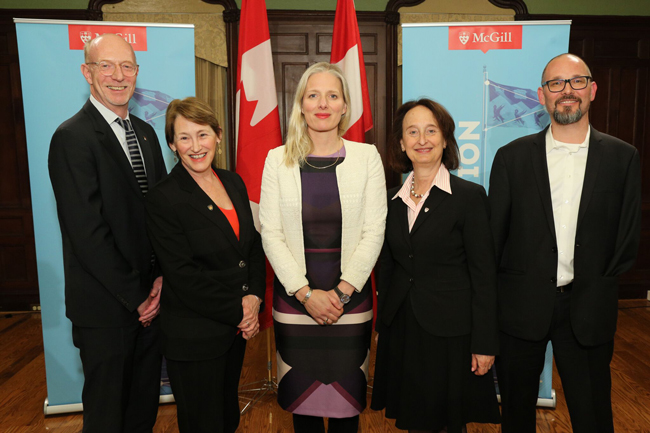 By McGill Reporter Staff
On Thursday, April 6, the Honourable Catherine McKenna, Minister of Environment and Climate Change, announced a $50,000 grant to help TeamMTL participate in the Solar Decathlon China 2018. The team, which consists of students from McGill and Concordia Universities, will build a prototype of a high-performance row house that it designed for the urban Canadian market. The grant comes from Natural Resources Canada's Program for Energy Research and Development (PERD).
"I am proud to witness this terrific example of Canadian ingenuity and innovation," said McKenna. "Today's announcement reflects our government's commitment to clean technology.  We believe that growing our economy goes hand in hand with protecting our environment, and we demonstrate that belief through the engagements taken in our most recent budget."
McKenna made the announcement at an event held at McGill's Faculty Club on the downtown campus. She was joined by Principal Suzanne Fortier, McGill architecture professor Michael Jemtrud and Concordia provost Graham Carr.
The students designed their Deep-Performance Dwelling as a response to both climate change and the increasing demand for affordable urban family housing. In thanking the Government of Canada for its support of student-led innovation, Principal Fortier praised TeamMTL as "a great example of students applying their learning to making a real difference in the world."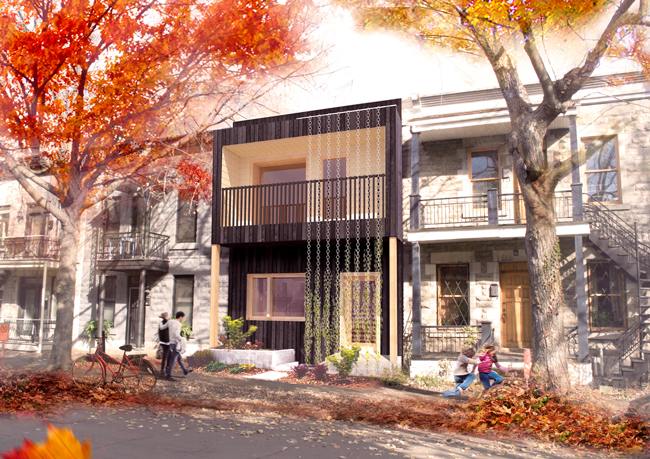 The Deep-Performance Dwelling is a net-zero energy and low- to zero-carbon residential housing model, designed for Montreal temperatures. Net-zero energy buildings create as much renewable energy as they consume; in the case of the Deep-Performance Dwelling, an innovative "building integrated photovoltaic thermal system" provides all the home's energy. Water consumption and air quality are carefully managed and the structure's high-performance envelope reduces energy demand by 80 per cent – one of the benefits of Canadian wood construction. The house also showcases the green building products and innovative technologies of dozens of Quebec companies and start-ups. By using modular and prefabrication methods, the team hopes to keep total construction costs below $250,000 CAD for a 1,400 square-foot home.
The building's design merges the traditional Montreal row house with the Chinese Siheyuan courtyard to create a flexible family living space that can accommodate different group scenarios, such as extended families or tenants.
"The name of the house is the Deep Performance Dwelling because it presents a holistic solution to a whole series of issues," says Ben Wareing, a graduate student in McGill's School of Architecture and TeamMTL's architecture lead. "Our interpretation of sustainability goes deep into the function and form of the house [including] its economic and sociocultural features. We are building something that will work well for dense urban living."
"I volunteered for this project because it's a deviation from the theoretical degree work I have been doing," says Natalie Manukian, TeamMTL's communications lead and a McGill student studying Economics and Environmental Sciences. "It works toward a solution and focuses on sustainability. It is a group project which gives it dynamism and life and translated the work into real solutions to real problems that we are all facing."
There are approximately 50 students on TeamMTL. The project is an interdisciplinary collaboration that brings together McGill's School of Architecture, the Desautels Faculty of Management and the Faculty of Engineering with several departments at Concordia, including Design and Computational Arts, Theatre and Dance, Building, Civil and Environmental Engineering, and the John Molson School of Business.
The Solar Decathlon is an award-winning international network of programs that challenges collegiate teams from around the world to design, build, and operate a net-zero energy, high-performance, sustainable homes. The 2018 competition will be held in Dezhou, Shandong Province, China. The competition will be stiff, with 21 teams representing 11 countries and 49 universities. TeamMTL will be the only Canadian team. In addition to the competition, a public exhibition of Deep Performance Dwelling and the other houses is expected to attract three million visitors over three months.
"The Solar Decathlon competition is an extraordinary experiential learning opportunity for students and faculty alike," said McGill architecture professor Michael Jemtrud, who is the faculty lead for TeamMTL and one of four professors participating in the project. "Natural Resources Canada is the first major partner of TeamMTL and it is an honour and privilege to be part of their intelligent commitment to addressing climate change and supporting innovation in the clean technology sector."
"Project-based activity like the Solar Decathlon is a powerful way to collectively and necessarily work across disciplines," he added. "Because it is largely a student-based endeavour, the students drive the activities and that quickly sets a productive collaborative tone. Cross-institutional collaboration is extremely fulfilling and a profound inter-disciplinary learning experience for the students."
Get more information about TeamMTL
Click on the thumbnail to learn more about TeamMtl's Deep-Performance Dwelling