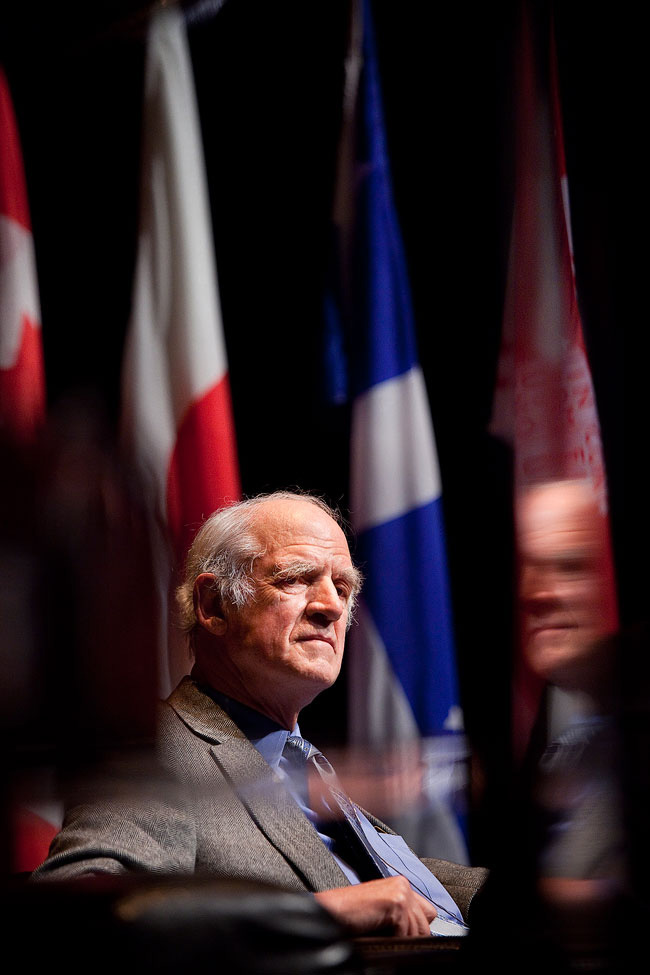 On Saturday, April 28, Professor emeritus Charles Taylor received the 2018 International Grand Prix of the Blue Metropolis Montreal International Literary Festival at the Bibliothèque et Archives nationales du Québec.
Professor Taylor, who is now 87, has received many prizes over his illustrious career, but this is the first he has received one for his literary achievements.  He has written 20 books and 500 articles on a range of philosophical themes.
"I was very touched, because I think of writing academic prose as not on the high creative level of writing a novel, for instance; and so I felt myself promoted to a not-quite-deserved level," says Professor Taylor.  "But on second thought, the writing of some of the philosophers who most influenced me – like Merleau-Ponty – certainly approaches the aesthetic precision of, say, Proust, who must have influenced him. And this triggers off a renewed wave of humility. I have never attained that level. But one can always keep trying."
Prof. Taylor is a renaissance figure on the Canadian and international cultural landscape. In receiving this prize, Prof. Taylor joined the ranks of previous Grand Prix winners Margaret Atwood, A.S. Byatt, Carlos Fuentes and Norman Mailer among others.
The Board of Directors of the Blue Metropolis Foundation described Taylor's contribution in the following terms: "His engagement in society and issues related to peaceful co-existence, his humanism, scholarship, the depth of his thinking and the quality of his work make him a notable thinker of our times."
The prize come with a $20,000 purse.
Prof. Taylor was born in Montreal in 1931, and has authored more than 20 books and 500 articles on a range of philosophical themes. One of his most acclaimed books was his 1975 work Hegel, in defense of the German philosopher Georg Wilhelm Friedrich Hegel.
The long-time McGill professor has most often focused on the subject of ethics in such publications as  Sources of the Self: The Making of Modern Identity (1989), The Malaise of Modernity (1991), and A Secular Age (2007).
Prof. Taylor has received the prestigious Kyoto Prize, sometimes described as the Japanese Nobel; the Templeton Prize; the John W. Kluge Prize; and the inaugural $1 million Berggruen Prize for Philosophy for being "a thinker whose ideas are of broad significance for shaping human self-understanding and the advancement of humanity."
Earlier in the day Prof. Taylor participated in a round table discussion entitled The Other : An object of fear.