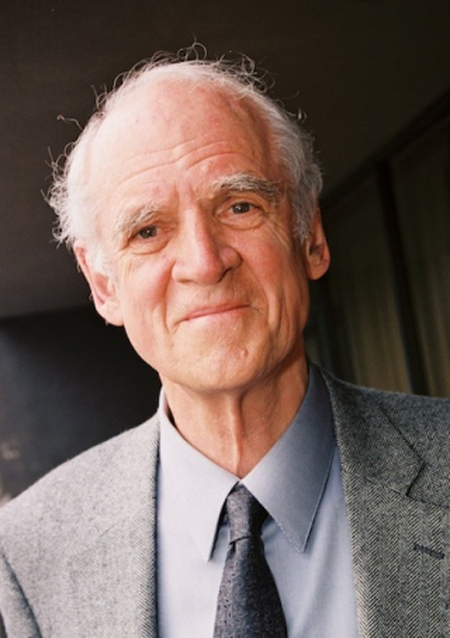 By Meaghan Thurston
McGill's Charles Taylor, one of the world's most celebrated living philosophers, has been awarded the prestigious $1.5 million John W. Kluge Prize for Achievement in the Study of Humanity granted by the Library of Congress. Professor Emeritus Charles Taylor (BA '52), will share the distinction with German philosopher and socio-political theorist Jürgen Habermas.
Endowed by philanthropist John W. Kluge, the Kluge Prize recognizes achievement in the range of disciplines not covered by the Nobel prizes, including history, philosophy, politics, anthropology, sociology, religion, criticism in the arts and humanities and linguistics. Awarded by the Librarian of Congress with recommendations from scholars around the globe, it is administered by the John W. Kluge Center, the residential research center within the Library founded in 2000 and also endowed by Mr. Kluge. Ordinarily a $1 million award, in 2015 the Kluge Prize has increased to $1.5 million in recognition of the Kluge Center's 15th anniversary. Each awardee will receive half of the prize money.
"I was very surprised, but also delighted," Professor Taylor told the Reporter of learning he'd been awarded the Kluge Prize. "I'm particularly pleased to receive it along with Jürgen Habermas, with whom I've had a long collaboration and many interesting exchanges. His work and stance as a public intellectual in Germany and Europe I very much admire."
"McGill University is delighted that the distinguished Kluge Prize will be awarded to Professor Charles Taylor, a highly esteemed member of the McGill community and a deeply engaged public intellectual," said McGill Principal and Vice-Chancellor Suzanne Fortier. "Taylor's vast philosophical output has been of great contemporary importance and relevance in Quebec, Canada and abroad."
Educated at McGill and as a Rhodes Scholar, at Oxford University, Prof. Taylor's writings have been translated into 20 languages, and have covered a range of subjects that include artificial intelligence, language, social behaviour, morality and multiculturalism. Sources of the Self, his 1989 book, achieved a wide general readership. A pupil of the social and political theorist, philosopher and historian of ideas Isaiah Berlin at Oxford, Taylor taught at McGill from 1961 to 1997, and is now a professor emeritus.
A public intellectual, Taylor never hesitated to make his ideas known – he ran in three federal elections, most famously against Pierre Trudeau in 1965. In 2008 Taylor led the Bouchard-Taylor commission with sociologist Gerald Bouchard that explored the impact of religious accommodation on Quebec's identity and values.
"Charles Taylor is a philosopher of extraordinary eminence," said Librarian of Congress James H. Billington at the announcement today. "His writings reveal astonishing breadth and depth, ranging across subjects as diverse as metaphysics, modern culture, human conduct and behaviour, modernization and the place of religion in a secular age. He writes with a lucidity that makes his work accessible to the non-specialist reader, ensuring that his contributions to our understanding of agency, freedom, spirituality and the relation between the natural sciences and the humanities will be of lasting import."
As a winner of the Kluge Prize, Prof. Taylor will join fellow past distinguished awardees and philosophers Paul Ricoeur, Leszek Kolakowski, and historians John Hope Franklin, Romila Thapar and Peter Brown, among others.
The award ceremony will take place on Sept. 29.