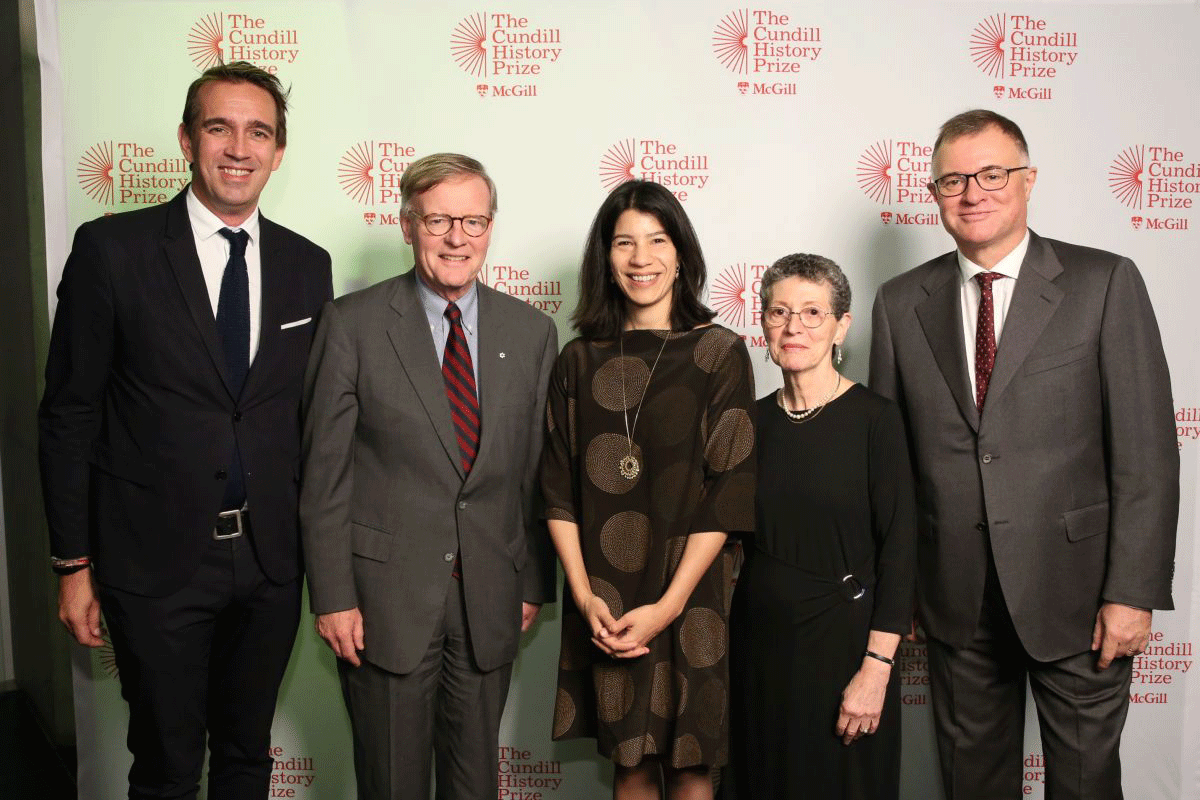 Harvard professor Maya Jasanoff was named winner of the world's leading history prize (US$75,000) for her genre-bending account of the life and world of the Polish-born British writer Joseph Conrad. The announcement was made last night, at the gala event held at the Montreal Museum of Fine Arts.
The Dawn Watch: Joseph Conrad in a Global World blends history, biography, travelogue, and literary criticism into a unique work of scholarship that identifies Conrad as a pioneer in understanding the modern world, as he grapples with issues such as migration, terrorism and a communications revolution.
Announcing the jury's decision at the Cundill History Prize Gala at the Montreal Museum of Fine Arts, Mark Gilbert, Chair of the Jury, said "The Dawn Watch is a striking portrait of an exceptional man and his times. Maya Jasanoff is a visitor in Conrad's world, a recreator of it and in some ways its judge. Capturing this world required remarkable research, an eye for telling detail, a roving spirit similar to Conrad's own, and a gift for historical narrative. Fortunately, Jasanoff's pen, like Conrad's, is a magic wand."
F. Peter Cundill's vision
The two runners up each received a Recognition of Excellence Award, together with US$10,000: Pulitzer Prize-winning historian Caroline Fraser for Prairie Fires: The American Dreams of Laura Ingalls Wilder, the first comprehensive historical account of the life of the author of the Little House on the Prairie books; and Ohio State University Associate Professor of History Sam White for A Cold Welcome: The Little Ice Age and Europe's Encounter with North America, an inter-disciplinary investigation into the decisive role the climate played in the success and failure of the first North American settlements.
Run by McGill, the Cundill History Prize honours the abiding vision of its founder, McGill alumnus F. Peter Cundill. One of the most highly regarded global investors of his time, the globe-trotting philanthropist believed passionately in well-written works of history as the best foundation for a better-informed public debate. "The Dawn Watch stands for everything the Cundill History Prize is here to celebrate: a work of global history, extremely well researched, and so well written it will be enjoyed by a very broad general readership indeed," said "Antonia Maioni, Dean of Arts.
This was not Jasanoff's first brush with Cundill success. The Coolidge Professor of History at Harvard University had been a finalist for the Cundill History Prize for her second book, Liberty's Exile (2011).
Following in Conrad's footsteps
In preparation for the book, Jasanoff has sailed from East Asia to Europe on a cargo ship and travelled 1,000 miles down the Congo River. This unique preparation served her well.
"The Dawn Watch is immaculately researched. And it is innovative too: part history, part travelogue, part literary criticism. I think that is one reason why it succeeds so well – because it is constantly challenging us to think about the period, the writer, the works and the places. It is like technicolour, bursting with life on each page," said Juror Peter Frankopan. "Walking in someone else's steps is only part of the story; the skill is working out what can be learned from doing so – and perhaps most important of all, explaining that to readers. First class historical writing requires all of these to come together; and it is a lot harder than it sounds."