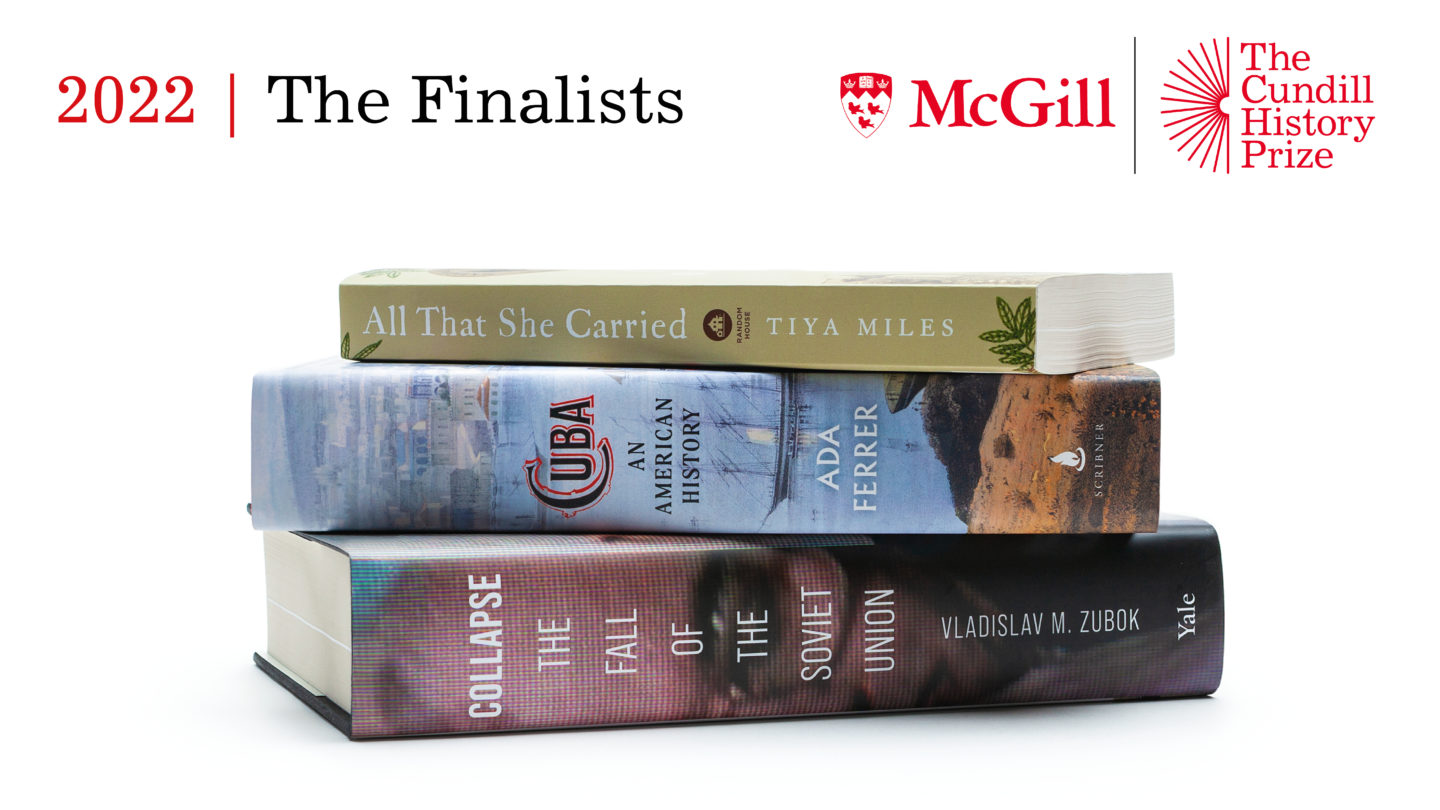 The finalists of the Cundill History Prize, the world's leading prize for a work of non-fiction in English, were announced earlier today.
Vying for the US$75,000 Cundill History Prize are:
Ada Ferrer, Julius Silver Professor of History and Latin American and Caribbean Studies at New York University, for Cuba: An American History.
"An American History provides us with a front-row seat as we witness the evolution of the modern nation, with its dramatic record of conquest and colonization, of slavery and freedom, of independence and revolutions made and unmade," says the Cundill citation.
Tiya Miles, professor of history, Radcliffe Alumnae Professor at the Harvard-Radcliffe Institute, and Director of the Charles Warren Center for Studies in American History at Harvard University, for All That She Carried: The Journey of Ashley's Sack, a Black Family Keepsake.
Miles' book "traces the life of a single object handed down through three generations of Black women to craft an extraordinary testament to people who are left out of the archives," says the Cundill citation. "All That She Carriedhonours the creativity and fierce resourcefulness of people who preserved family ties even when official systems refused to do so."
Vladislav M. Zubok, professor of international history at the London School of Economics and Political Science, for Collapse: The Fall of the Soviet Union.
"A major study of the collapse of the Soviet Union, showing how Gorbachev's misguided reforms led to its demise, Vladislav Zubok's Collapsesheds new light on Russian democratic populism, the Baltic struggle for independence, the crisis of Soviet finances – and the fragility of authoritarian state power," says the Cundill citation.
The winner will be announced during the Cundill History Prize Festival (November 30 – December 1).
Seeking the advice of "great historians"
"Arriving at a list of three superb finalists required making difficult judgments and fine distinctions," said J.R. McNeill, Chair of the Jury. "Still harder judgments remain, as these three books differ markedly from the other two in scope and approach. What they share is the imagination, craft, and modulated passion that underlie all lasting creative achievement."
"[These three finalists] demonstrate that if we are to overcome the immense political, social and economic challenges we currently face, we need to seek the advice of great historians," said jurist Misha Glenny. "Their research methods are uniformly thorough and, in each case, innovative. Their narrative drive is spirited and their conclusions revelatory."
Administered by McGill, the Cundill History Prize honours the abiding passion for history of its founder, F. Peter Cundill, by encouraging informed public debate through the wider dissemination of history writing to new audiences around the world.
Go to the Cundill History Prize website for juror videos, extracts, author interviews and more.