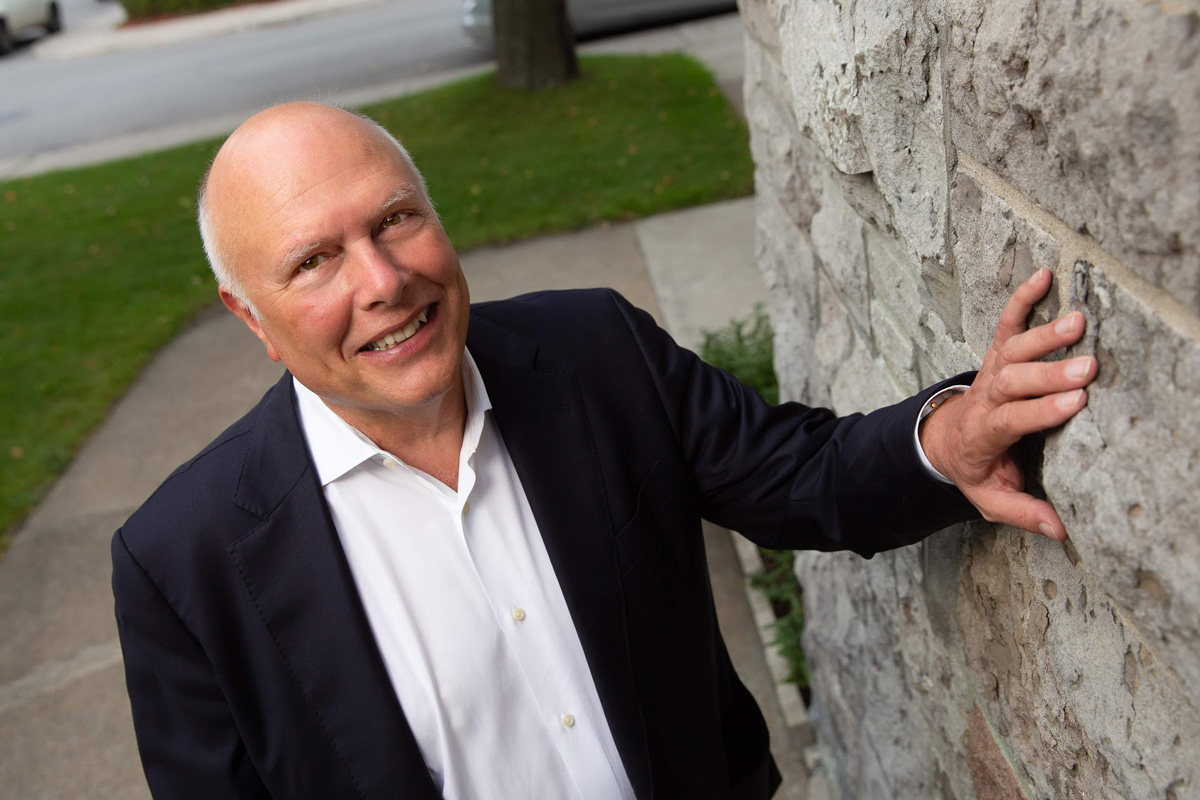 When you consider that Bob Wares' university education played a role in his discovery of one of Canada's largest single deposits of precious metal, it's tempting to say that his McGill experience was worth its weight in gold.
Clichés aside, Wares, BSc'79, DSc'12, remains grateful for the skills he acquired as a student in the Department of Earth and Planetary Sciences in McGill's Faculty of Science. Those formative years led to a distinguished career in mining, highlighted by the discovery of the Canadian Malartic bulk tonnage gold deposit in northern Quebec.
As a way of giving back, the noted Canadian geologist is making a landmark $5-million gift that will support research programs, fellowships, innovative research, lecture series and outreach efforts in McGill's Faculty of Science, with a particular focus on his home department, Earth and Planetary Sciences (EPS).
The gift will provide immediate impact for students and faculty in five targeted areas:
the Wares Science Innovation Prospectors Fund,  designed to support innovative, high-risk research by funding up to four promising projects a year from researchers across the Faculty of Science;
a Recruitment and Outreach Coordinator Fund, supporting the activities of a coordinator to liaise with CEGEPs and high schools in an effort to attract more students to EPS studies at McGill;
the Wares Field Study Fund, supporting field studies Canada and abroad for EPS students;
the Wares Postdoctoral Fellowships, which will provide funding for up to four EPS postdoctoral fellows each year pursuing earth science research;
an Annual Lecture Fund, to bring globally renowned keynote speakers to Montreal to discuss earth science topics or areas of research.
"We would like to thank Bob Wares for this exceptional gift and for his continued support of McGill," said Suzanne Fortier, Principal and Vice-Chancellor of McGill. "This donation will make an immediate impact on our Faculty of Science and will greatly enhance important research, education and out-of-classroom student experiences in the Department of Earth and Planetary Sciences."
Praise for McGill faculty
The motivation for the gift comes from Wares' affinity for the most enduring aspects of EPS that formed the basis of his education.
"What I remember most about McGill is that we had very capable, dynamic young teachers," says Wares. "They molded our entire education. More than that, they taught us how to think."
Wares fondly recalls his time at the University as part of a small EPS cohort who studied together, played squash (sometimes with EPS faculty), and took many fields trips which proved invaluable to his development as a geologist (although as a student living on a shoestring budget, it was a struggle to find the money to pay for the trips).
"I want to bring back a strong field-based approach to EPS," he says. "One of our objectives with this gift is to boost field trips."
After graduating from McGill, success did not come easily for Wares. In 2003, he and two associates founded Osisko Mining Corporation. They had an innovative plan to discover and mine low-grade gold on a large scale in the Abitibi region of Quebec, but the mining industry establishment wasn't impressed and financing was tough to find.
"Everyone told us we were nuts, that it was going to be a train wreck, that it couldn't be done," says Wares.
Eventually they managed to find investors willing to take a risk and the rest, as they say, is history. The fledging company discovered and developed Canadian Malartic, located 25 kilometres west of Val-d'Or, and turned it into the largest operating gold mine in the country, with initial reserves of 11 million ounces gold.  Now widely recognized as a mining industry leader and innovator, Wares has been dubbed a 'rock star' because of his remarkable success in assessing, finding and launching various mining projects over the course of his 40-year career. In 2012, Wares received an Honorary Doctorate from McGill in recognition of his achievements in the field of applied economic geology.
Lifelong connection to McGill
A lifelong connection to his alma mater has accompanied Wares' success. He has consistently supported McGill, contributing to the Faculties of Science and Medicine. In 2009, Wares and his company, Osisko Mining Corporation, contributed $4.1 million to endow two faculty research awards, undergraduate and graduate level scholarships and a field trip fund in the Department of Earth and Planetary Sciences, with part of the gift matched by the J.W. McConnell Family Foundation. Wares has supported McGill every year since 2009 and his latest gift brings his total McGill support to date to $10 million.
"When you make money based, in large part, on your education, part of the exercise is to give back," he says.
As a volunteer and member of the Faculty of Science Advisory Board, Wares has also been generous with his time and insights and he continues to join field trips with EPS staff and students. Three years ago, he took a group of students, faculty and alumni on a geo-safari to South Africa. Next May, he's off to Australia on yet another EPS expedition.
"Working with students is exciting and satisfying and always makes you feel young again," he says. "I wish other McGill alumni would do the same."
"Bob has had a tremendous impact on our Faculty and I am grateful for his involvement, his ideas, and his perspective as a business leader," said Bruce Lennox, Dean of the Faculty of Science. "His continuing commitment to our students and researchers is an invaluable asset, particularly to Earth and Planetary Sciences."