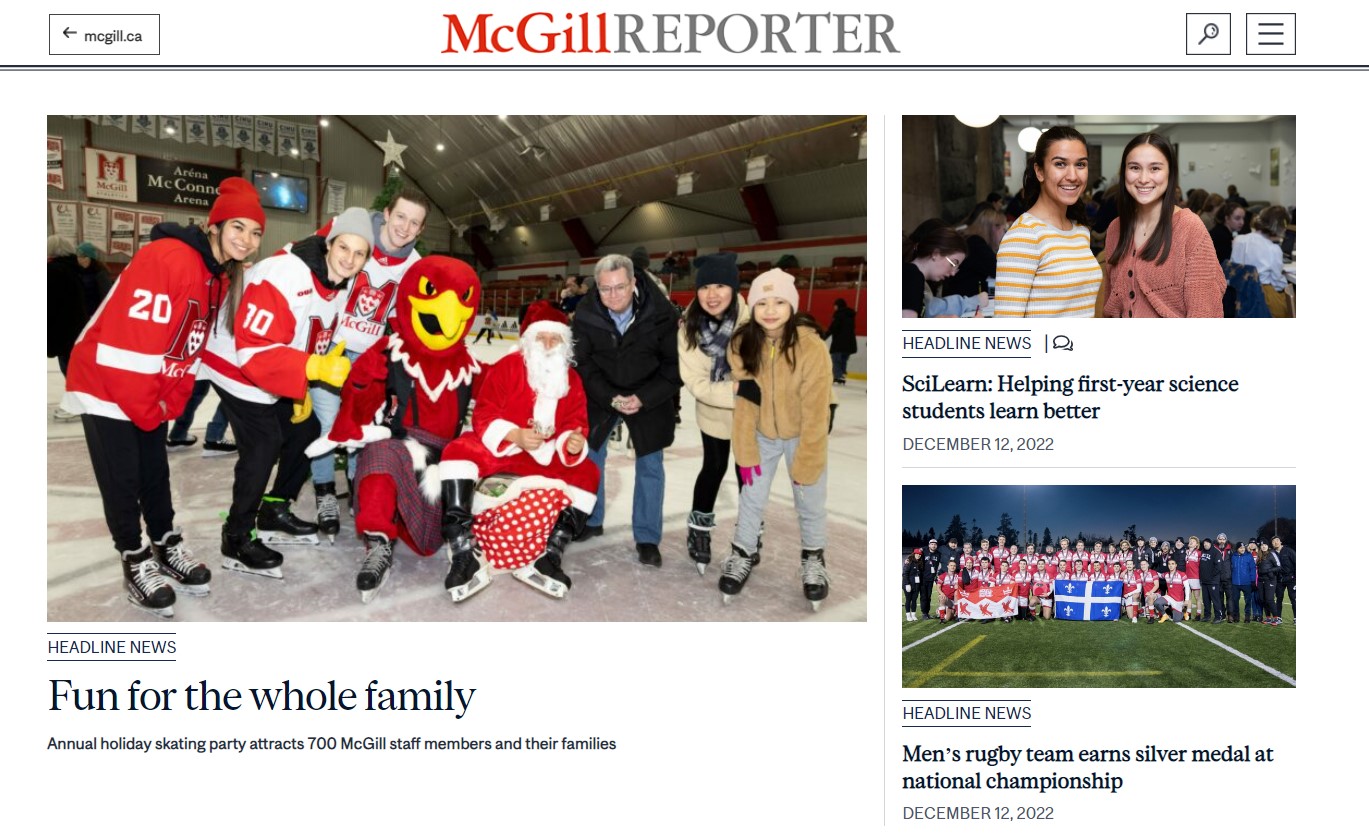 McGill is a fascinating place – especially if you are a writer. There is no shortage of amazing stories about amazing people doing, yes, amazing things.
At the McGill Reporter, our job is to tell these stories as best we can and share them with our readers. While there are just too many stories to cover, we do our best. By the end of the year, we will have posted almost 400 stories on the McGill Reporter website. These stories have been read almost 600,000 times by people in 214 countries or territories around the world.
While the bulk of our readers come from Canada, the U.S., the United Kingdom, France and India, our reach is pretty remarkable. Thanks to the miracle of analytics, we know that we have had readers from exotic, lesser-known parts of the world like Mayotte, the Solomon Islands, Guinea-Bissau and Kiribati. Our reach spans from A (Antarctica, 1 click) to Z (Zambia, 40 clicks).
Rankings rule
As with most years, the Reporter's Greatest Hits for 2022 are heavily rankings based. Six of the top 10 most-clicked stories this year were rankings stories. Posted in June, our article on the QS World University Rankings rating McGill as the best university in Canada and 31st in the world, has garnered over 38,000 page views, easily the most popular Reporter story of 2022.
Our coverage of the annual Award for Equity & Community Building ceremony in May is our highest-rated non-rankings story in 2022. The first in-person, Equity & Community Building award ceremony since 2019, the gala celebrated McGill's EDI champions in four categories: team, student, administrative and support staff, and academic staff.
Over the course of 2022, we met – virtually and in person – a host of people with incredible and inspiring stories.
Few stories were as inspiring as Manyang Lual Bok, a native of war-torn South Sudan, who spent 12 years in a Kenyan refugee camp beginning when he was nine. In 2017, as part of a World University Service of Canada program, Jok was relocated straight from the refugee camp to Montreal, where he started at McGill. This past fall, Jok strode across the stage during McGill's Spring 2022 Convocation to collect his BA in Computer Science and Economics.
Here are the top three McGill Reporter stories per month:
January
February
March
April
May
June
July
August
September
October
November
December (until December 13)