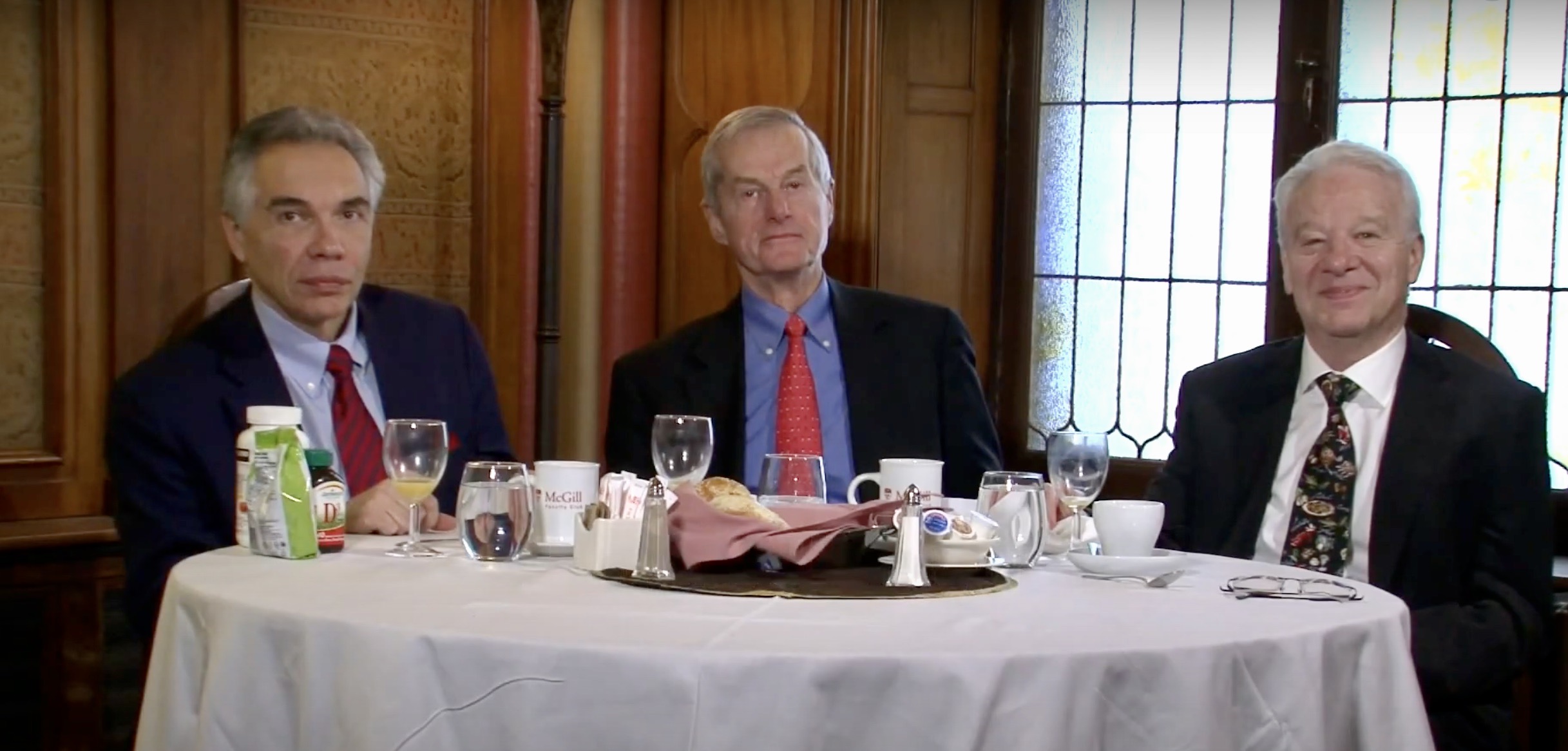 In 1982, McGill chemistry professors David Harpp, Joe Schwarcz, Ariel Fenster designed and launched the World of Chemistry: Food and Drugs course. Little did they know at the time that the course would become McGill's and Canada's most popular elective course – and one that has evolved radically from its traditional lecture-hall beginnings.
Eventually expanding to four separate courses (Food, Drugs, Technology and the Environment), World of Chemistry-Food was also the first McGill MOOC (Massive Open Online Courses), going online in 2014 – seven years before the COVID pandemic turned the world into a giant case study for virtual learning.
"All added up, we have had over 51,000 students since 1982 in these courses but over 11,500 have been in the past four years in the Food course alone," says Harpp, Tomlinson Chair of Science Education. "The peak enrolment for Drugs was 1,500 last fall and the peak enrolment for Food is over 2,300 students this semester."
The student response has been overwhelmingly positive with many commenting that it is the most useful course they have taken at McGill.
If the summer Food course follows past enrollment benchmarks, Harpp says some 3,000 students will have taken the Food course in 2022.
Self-paced learning
While virtual, the World of Chemistry Food course is substantially different than your standard Zoom lecture.
To begin with, each section has been pre-recorded by Harpp, Schwarcz and Fenster in a studio and, with the help of Teaching and Learning Services, include a series of graphics and short videos designed to transmit information in what Harpp calls a "digestible" fashion.
"We're wearing ties and look quite presentable," says Harpp with a laugh. "It's as polished as it can be."
The Food course is 39 hours, which includes over 100 videos running between five and 15 minutes. "I think one of the appealing features is that students aren't just sitting there taking in a lecture," says Harpp. "They can stop, take a break, and come back to the video when they are ready."
Students have access to the transcript of each video; playback speed options; and a series of activities and short quizzes to help them prepare for exams. They are also able to work with and have discussions with other students and course mentors.
5,000 mentors and counting
Harpp says the mentors, part of the TEAM program (Tomlinson Engagement Award for Mentoring) he started in 2013, is one of the keys to the World of Chemistry's success.
"The TEAM mentors coordinate the discussion board, make up the practice quizzes and do one-on-one consultations with the students," says Harpp, noting that the mentors are funded as part of the landmark $65-million gift made to the University by Richard Tomlinson in 2000.
"They are highly motivated and, as some of the [Food course's] top students from previous years, they know the material very well," says Harpp. "And, for the mentors, they are getting valuable experience that will, no doubt, benefit them later in life."
To date, slightly over 5,000 participants have served as mentors across the University, including 1,000 this year, dealing with some nearly 200 courses.
This semester, Mount Allison University in Sackville, NB has signed on to this course for the second time this semester.