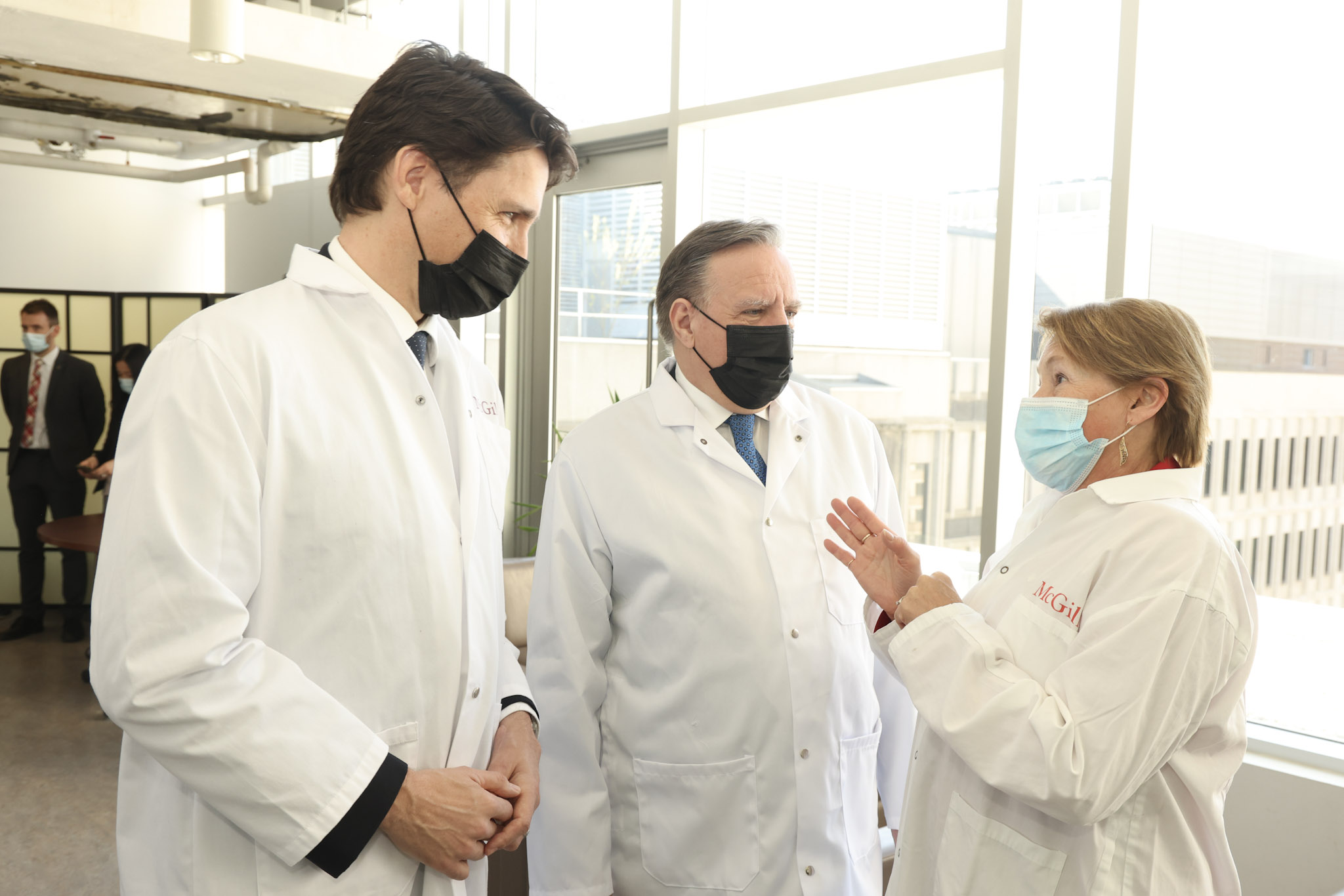 On the morning of Friday, April 29, 2022, Prime Minister Justin Trudeau and Quebec Premier François Legault joined Principal Suzanne Fortier in the lobby of the Bellini Building on McGill's downtown campus. The trio had gathered to make a historic announcement: U.S.-based COVID-19 vaccine developer Moderna will build a state-of-the-art manufacturing facility in the Montreal area to produce made-in-Canada messenger RNA (mRNA) vaccines, as well as vaccines for influenzas and other illnesses.
As home to more than 100 internationally recognized scientists researching genomics and RNA investigation, McGill is a driving force in Montreal's vibrant biomanufacturing innovation ecosystem. The addition of the new Moderna facility will help Montreal deepen its role as a globally competitive engine for the development and testing of new RNA-based therapies, with McGill training many students who will pursue careers in this vital sector.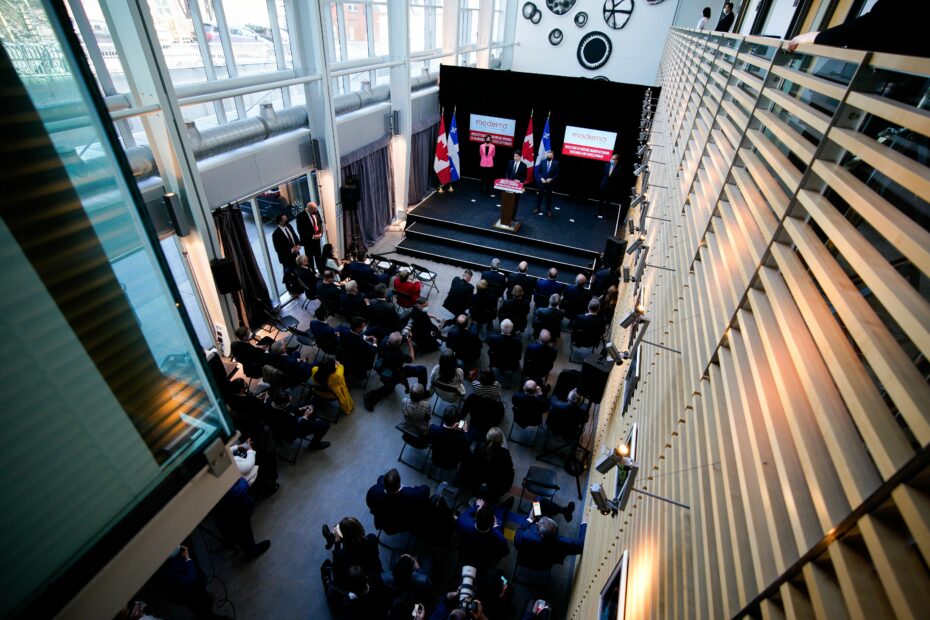 Construction is set to start this year, with the Moderna facility expected to open, at earliest, by 2024. Once operational, the plant will produce up to 100 million vaccine doses annually, and will employ hundreds of Quebecers.
Also present at Friday's announcement were: Moderna's chief executive officer, Stéphane Bancel, and general manager, Patricia Gauthier; federal ministers François-Philippe Champagne (Innovation, Science and Industry) and Jean-Yves Duclos (Health); and Quebec ministers Christian Dubé (Health and Social Services) and Pierre Fitzgibbon (Economy and Innovation).
Throughout the COVID-19 pandemic, Canada relied on importing vaccines from other countries. Prime Minister Trudeau said Friday's announcement fully aligns with the federal government's commitment to strengthening Canada's biomanufacturing and life sciences sector and vaccine-manufacturing capacity, ensuring a resilient future while at the same time growing the economy.
"COVID-19 vaccines saved lives and got Canadians back to doing the things they love," said the Prime Minister. "Today's announcement means that Canadian workers and Canadian innovation will play a key role in keeping our communities safe now and in the future.
"Being able to produce made-in-Canada mRNA vaccines is not just important for COVID-19 or for future pandemics. It also will have a significant impact on the research into a range of illnesses. We're talking about Alzheimer's, we're talking about cancers, we're talking about the range of things that messenger RNA is able to deliver to keep Canadians and people around the world healthy.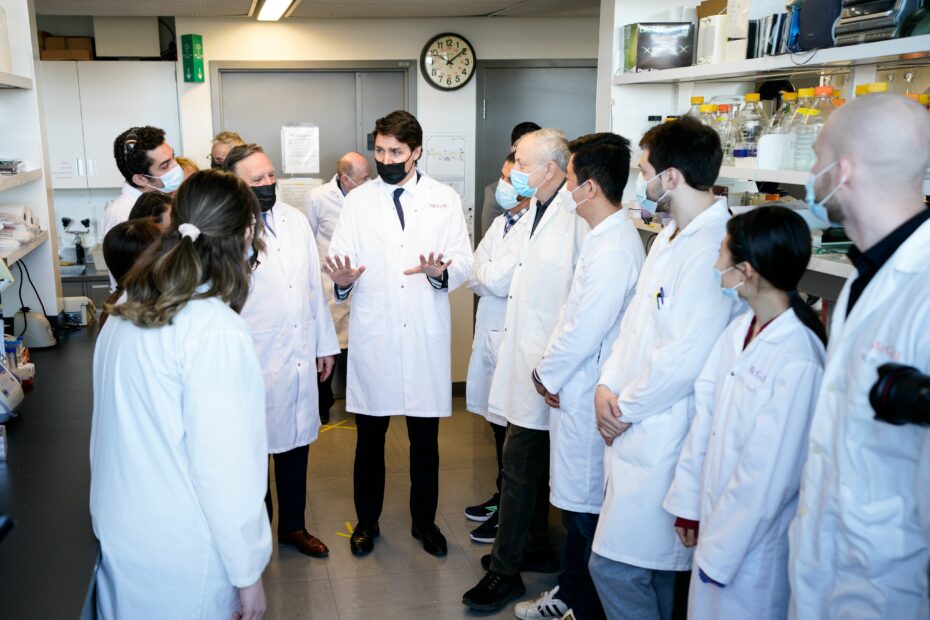 "It also means hundreds of new, well-paying jobs as we recover from this pandemic and build a better future for everyone."
Revitalizing Canada's bio-innovation sector requires a robust pipeline of highly trained scientists to support academic, industry, and government programs. Before the announcement, the Premier and the Prime Minister toured some of McGill's genomic and RNA research laboratories that are already playing a critical role in creating cutting-edge discoveries—and in supplying Canada, and the world, with the much-needed next generation of leading RNA scientists.
Moderna had been considering building its new $180-million facility—the company's only operation outside the U.S.—in either the Toronto or Montreal areas. Premier Legault expressed his pride that Moderna has chosen Quebec.
"Belle victoire!" he said. "This is good news for the Quebec economy, and good news for Quebec autonomy." He called Moderna's arrival in Montreal a "highly strategic" boost to an already strong sector. In addition to the research strengths of universities such as McGill, he noted that Quebec already has some 700 companies and 36,000 people working in the life sciences sector—an excellent foundation on which to achieve vaccine sovereignty.
Although Moderna's vaccine was the first mRNA dose to garner regulatory approval around the world, the company's Stéphane Bancel reminded the audience that, at the outset of the pandemic, Moderna was a start-up with limited production capacity. The company needed to partner with other vaccine-producers to deliver millions of doses of its revolutionary vaccine. Canada alone distributed more than 29 million doses of Moderna's COVID-19 vaccine.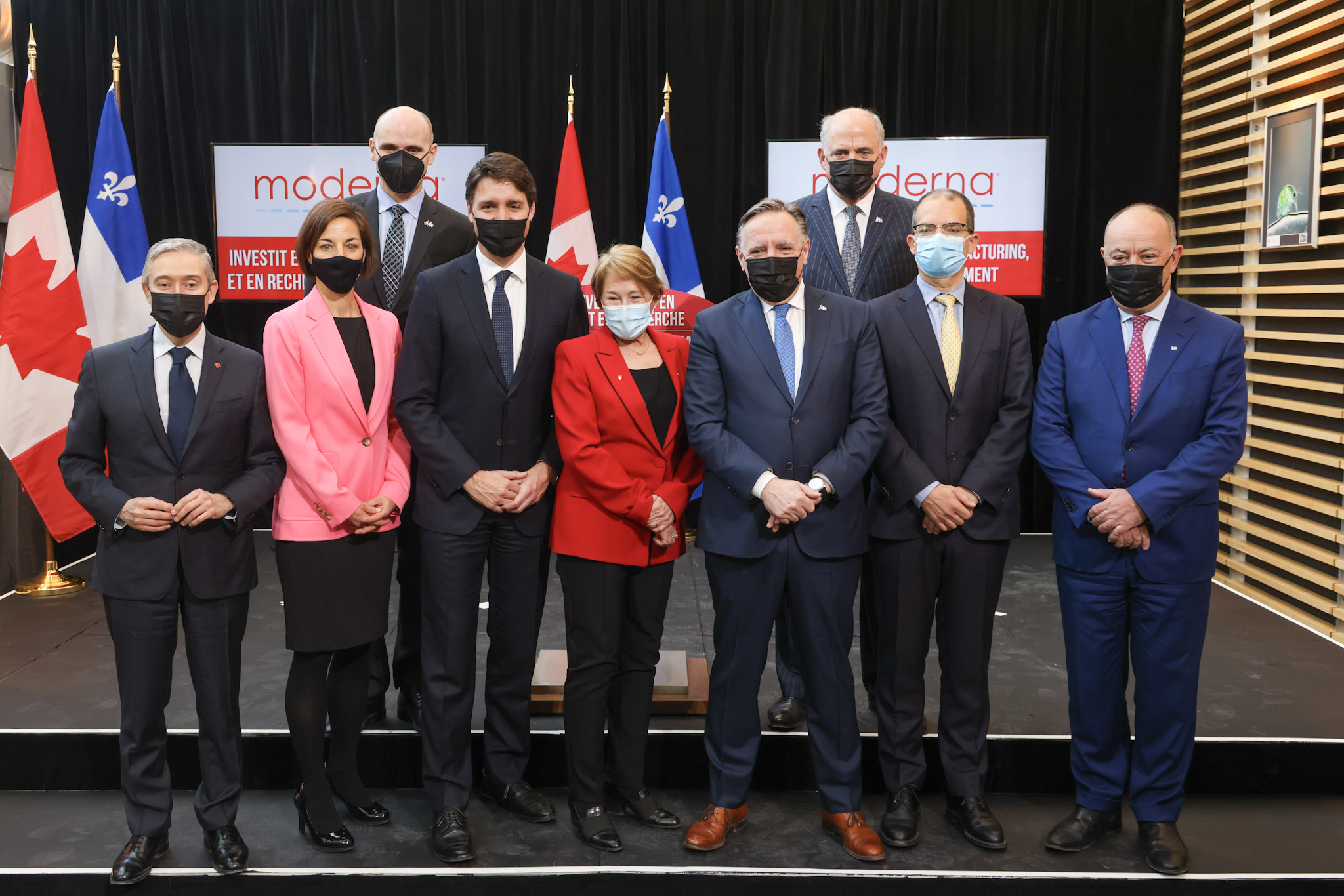 "In 2020, we did not have the financial strength to get this industrial machine going," Bancel said. "The Government of Canada was one of the first capital countries in the world to place an order, and to help the rest of the planet by providing us an advanced purchase. We're always impressed with the vision of the Canadian government, and its a sense of purpose for being ready for the next pandemic—which is what this factory is all about—and how much the government cares about the good health of the people of Canada."
Moderna's Patricia Gauthier called the announcement "excellent news for everyone." She praised the relationships that the new facility is strengthening, adding "And we can say with confidence that it's only the beginning."
Indeed, McGill already has a long, fruitful history of collaboration with Moderna, which was founded by alumnus Noubar Afeyan. McGill professor Nahum Sonenberg, Canada's leading expert on mRNA, was a consultant on the efficacy of Moderna's modified mRNA to make proteins. And, just last month, McGill joined Moderna's mRNA Access program, which aims to accelerate innovation and enable new vaccines and medicines for emerging and neglected infectious diseases through collaborative research and preclinical development.
Watch a recording of Friday's announcement: