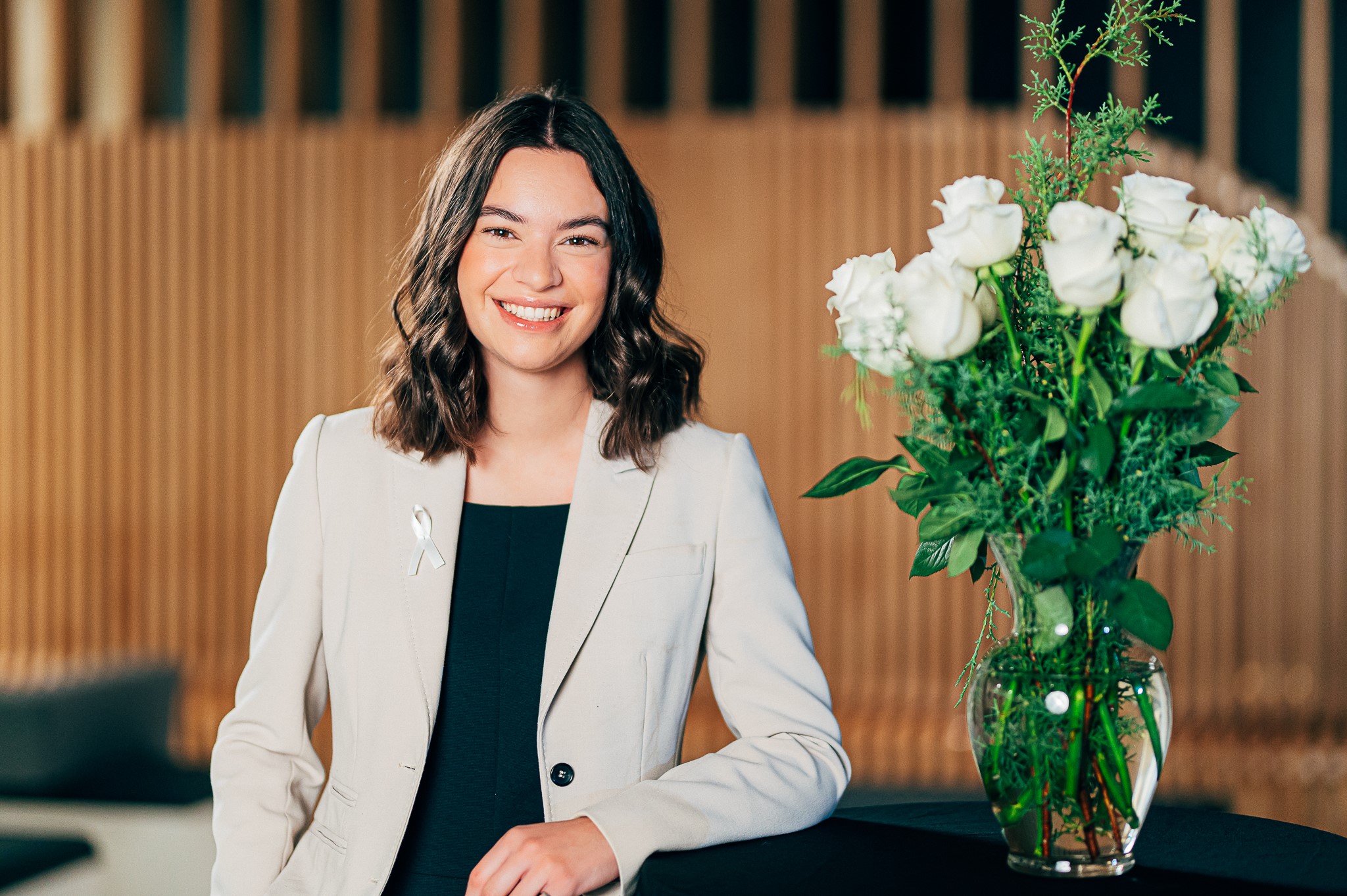 For many Canadian engineers, the circle has special meaning. The Iron Ring they earn after graduation serves as a reminder of the obligations and ethics associated with their profession.
For Sophia Roy, the circle has added significance.
Roy has been named this year's winner of the prestigious Order of the White Rose scholarship, awarded annually by Polytechnique Montréal to honour the 14 women who were killed there in 1989. The scholarship, worth $30,000, is awarded to a woman engineering student who wishes to enrol in graduate studies in engineering (master's or PhD) at the institution of her choice.
For Roy, there was only one choice. This fall she began her PhD at Polytechnique Montréal.
"When I told my mother about this scholarship, she was so emotional because it's like a circle going back to her story," says Roy, whose mother began her studies at Polytechnique Montréal in 1990, one year after the shootings.
"Before the tragedy, my mother wanted to study at Polytechnique," says Roy. "Even after it happened, she knew that's where she belonged. When I was young, she would tell that story and say 'don't be scared – even if you're in a male-dominated field like engineering, don't be scared. Leave your mark.'"
Roy's been heeding her mother's advice ever since.
Excellence in the classroom and beyond
This past spring, Roy earned her Bachelor of Engineering in Chemical Engineering at McGill, with a minor in Environmental Engineering. She graduated in the top five per cent of engineering graduates at the University.
While at McGill, she won multiple awards, scholarships, and honours recognizing her exceptional academic performance and community work. In 2021, she was one for four McGill students to earn the Quebec Lieutenant Governor's Youth Medal recognizing the involvement, determination and constant striving of Quebecers who have a positive influence in their community.
While many of her classmates were busy completing assignments and studying for finals, Roy was also influencing policy and decision making at the provincial level. An intern in Quebec's Ministry of the Environment and Climate Change, she developed a calculator to estimate emissions generated upstream of a Liquified Natural Gas (LNG) plan, which was used by the Minister to decide on the acceptability of the project. The LNG project was scrapped, in part, because of the enormous quantity of emissions generated upstream.
Serving as a mentor and a role model
But some of Roy's most impactful work cannot be measured with GPAs or emission calculators.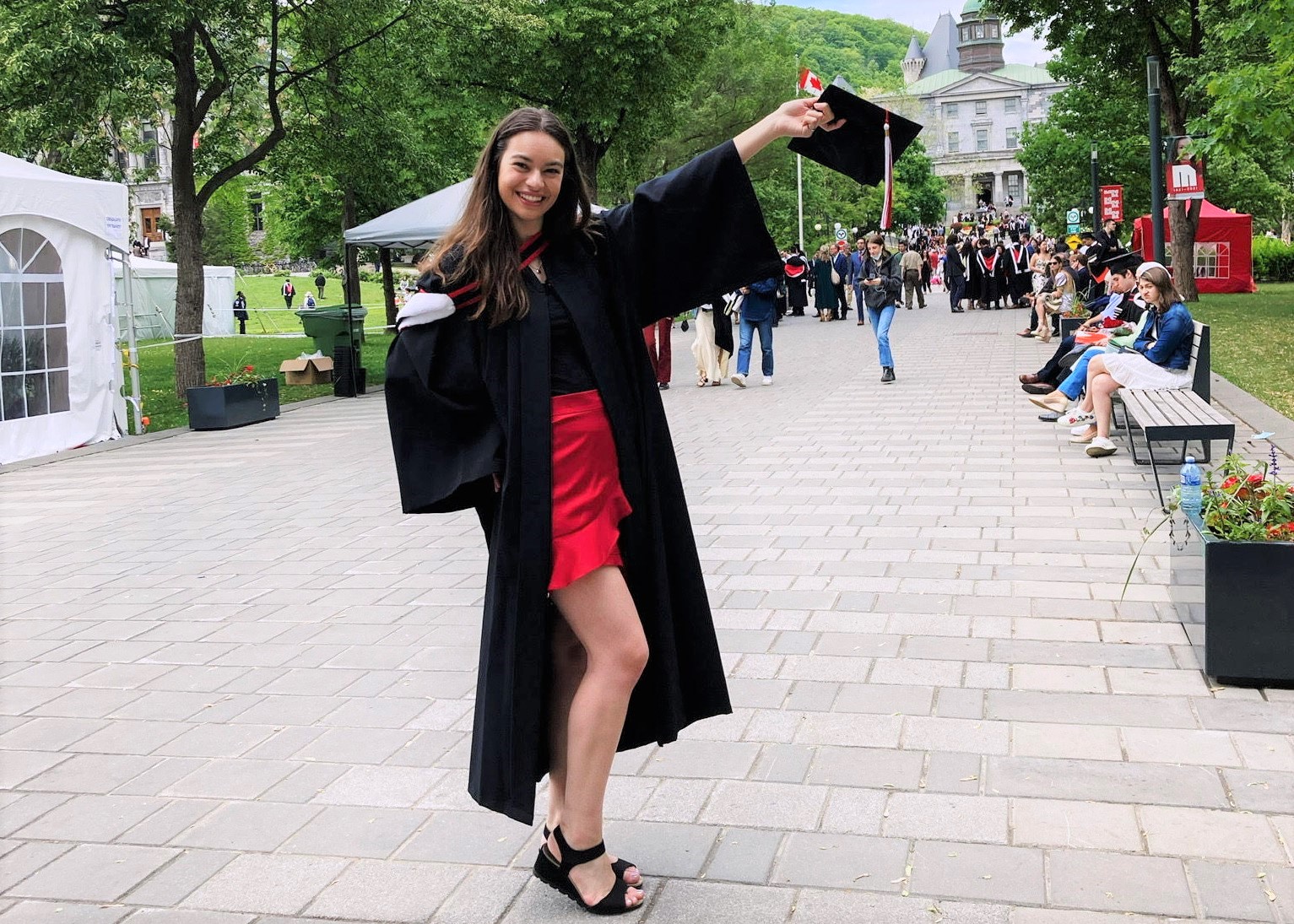 She is a role model and a mentor to young women entering McGill's Faculty of Engineering, and young girls considering entering the field of engineering, but who may have their doubts.
"Every curious girl should be exposed to the world of engineering," says Roy. "Girls and young women often aspire to have careers that have a positive impact on society. Unfortunately, engineering is not presented enough as a profession where they can be agents of change."
As Vice President External for the Chemical Engineering Student Society, Roy helped organize a number of events highlighting women in the profession, including the Woman Leaders in Chemical Engineering seminar series. At the same time, she mentored incoming engineering students through the Faculty of Engineering's student-run Promoting Opportunities for Women in Engineering initiative.
Roy is also actively involved in local elementary, secondary, and post-secondary schools, encouraging girls and young women to consider entering the field of engineering.
"I aspire to support the future cohorts of women in engineering, just as Prof. Noémie-Manuelle Dorval Courchesne did for me," says Roy. "Meeting her transformed my early academic journey and allowed me to believe in my ambitions."
"I knew I had to do something"
Roy chose to enter into engineering because she felt like it was the best way to tackle an issue that has concerned her since she was a child – climate change.
"Ever since I was very little, I've cared so much about nature and the environment around me. In school, when I learned that the situation was bad in terms of the climate crisis, I knew I had to do something," she says. "I watched a documentary on Jane Goodall and how we need to conserve biodiversity. I said to myself 'oh, I want be like her when I'm older.'"
While in CEGEP, Roy considered different career paths – all with an eye on environmentalism. She chose engineering because, at its very core, is the concept of problem solving. "We are facing very serious, very complex environmental problems," she says. "I entered into chemical engineering because it wonderfully describes my vision of science, especially through applied research on solving the environmental impacts of human activities."
The "dream job," says Roy is to teach chemical engineering while running her own lab. "It would combine my two passions – research and mentoring the future generation of chemical engineers."
Order of the White Rose
In a video prepared for the Order of the White Rose ceremony, both Jim Nicell, Dean of McGill's Faculty of Engineering, and Viviane Yargeau, Chair of the Department of Chemical Engineering praised Roy – and thanked her.
"Her accomplishments are many. From receiving the 2021 Quebec Lieutenant Governor's Youth Medal, to helping us make strides in sustainable research and environmental policy, to being a dedicated tutor and mentor, Sophia is a bright example of the future of engineering and a role model for us all," said Nicell. "Sophia, we owe you thanks for all that you've done so far and look forward to the many contributions you'll make throughout your career."
"I had the pleasure of knowing Sophia during her chemical engineering studies, and I witnessed the impact she had on the people around her, not only through her contagious energy and academic rigour, but also through the way she sincerely cares for fellow students and encourages young women to pursue their studies in engineering," said Yargeau. "Congratulations Sophia and thank you for being a source of inspiration for so many people."
For Roy, the significance of the scholarship is itself a source of inspiration.
"The mission of the Order of the White Rose is so important," she says. "It's both a huge honour and a responsibility to represent the Order. The tragedy – that these 14 women had their lives stolen – will stay with us forever. But not in a way that should frighten us. I think it pushes us to not be afraid to go after our dreams."
Sophia would like to thank Prof. Noémie-Manuelle Dorval Courchesne for giving her such a great example of leadership as a mentor throughout her undergraduate studies. She would also like to thank Prof. Sylvain Coulombe for believing in her and enlightening her in her career choices. Thanks to Chair Viviane Yargeau and Prof. Christopher Moraes for both encouraging her to apply for the scholarship and for supporting her during the application process. And a warm thank you to the McGill community for all the fun and support throughout her undergrad.
Read more about Sophia Roy being named to the Order of the White Rose.