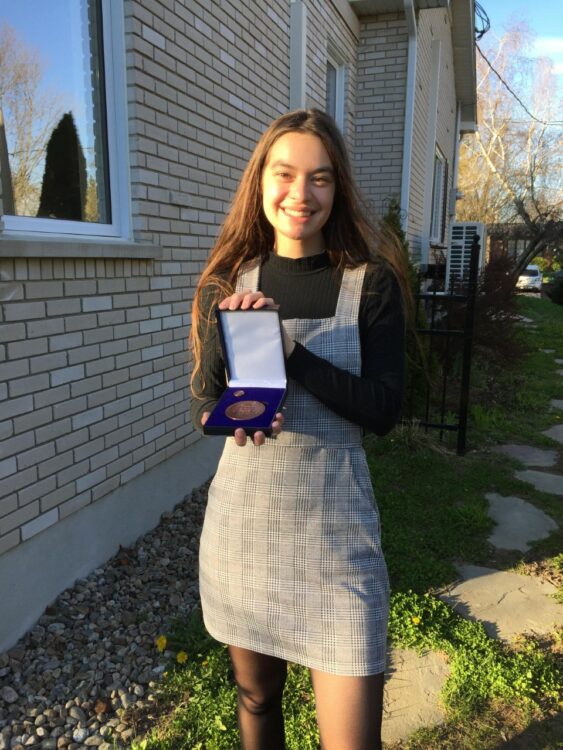 When the COVID crisis cancelled a lot of internships last summer, Sophia Roy and another student set up virtual classes "to help young [high school] students continue learning science online, which is difficult to do."
"I was really passionate about that. We did experiments, it was really interactive, super fun and entertaining for the students," said Roy, who will graduate with a Bachelor of Chemical Engineering degree next May.
Roy is one of four McGill students to win a 2021 Quebec Lieutenant Governor Youth medal. The prestigious award recognizes the involvement, determination and constant striving of Quebecers who have or have had a positive influence in their community. The other McGill medalists are Vassil Kroumov, Logan Stack and Anne Bouthillier.
Roy applied for the medal only after a friend said the description applied to her.
As vice-president (external) of the Chemical Engineering Students' Society (ChESS) she has organized events for students, connecting them with professionals to discuss the various avenues open to holders of a chemical engineering degree.
A whole new world
Concurrently, she spent time mentoring incoming engineering students through the faculty's student-run Promoting Opportunities for Women in Engineering (POWE) initiative.
"I helped them with registration, how to get to their class [online], how to study, how to get involved [in campus life] – that sort of thing. My aim was to get them to feel comfortable – it's hard for them to know what steps to take."
She also got involved in the Engineering faculty's plastics recycling sustainability project, getting students to interact with one another.
Roy was the 2020 recipient of McGill Engineering's Inspirare Excellentia Scholarship, awarded on the basis of academic merit. She also won the 2019 Prix Relève (Chapeau Les Filles) awarded by Ministère de l'Économie et de l'Innovation du Québec to promote women's career choices, and was twice awarded scholarships by the Fondation de l'Ordre des ingénieurs du Québec.
At her Édouard Montpetit cégep in Longueuil, she won the Governor general's academic medal for the school's second highest grade average in 2016 and was the sole finalist of the 2018 Édouard-Montpetit Schulich Leader scholarship.
Asked why the francophone student who had never studied in English picked McGill for her post-secondary education, Roy replied: "I thought it would really open up the whole world for me. In my [own] milieu, I wouldn't have met so many incredible people from around the world. I'm really glad I took that step, accepted that challenge to study in English and have access to that community. It's really special."