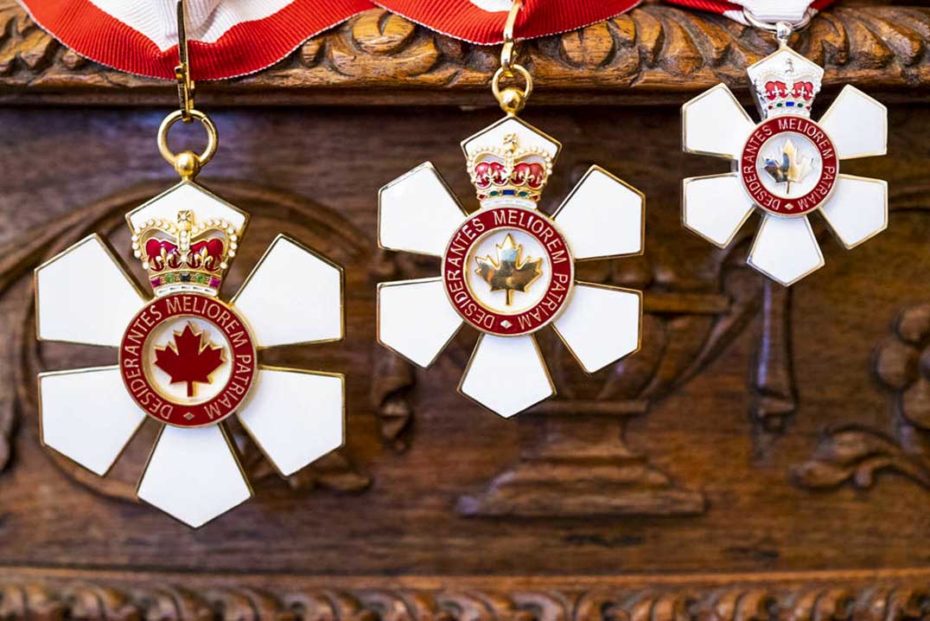 On December 29, for the first time in her role as Governor General of Canada, Her Excellency the Right Honourable Mary Simon announced Order of Canada appointments and promotions. Among the 135 honorees are Professor Roderick R. McInnes, Professor Emerita C. Céleste Johnston, former researcher Barry D. Bultz, former Provost Luc Vinet, and 11 other esteemed members of the extended McGill community:
Mary Ruth Brooks (BOT'71)
Morris Goodman (LLD'11)
Pierre Legendre (MSc'69)
Alejandro G. Marangoni (BSc(Agr)'87)
Helene Polatajko (BOT'71)
Harriet H. Stairs (BA'67)
Helga Stephenson (BA'69)
Angela Swan (LLD'21)
Cara Tannenbaum (MDCM'94, Medical Resident'01, MSc'03)
Peter Zandstra (BEng'92)
David Zussman (BSc'68, PhD'75)
See below for more details about these McGillian's outstanding accomplishments.
"They desire a better country"
The Order of Canada is one of our country's highest civilian honours. Appointments are made for sustained achievement at three levels: Companion, Officer, and Member. Officers and Members may be elevated within the Order to recognize further achievement based on continued exceptional or extraordinary service to Canada.
"Those who bear the order's iconic snowflake insignia have changed our nation's measure of success and, through the sum of their accomplishments, have helped us build a better Canada," says a news release from the office of the Governor General. "They take to heart the Order's motto: Desiderantes meliorem patriam ('They desire a better country')."
Officers
The Officer level recognizes national service or achievement. Governor General Simon honoured seven McGillians with this title:
Barry D. Bultz
OC citation: For his sustained contributions to the field of psychosocial oncology, notably his pioneering research of distress as the sixth vital sign.
Psychologist Barry Bultz helps cancer patients and their families deal with psychosocial factors during diagnosis, treatment, disease recurrence, end-of-life care, and survivorship. Since 1981, he has served as Director of Psychosocial Oncology at the Tom Baker Cancer Centre in Calgary, where he has pioneered a program that focuses on whole-patient care, helping to grow the field of psychosocial oncology into a sub-specialty of cancer care. His team has developed a standardized questionnaire to screen patients for distress and has successfully advocated for accepting distress as the sixth vital sign by 75 international organizations and societies, including the International Union for Cancer Control. During the early 1970s, Bultz practiced psychology and conducted research at two McGill-affiliated hospitals, the Douglas and the Royal Victoria.
Céleste Johnston
OC citation: For her foundational research in neonatal pain and for further advancing the field as a beloved mentor.
Celeste Johnston is Professor Emerita in the Ingram School of Nursing at McGill's Faculty of Medicine. Her research focuses on measurement and non-pharmacological management of pain in preterm neonates, animal models of neonatal pain, and changing health care professionals' practices related to pain management for infants. Johnston has received many awards for her work, including the Jeffrey Lawson Award for Advocacy for Pain Relief in Children from the American Pain Society and the Canadian Pain Society Mentoring Award, and has served as President of the Canadian Pain Society. Johnston is a double McGill grad, having earned a Bachelor of Nursing in 1970 and a Doctor of Education in 1979
Alejandro G. Marangoni
OC citation: For his contributions to organic chemistry and for his groundbreaking work developing emulsions to replace saturated and trans fats in foods.
Alejandro Marangoni is a professor at the University of Guelph, where he studies the physical properties of foods, particularly fat crystallization and structure. His research focuses on breaking down the structure of fats, oils, and soft food materials—such as milk fat, butter, or cocoa butter—to create new food-processing methods and specialty fats and oils with desired applications. His work has significant health implications for the future of food processing, food stability and shelf life, and food packaging. Marangoni is the Canada Research Chair in Food, Health and Aging, and is a fellow of the American Oil Chemists' Society, the Institute of Food Technologists, and the Royal Society of Chemistry. He earned his BSc from McGill's Faculty of Agricultural and Environmental Sciences in 1987.
Roderick R. McInnes
OC citation: For his continued contributions to the field of neurogenetics and for his strong leadership within Canada's research community.
Roderick McInnes has been promoted to Officer, having been made a Member of the Order of Canada in 2009. He is a Professor in McGill's Department of Biochemistry, and served for 12 years as the Director of the Lady Davis Institute of the Jewish General Hospital. As a researcher, he has made significant contributions to understanding the molecular basis of retinal and eye development, identifying genes and processes associated with retinal degeneration, and knowledge of synaptic proteins that modulate ion channels in the nervous system. Prof. McInnes' work has been honoured with many awards, including the Paul Armstrong Lecture Award from the Canadian Academy of Health Sciences for leadership in advancing health sciences, and the Research Canada Leadership in Advocacy Award for championing health research at the national level.
Helene Polatajko
OC citation: For significantly advancing the understanding of developmental coordination disorder in children.
Dr. Helene Polatajko is an internationally acclaimed occupational therapy researcher, educator, and practitioner. A Professor Emerita at the University of Toronto, her clinical focus on the role of cognition in motor-based performance, specifically the enablement of children with Developmental Coordination Disorder, led to the development of a cognitive-based daily treatment that enables people with performance problems to reach their occupational goals. Dr. Polatajko has received numerous national and international awards, has been inducted into the American Occupational Therapy Foundation Academy of Research, and is a Fellow of the Canadian Academy of Health Sciences. Polatajko graduated from McGill with a Bachelor of Occupational Therapy in 1971.
Helga Stephenson
OC citation: For her enduring contributions to Canadian film and television as a leader, advocate and ambassador.
Helga Stephenson is a Canadian film industry executive. Starting in 1978, she worked in various capacities for what is now called the Toronto International Film Festival, culminating in an eight-year term as the festival's director, a time that is widely credited as cementing the event's international reputation. After serving as chair of Viacom Canada, she cofounded the public relations firm Daniels Stephenson and the Human Rights Watch International Film Festival. Stephenson served as CEO of the Academy of Canadian Cinema and Television from 2011 to 2016, and currently serves as the Chair of the Reykjavík International Film Festival. She graduated from McGill with a Bachelor of Arts in 1969.
Angela Swan
OC citation: For her long-standing contributions to the legal profession, particularly in the area of contract law, as a professor, lawyer, author and mentor.
Angela Swan is a distinguished legal scholar, practitioner, teacher, mentor and an acclaimed figure. An award-winning author, renowned educator, and frequently cited scholar, she is regarded as one of the most distinguished experts in Canadian contract law. Swan was named to the Martindale-Hubbell Bar Register of Preeminent Lawyers for earning the highest level of professional skill and integrity, and received the Ontario Bar Association's Award for Distinguished Service. She has also taught as a visiting professor in many of Canada's law faculties, including McGill's. Angela Swan is a proud member of the LGBTQ2+ community and contributes to its ongoing development. In November 2021, McGill University awarded her a Doctor of Laws, honoris causa, and she gave the commencement address at the Faculty of Law's convocation ceremony.
Members
The Member level recognizes outstanding contributions at the local or regional level, or in a special field of activity. Governor General Simon honoured eight McGillians with this title:
Mary Ruth Brooks
OC citation: For being an internationally renowned scholar in the field of marine transportation, performance and supply chain management.
Mary Ruth Brooks is a Professor Emerita at Dalhousie University. Her research focuses on transportation and global supply chain management, with a particular interest in the relationships between the buyers and sellers of transportation services. As a Canada–US Fulbright scholar, she investigated the impact of security regulations on the American maritime container trade. As a Visiting Scholar at Australia's Institute for Transport and Logistics Studies, she looked at that country's coastal shipping market. Her work has been honoured by the International Association of Maritime Economists and the Korea Association of Maritime Industry. In 2001, Brooks founded the Port Performance Research Network to understand how governance reform and benchmarking can add value to supply chains. She graduated from McGill with a Bachelor of Occupational Therapy in 1971.
Morris Goodman
OC citation: For enhancing the well-being of Canadians through his business endeavours in the pharmaceutical industry and for his transformative philanthropy.
As co-founder and chairman of the board of Pharmascience Inc., Morris Goodman is recognized as one of Canada's leading entrepreneurs and a pioneer in the generic drug industry. In 2008, Goodman and his wife Rosalind made a transformative multi-million dollar gift to support the McGill Cancer Centre, which is now called the Goodman Cancer Institute. Not only did their support allow McGill to bring together more than 300 leading cancer researchers, students, and staff in a new state-of-the-art facility, it also cemented the University's status as a leading strategic hub for innovative research. Morris Goodman remains a passionate driving force behind annual GCRC activities, including its popular public lecture series as well as biennial galas to raise cancer research funding.
Pierre Legendre
OC citation: For pushing the boundaries of community ecology as a pioneer of numerical ecology, as well as for his broad mentorship.
Pierre Legendre is a professor of ecology at Université de Montréal, where he studies the processes that determine the composition of communities of living organisms. With his brother Louis, he helped popularize numerical ecology, the integration of several mathematical disciplines into a general scheme for analysing ecological data, writing the definitive textbook on the subject. Legendre's work has been recognized by such honours as the Prix du Quebec's Prix Marie-Victorin, the Acfas Adrien-Pouliot prize for scientific cooperation with France, and the Canadian Society for Ecology and Evolution President's Award. Legendre graduated from McGill with a Master of Science in zoology in 1969.
Harriet H. Stairs
OC citation: For advancing women's opportunities within the financial sector, and for creating equitable and inclusive policies within corporate and community-based initiatives.
After graduating from McGill with a Bachelor of Arts in 1967, Harriet Stairs continued to stay engaged with her alma mater. Throughout the 1980s she was active in the McGill Women's Alumnae Association. From 1995 to 2005, she served two terms as a member of the McGill Board of Governors, where she sat on the Pension Taskforce and the Social Responsibility Committee, and chaired the Human Resources Committee. More recently, she served on the advisory committee of the Institute for the Public Life of Art and Ideas (IPLAI). Beyond her engagement with McGill, Stairs has been a staunch pioneer in the promotion of women in society, not only during her long career as Executive Vice-President, Human Resources, at the Bank of Montreal, but also as the first woman vice-chair of the York Club of Toronto.
Cara Tannenbaum
OC citation: For her leadership in geriatrics, women's health and gender research, and for her inter-professional collaborations to optimize healthy aging across the lifespan.
Dr. Cara Tannenbaum was appointed Scientific Director of the Institute of Gender and Health at the Canadian Institutes of Health Research in 2015 and currently serves as Departmental Science Advisor for Health Canada. A champion of using data to drive decision-making, she works with researchers and organizations nationally and internationally to catalyze policy and practice changes to increase representation of sex and gender from an intersectional perspective among those who conduct, as well as those who benefit from scientific research. She is the recipient of several prestigious awards, including the May Cohen Gender Equity Award from the Association of Faculties of Medicine Canada. Dr. Tannenbaum is a double graduate of McGill, where she earned obtained her medical degree and a Master's degree in epidemiology and biostatistics.
Luc Vinet
OC citation: For his pivotal role in the evolution of mathematical physics and for his leadership as an academic administrator.
From 1999 to 2005, Luc Vinet served as McGill's Provost and Vice-Principal (Academic). He next served for five years as rector of the Université de Montréal, where he is a professor and the director of the Centre de recherches mathématiques. A physicist and mathematician, his research focuses on exactly solvable problems, symmetries, algebraic structures, special functions and quantum information. His work has been honoured by the Golden Key International Honour Society, the Ordre des Palmes Académiques, the Prix du Québec, the American Mathematical Society, and the National Order of Quebec. Vinet is currently the CEO of IVADO, a Québec-wide collaborative institute dedicated to accelerating Québec's capacity to harness big data for decision-making.
Peter Zandstra
OC citation: For his pioneering leadership in the field of stem cell bioengineering and its subsequent innovative health and economic impacts.
Peter Zandstra joined the University of British Columbia in 2017 as the Founding Director of the School of Biomedical Engineering, and as the Director of the Michael Smith Laboratories. He is the Canada Research Chair in Stem Cell Bioengineering (Tier 1). His research focuses on understanding how functional tissue forms from stem cells, and how this information can be applied to design of novel therapeutic technologies based on living cells. Using computer simulations to predict the role of substances that govern stem cell behaviour, his research team develops therapies that can guide stem cells to develop into specific cell and tissue types, particularly cells that can produce all blood cell types and all cell types found in the body. This work has potentially revolutionary implications for treating many chronic and genetic diseases. Zandstra graduated with a Bachelor of Engineering degree in Chemical Engineering from McGill in 1992.
David Zussman
OC citation: For his contributions to public service management and policymaking, as a scholar, public servant and sought-after advisor.
David Zussman has held executive positions in academia, government and the not for profit sector. At the University of Ottawa, he served as the Dean of the School of Management and Director of the Graduate School of Public and International Affairs. At the University of Victoria, he was a professor in the School of Public Administration, and is currently Chair of the Board of Governors. In addition to his teaching and research career, Zussman has held several positions related to public affairs, including President of the Public Policy Forum, Executive Vice President and COO of the EKOS public opinion and public policy research firm, and Assistant Secretary to the Cabinet for Program Review and Machinery of Government in the Privy Council Office. Zussman earned a Bachelor of Science from McGill in 1968, and a PhD in psychology in 1975.
Read the Governor General's press release.