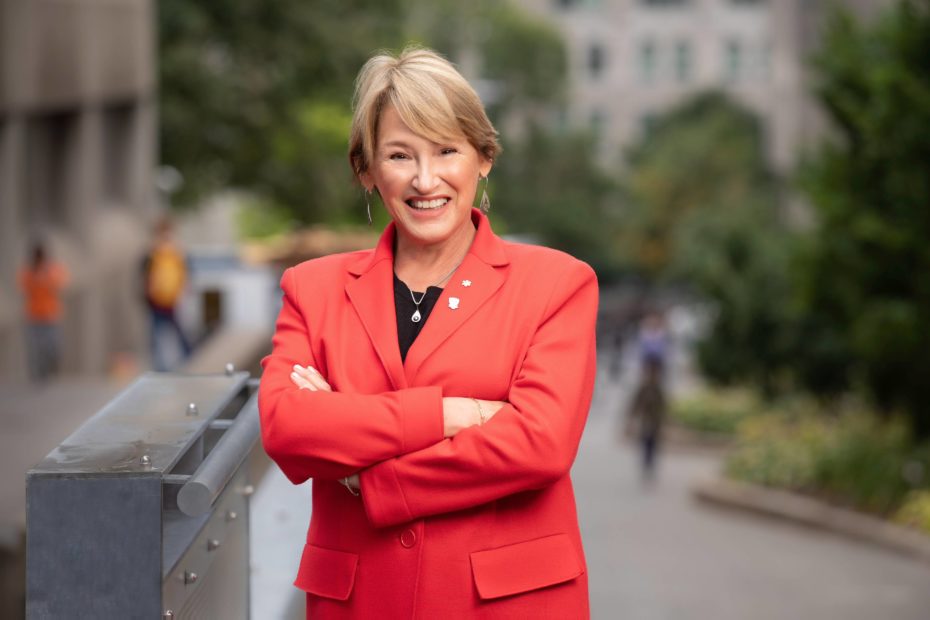 Suzanne Fortier, McGill's 17th Principal and Vice-Chancellor of McGill (2013–2022), has been made an Officer of the National Order of Quebec (NOQ). As announced on June 15, Fortier is one of 34 people who was honoured with one of the three degrees of the NOQ. Recipients were decorated on Wednesday, June 21, at a ceremony in the Legislative Council Chamber of the Parliament Building in Quebec City. Fortier was unable to attend the ceremony.
"Their careers and their exceptional contributions in various fields remain a source of inspiration and pride for all of Quebec," said François Legault, Premier of Quebec.
In addition to Fortier, the Order recognized four other people connected to McGill:
Linda Gaboriau
Morris Goodman
Howard Bergman
Gilbert Laporte
The National Order of Quebec was created in 1984 to recognize current or former Quebec residents for outstanding achievements in any field and is the province's highest honour.
Enhancing international impact of McGill, Montreal and Quebec
A native of St-Timothée, Quebec, Fortier was McGill's first Francophone Principal. Under her leadership, McGill made significant contributions to the development of Montreal and Quebec, home to the largest French-speaking society in North America.
With the aim of enhancing the presence, visibility, influence and recognition of the contribution of the Francophone community at McGill that Prof. Fortier launched the Internet portal "Vivre McGill en français," the Francofête de McGill, and the Outaouais Campus of McGill, in Gatineau – which offers complete medical training in French.
Under Fortier's leadership, McGill further enhanced its status as one of the world's premier universities and research institutions.
A great visionary, Fortier presided over the establishment of several innovative academic units within McGill which contribute to the international influence of Quebec as well as to the attraction and training of talent: the Bensadoun School of Retail Management (2018); the Max Bell School of Public Policy (2017); the School of Population and Global Health (2016); and the McGill Space Institute (2015).
Championing accessibility and diversity
Throughout her tenure as Principal, Fortier worked tirelessly to make higher education accessible to talented students, regardless of their origin or their financial situation. Under Fortier's leadership, scholarships offered by McGill jumped 165 per cent, a $13.2 million increase in funding for students who need financial support to reach their full potential and their aspirations.
During the COVID-19 pandemic, Fortier launched a fundraiser that raised $3.5 million to provide emergency financial assistance to students facing significant difficulties (loss of employment, relocation, transition to online learning, etc.).
Accessibility goes hand in hand with diversity. It is no coincidence that Fortier's mandate as Principal was marked by significant EDI initiatives at the University. This includes the 2017 launch of Lavender Grad; the first celebration of 2SLGBTQIA+ graduating students outside the U.S; the tabling of the final report of the Provost's Task Force Indigenous Studies and Indigenous Education in 2017; the first raising of the Hiawatha Wampum belt flag from the Arts Building to mark the 2018 National Indigenous Peoples Day; the release of McGill's Anti-Black Racism Action Plan in 2020; and the development of McGill's Strategic EDI (Equity, Diversity & Inclusion) Plan in 2020.
A respected scholar in the field of crystallography, Fortier specializes in the development of mathematical and artificial intelligence methodologies for protein structure determination. She earned a BSc (1972) and PhD (1979) from McGill and has authored or co-authored over 80 scientific publications. Before returning to her alma mater, Prof. Fortier served as President of the Natural Sciences and Engineering Research Council of Canada from 2006 to 2013.
She is an Officer of the Order of Canada, an Officer of France's National Order of Merit, a Fellow of the American Association for the Advancement of Science and is a Specially Elected Fellow of the Royal Society of Canada. She also holds honorary doctorates from Thompson Rivers University, Carleton University and the University of Glasgow.
Other members of the McGill community who were honoured by the National Order of Quebec include:
Linda Gaboriau (BA'65, MA'72)
Linda Gaboriau is an award-winning literary translator. Her translations of plays by Quebec's most prominent playwrights have been published and produced across Canada and abroad.
Morris Goodman (friend)
Morris Goodman is Co-founder and Chairman of the Board of Pharmascience Inc. In 2008, Rosalind and Morris Goodman made a transformative multi-million-dollar gift to support the McGill Cancer Centre, which was renamed the Goodman Cancer Research Centre (GCRC) in their honour (renamed the Goodman Cancer Institute in 2021).
Dr. Howard Bergman (BSc'67, MDCM'69)
Senior Investigator, Lady Davis Institute, and Professor of Family Medicine, Medicine, and Oncology, Dr. Howard Bergman is an internationally recognized scientist on aging, in particular on health services and policy, primary care, frailty and chronic disease, and Alzheimer's.
Gilbert Laporte (BSc'71)
A Professor Emeritus at HEC Montréal, Gilbert Laporte taught in the Department of Decision Sciences for 44 years and held the Canada Research Chair in Distribution Management from 2001 to 2020. He has written or co-authored over 20 books and 600 scholarly articles.