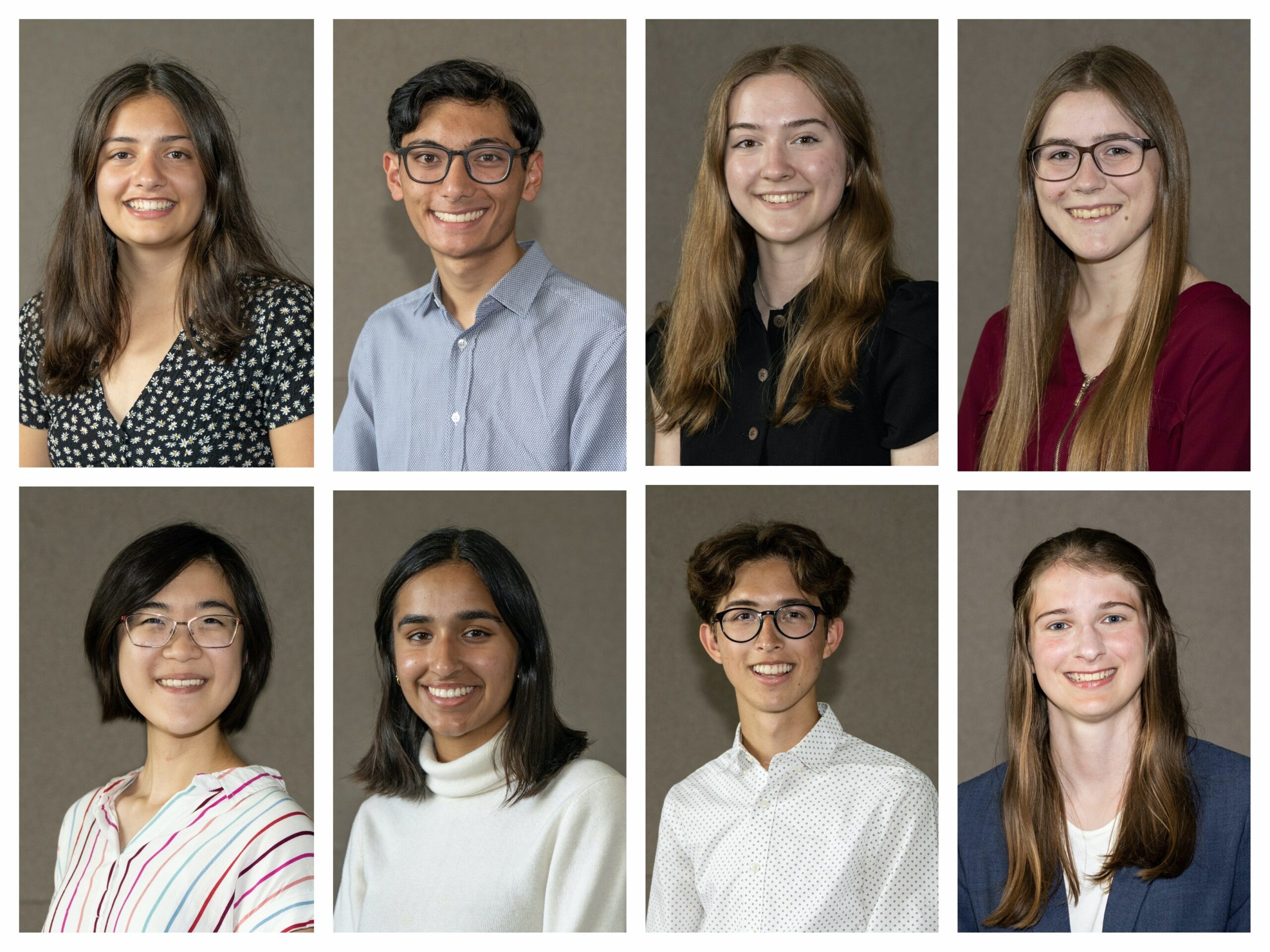 McGill has welcomed eight new Loran Scholars to the University. This brings to 159 Loran Scholars who have chosen McGill over the course of the 34-year partnership between the University and Loran.
Incoming McGill students, Aishwarya Heran of Vancouver, BC; Alexa Bailey of Vancouver, BC; Audrey Guo of Waterloo, Ont.; Émilia Gagné of Saint-Rémi, Que.; Julia Wright of Halifax, NS; Kai Chow of Abbotsford, BC; Kai Hollett of Dartmouth, NS; and Sofie Fournier of Ottawa, Ont., were selected from over 5,100 applicants from across Canada to become 2022 Loran Scholars. McGill is welcoming the most 2022 scholars of any of Loran's partner universities this year.
The only award of its kind in the country, the Loran Award is a four-year leadership enrichment program consisting of summer work experiences, mentorship, scholar gatherings, an annual living stipend, and a tuition waiver at one of 25 university partners. Loran Scholars are provided with the opportunity to build critical skills and capacity for leadership, to expand horizons by taking on new challenges and exploring diverse experiences, and to join a community of purpose-driven peers who are committed to leaving the world better than they found it.
The Loran Scholars Foundation is committed to identifying and supporting youth to realize their full potential. To find these young people, the Foundation administers the most thorough scholarship selection process in the country. As such, selection supersedes grades and is based on strength of character, a deep commitment to service, evidence of courage, compassion, and an entrepreneurial spirit.
"Community of passionate leaders"
"The past few months have seen me more confident and optimistic for the future than I have ever been, and I can honestly say I owe it all to the Loran Scholars Foundation," says Guo. "The tools and support that the Foundation has in place to support its scholars' development as leaders are comprehensive, but to me, the greatest gift the Foundation gives to its scholars is the knowledge that somewhere in Canada, some extraordinary people saw something worth nurturing in us."
Fournier adds, "my means finally match my ambitions, and I am able to better involve myself and meaningfully contribute to the change I'd like to see."
And Chow expresses a sentiment shared by many of the 2022 McGill Loran Scholars: "I am delighted to be connected to a community of passionate leaders that can turn each other's ideas into realities."
Each of these scholars embody Loran's values, as demonstrated by their contributions and initiatives:
Aishwarya Heran was the co-founder of an organization that provides workshops about intersectional feminism to young students. She was the co-president of her school's feminism club, as well as student council vice president. Aishwarya loves to dance, and does ballet and Bharatanatyam. She worked as a lifeguard and swimming teacher. She chose McGill to study Biological, Biomedical & Life Sciences because of the "vast number of opportunities available, as well as the experiences [she] could have to learn and grow." She adds,"I am excited to connect with communities in Montréal, and explore my interests on campus and beyond."
Alexa Bailey is a bilingual student who founded Girls to the Power of Math, a non-profit providing girl-to-girl mentoring to boost elementary school girls' confidence in math. She established her school's improv team and created an interactive walking game to educate about sustainability. In her spare time, she loves creating art and playing sports and music."McGill's Bioengineering is a unique innovative program in Canada that will give me skills to address important issues in the bioengineering and technology field," says Bailey. The province and French language were also draws: "As a French-speaking Canadian from a primarily anglophone province I am looking forward to being in the city of Montreal where I hope to be an active participant in the arts, music and culture of 'la francophonie'."
Audrey Guo served their school as student council co-president and GSA executive, while always making time for music and theatre. She was co-chair of a region-wide teen philanthropy program committed to connecting its members with the local charitable sector. Guo volunteered with their region's community foundation and Chinese Canadian Association. She has also organized a virtual hackathon and worked at the library. Guo says they were "drawn to McGill right from the get-go, for the vibrant vein of creativity that runs through both the school and the surrounding city: from student installations and performances, to the street art that decorates seemingly every part of downtown Montreal." She adds, "both times I've visited the campus, I have been struck by the spirit of camaraderie among the student population at McGill; instead of competition, McGill fosters a healthy community powered by a love of learning — one that I absolutely can't wait to join." Guo is pursuing a Bachelor of Arts.
Émilia Gagné worked with the student association and her school's staff to fight against systemic racism. She created a children's book in Braille and was a karate teacher. Gagné was also a mathematics and physics tutor and worked at her family's vineyard. Gagné will be studying Computer Engineering and is thrilled she could pursue a minor in artificial intelligence: "I'm looking forward to engaging in diverse clubs and committees that work toward equity and social justice."
Julia Wright co-founded a STEM outreach program for girls across Canada. They were a dancer in a performance training program, a Girl Guide junior leader, and a competitive debater. They lead a local initiative against ambulance fees in their province and have planned and delivered online fundraisers for local women's shelters. Wright worked at an outdoor recreation centre. "McGill provides many opportunities for me to get involved through community service and academic research," says Wright, who will be studying Bio-Physical-Computational Sciences.
Kai Chow was the Concertmaster of Sinfonietta (VSO School of Music), where he established and chaired their Youth Council. He also volunteered as a violin teacher at the el-Sistema Bakerview Music Academy. He co-founded "United in Isolation," a virtual performance featuring violinists nationwide. Through leadership at his secondary school, Chow spearheaded a fundraiser for youth mental health and a diversity initiative. To study Biological, Biomedical and Life Sciences, Chow was drawn to McGill because of "its reputation, credibility, history, and innovation." He adds, "McGill was the obvious choice for me, with its world-class music faculty and excellent science program set in an exciting, culturally dynamic city."
Kai Hollett was co-president of his student council. He was President of a Junior Achievement company, volunteered as a Teacher's Assistant for the Halifax Japanese School, and was the Head School Representative for a student leadership conference. Hollett worked as a political riding Volunteer Coordinator and local Youth Representative. He chose to earn his Bachelor of Commerce at McGill because of "the university's world-renowned education, as well as the incredibly diverse student body and city." Hollett says that he "wants to come out of [his] university experience with growth not only in knowledge, but also in leadership, and McGill fits those aspirations perfectly."
Sofie Fournier was the vice-president of a student organization that offers science workshops to young people. She also launched her school's first community garden and was a member of the Yearbook Committee, the Inclusivity Committee, and a group that focuses on the students' well-being. She was a volunteer at a community farm and works as a tutor and barista. Fournier says, "I love learning about different perspectives, gaining unique insight on my interests, and having access to exclusive research and learning opportunities" and that came with McGill. Fournier will also be studying Biological, Biomedical and Life Sciences.
The eight new scholars at McGill have joined 26 other scholars currently studying at the University. Of the 757 past and present Loran Scholars, 159 have attended McGill, including the following scholars who became Rhodes Scholars:
Clare Lyle, 2014 Belzberg Loran Scholar 2018 Rhodes Scholar (Quebec)
Alexandra Conliffe, 1999 W. Garfield Weston Loran Scholar 2004 Rhodes Scholar (Quebec)
François Tanguay-Renaud, 1998 BMO Loran Scholar 2002 Rhodes Scholar (Quebec)
Diane de Kerckhove, 1992 Loran Scholar 1995 Rhodes Scholar (Quebec)
Learn more about the Loran Award and the Loran Scholars Foundation.