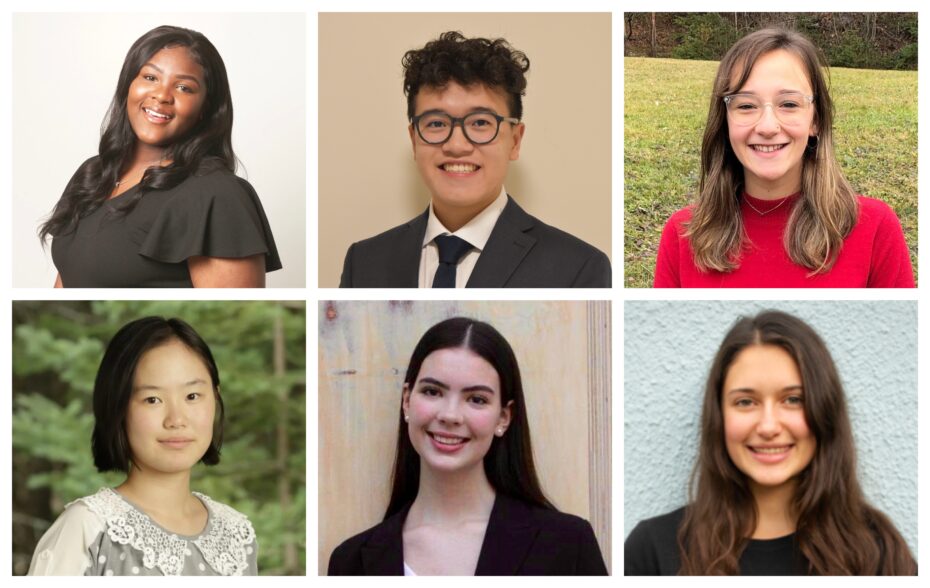 From over 6,000 applicants, and among 72 finalists, six of the 2021 Loran Scholars have chosen to begin their post-secondary studies at McGill University this school year. Vincent Wong of Vancouver, British Columbia; Younseo Heo of Saint John, New Brunswick; Chidi Okarah of Surrey, British Columbia; Pénélope Fernandez-Busto of Montréal, Québec; Laurence Breton of Saint-Léon de Standon, Québec; and Tala MacDonald of Winlaw, British Columbia were selected as six of the 30 recipients from across Canada to become 2021 Loran Scholars, receiving Canada's largest and most comprehensive undergraduate merit-based award.
The Loran Scholars Foundation is committed to identifying and supporting high-potential young Canadians to realize their full potential. To find these young people, the foundation administers the most thorough scholarship selection process in the country. As such, selection supersedes grades and is based on strength of character, a deep commitment to service, evidence of courage, compassion, and an entrepreneurial spirit.
McGill University was one of Loran's founding partners in 1989 and since then has welcomed 151 Loran Scholars, including four who went on to become Rhodes Scholars:
When asked what it means to her to be selected as a Loran Scholar, Heo says that she looks forward "to growing and learning with the future leaders of Canada, which is a privilege and an honour." MacDonald adds that as a Loran Scholar, it means "being surrounded by a vibrant community of talented, driven people, having the opportunity to pursue my passions, to create meaningful change and make the world a better place."
These scholars embody Loran's values of character, commitment to serving their communities, and long-term leadership potential, as demonstrated by their contributions and initiatives:
Vincent Wong served as a Scouts Canada Youth Commissioner in Greater Vancouver, representing 4,000 Scouts at the national level. He also volunteered as a bike mechanic and as chair of his local community's youth council, and helped to organize a city-wide career conference for high school students. When Vincent decided to study Biological, Biomedical, and Life Sciences, he chose McGill as it is "a research-intensive university that offers plenty of opportunities to get involved."
Younseo Heo acted as co-president of Club H.O.P.E. (Helping Other People Everywhere) at her high school, where she connected students to their communities through volunteerism. Younseo co-founded her high school's math club, served as treasurer of the Key Club, and volunteered at her local hospital. She performed with her high school choir, where she led the alto section, and also spent time as the concertmaster for her district's orchestra. Younseo will be studying Biological, Biomedical and Life Sciences and notes that by attending McGill, she will be "at the heart of diversity learning science, and [that] there is no better way to spend my youth."
Chidi Okarah was the BC Youth Council's Environmental Coordinator, where she worked to reduce single-use plastics in her community. Chidi collaborated with the African Stages Association of BC as their Drumming Leader and performed in her high school's musical ensemble. She also initiated various Model United Nations Conferences and other events as a student council executive. Chidi will be studying Cognitive Sciences at McGill, where she is excited to "explore a whole new (albeit much, much colder) part of Canada," and get involved in the musical community since she notes that McGill has excellent performance opportunities.
While attending Collège Jean-de-Brébeuf, Pénélope Fernandez-Busto was the president of the Student Council and captain of the Debates Team. She was also part of a soccer team. She co-founded and launched the Youth Campaign against VCS, to raise awareness about sexual violence among Québec students. As an active member of her community, Pénélope worked at a day camp for immigrant and refugee children. Passionate about arts, she always allocates some time to drawing. At McGill, Pénélope will be studying law, which she notes "offers a unique comparative approach to Canada's legal traditions, [therefore] allowing me to evolve in a diverse and stimulating environment."
Laurence Breton has been involved in the Royal Canadian Army Cadets program since she was 12. While in Cégep de Lévis-Lauzon, Laurence was a coordinator with World University Service of Canada Student Council, where she helped to collect $23,000 annually to sponsor a refugee student, and she served as a student association board member. At McGill, Laurence will be studying International Development, citing that she wanted to improve her English, but she realized the campus community had much more for her in store: "As I begin my journey in this new environment, I am eager to explore the diversity of the people, opportunities, and knowledge [McGill] has to offer."
Tala MacDonald has volunteered with her local fire department as a firefighter and medical first responder. While in high school, she led environmental initiatives and worked with a local organization in Oaxaca City, where she helped to build homes for families in need. An active member of an extracurricular theatre group, she was the lead contributor for a collaborative production focused on truth and reconciliation. Tala will be studying Political Science, and she chose to study at McGill because of its great reputation and selection of academic programs, and wanted to spend time in Montreal. "I am so excited to get involved in the McGill community, and explore the many doors that have been opened to me."
Of the 733 past and present Loran Scholars, 151 have chosen to attend McGill over the past three decades. The six 2021 Loran Scholars will be joining 22 other scholars currently pursuing their undergraduate studies with McGill University.
Applications for the 2022 Loran Award are open and close on October 13, 2021. Learn more.
To learn more about the Loran Award and how you can support the Loran Scholars Foundation, please visit the website.