This fall, McGill welcomes three new Loran Scholars to campus. Gracie Diabo, Catherine Hu, and Neila Selouani have joined the 22 Loran Scholars currently enrolled at the University.
Established in 1988, the Loran Scholars Foundation, is a national charity that works in partnership with universities, donors, and volunteers throughout the country to find and nurture young people who demonstrate character, service, and leadership. Selection is based on strength of character, a deep commitment to service, evidence of courage, compassion, and an entrepreneurial spirit. Loran Scholars benefit from a four-year, comprehensive leadership-enrichment program, tuition waivers and financial support, and a network of values-driven peers and mentors.
Since its inception, the Loran Scholars Foundation has provided more than $62 million in undergraduate awards to more than 3,200 promising high school and Cégep students.
Here are McGill's newest Loran Scholars:
Gracie Diabo, Kahnawake, Quebec
While attending John Abbott College, Diabo was very active in student life and governance. She was the Founder and President of the Indigenous club at John Abbott and was a member and executive of the Student Union. She volunteered with John Abbott's green team and was a member of various committees promoting students' voices.
Diabo has volunteered abroad in Peru and Costa Rica, helping renovate community spaces. During the pandemic, she volunteered at local flu vaccine clinics. Diabo has worked as the lead facilitator of a teens' entrepreneurial summer camp and as a canoe coach.
"I chose McGill because of its great reputation for its engineering programs, in addition to the amazing opportunity that is the Software Co-op Program," says Diabo. "McGill has many clubs, student societies, and opportunities that I would love to get involved with and am excited to immerse myself in. I am looking forward to joining the McGill community and further exploring the vibrant city of Montreal."
"Being a Loran Scholar means so much to me," says Diabo. "It increases my confidence and motivation and gives me a newfound appreciation and gratitude for my support system. This award inspires me to continue being involved and working with communities, and academically pushing myself as I enter university because it shows that people believe in me and my potential. I hope to use this opportunity to its full potential, thinking of my ancestors who couldn't access such opportunities while looking out for future generations of Indigenous youth. I hope to give back to my community with my new experiences and knowledge."
Catherine Hu, Montreal, Quebec
Catherine Hu was a member of the student association and the music club at Collège André-Grasset. She is also on the board of directors of an organization helping schools adopt a more ecological approach and is President of the Student Council of her neighbourhood. She studied violin at the Conservatoire de musique de Montréal. Hu participates in diverse political simulations and works for the Cabinet of the Minister of the Environment of Canada.
"I chose McGill for its holistic approach to Law and for the numerous stimulating opportunities offered on and off campus," says Hu, entering the BCL/JD program. "I am eager to start this unique adventure and be a part of this inspiring community of students and alumni."
"Being a Loran Scholar signifies an opportunity to cultivate my personal growth, inspire positive change in society, forge lifelong connections with like-minded individuals, and embody a commitment to leadership," she says.
Neila Selouani, Shippagan, New Brunswick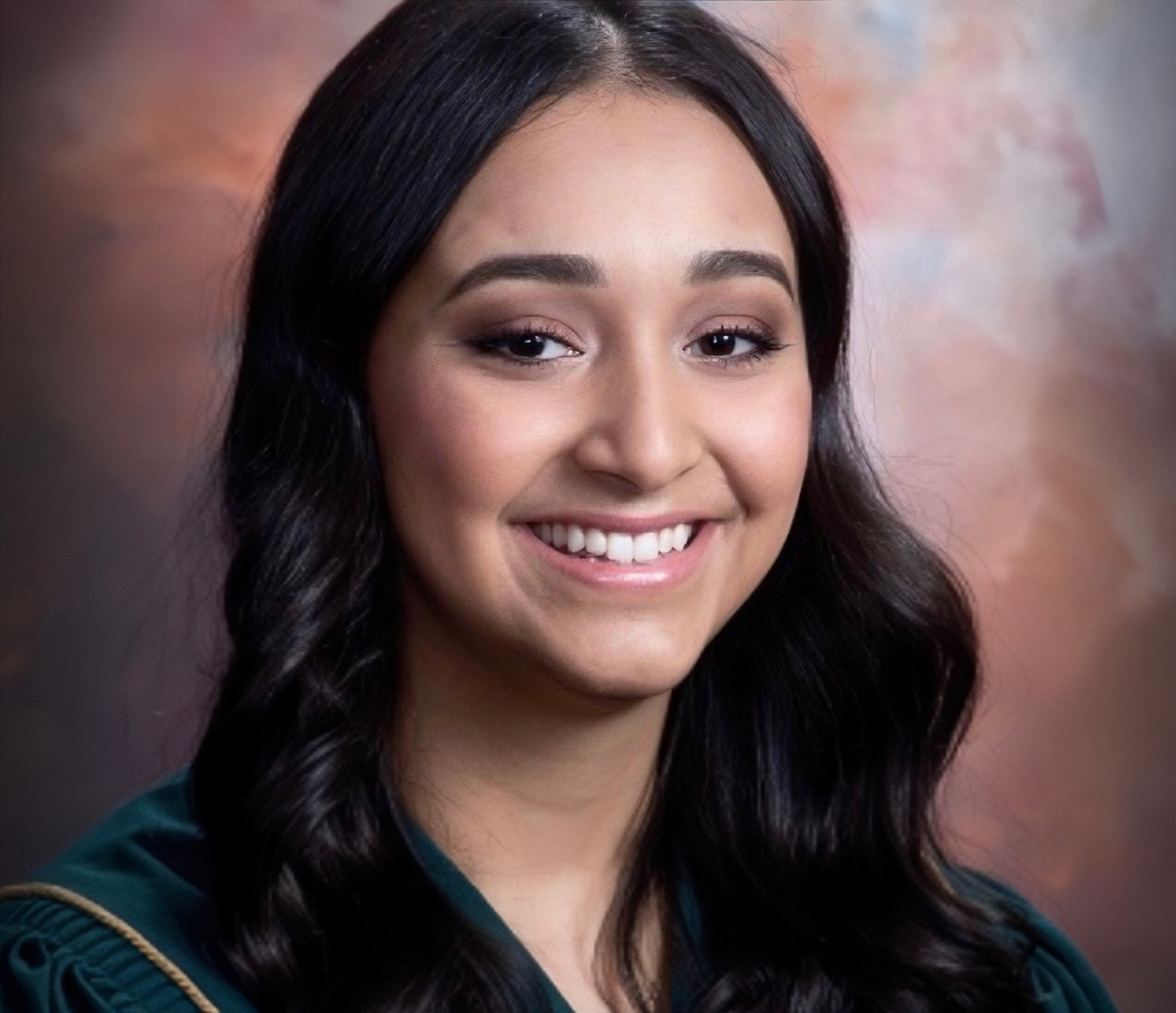 Passionate about literature, poetry, theatre and science, Neila Selouani's creations and projects have been recognized across the province and the country. She initiated SalleZen, a concept that provides students at École Marie-Esther with a comforting space whenever they struggle with mental health. Selouani is also a member of the Youth Mental Health Advisory Committee of New Brunswick, which focuses on suicide prevention among youth. At McGill, she will pursue a BSc (Biomed, Biology and Life Sciences program).
"Being a Loran Scholar means more than financial help, it allows me the opportunity to make a positive impact on my communities and inspire others to do the same," says Selouani.
"Attending McGill University is an experience like no other," she says. "I chose McGill because students are surrounded by a diverse community of scholars and are encouraged to pursue their passions and make a difference in the world. I am more than excited and happy to start my own journey at this university to see myself gain maturity and confidence for my future."
Of the 162 Loran Scholars who have attended McGill, the following students went on to become Rhodes Scholars:
Clare Lyle, 2014 Belzberg Loran Scholar 2018 Rhodes Scholar (Quebec)
Alexandra Conliffe, 1999 W. Garfield Weston Loran Scholar 2004 Rhodes Scholar (Quebec)
François Tanguay-Renaud, 1998 BMO Loran Scholar 2002 Rhodes Scholar (Quebec)
Diane de Kerckhove, 1992 Loran Scholar 1995 Rhodes Scholar (Quebec)
Learn more about the Loran Award and the Loran Scholars Foundation.